CLEVELAND — They may have been wearing black, blue and orange, but the Cleveland Cavaliers still walked away from their home opener a -- as Fred McLeod would say -- "Wine and Gold winner."
In a performance where veterans like Kevin Love and Tristan Thompson shined, while youngsters Darius Garland, Collin Sexton and Kevin Porter Jr. showcased no shortage of promise, the Cavs beat the Indiana Pacers 110-99 to pick up their first win of the 2019-20 season. The victory also marked the first win of first-year head coach John Beilein's NBA career.
Thompson led the Cavs with 25 points -- including the first 3-point make of his NBA career -- while Love added 21, 13 rebounds and 9 assists. Sexton scored 18 and Garland added 12 as Cleveland moved to 1-1 on the season.
What follows is a running recap of the Cavs' victory on Saturday night, complete with highlights and analysis.
Fourth quarter
54.7 seconds: Cavs 108, Pacers 99: A Darius Garland 3 and Tristan Thompson dunk should seal this for the Cavs, who are up 9 with less than a minute left on the clock.
3:29: Cavs 101, Pacers 91: Cavs still up by double-digits, but Indiana remains within striking distance. Cavs are going to have to play three minutes of smart basketball to lock this one up.
9:07: Cavs 92, Pacers 81: Pacers open the fourth quarter on a 7-2 run and find themselves down 11 with 9 minutes left.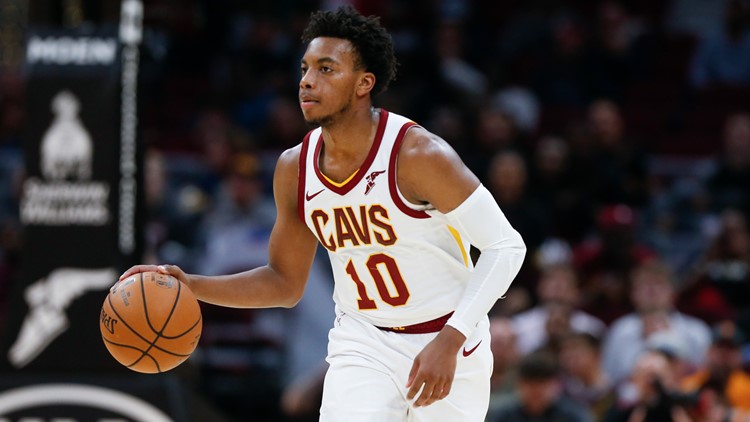 Third quarter
End of quarter: Cavs 90, Pacers 74: Cavs enter the fourth quarter with a comfortable 16-point lead behind 21 points from Tristan Thompson. Jordan Clarkson now up to 15 points off the bench.
6:05: Cavs 76, Pacers 58: Cavs still controlling the game with Kevin Love up to 19 points, 10 rebounds and 5 assists.
9:37: Cavs 72, Pacers 50: Cavs force an early Indiana timeout with a 7-2 start to the second half. Collin Sexton up to 11 points, converting on a dunk off a backdoor cut.
Second quarter
End of quarter: Cavs 65, Pacers 48: Cavs out-score the Pacers 39-20 in the second quarter, capping it with a Darius Garland 3-pointer. Kevin Love with 19 first-half points, Tristan Thompson with 15 and Jordan Clarkson with 10 off the bench.
5:50: Cavs 47, Pacers 32: Big run for the Cavs, who are getting a little bit from everyone, including Collin Sexton, who just hit a 3-point shot and then converted on a driving layup.
10:07: Cavs 31, Pacers 28: Five straight points by the Cavs to open the second quarter, highlighted by Darius Garland finding Kevin Porter Jr. for an alley-oop.
First quarter
End of quarter: Pacers 28, Cavs 26: Pacers go on a 7-2 run to end the first and enter the second quarter laying claim to a 2-point lead. Tristan Thompson and Kevin Love each lead the Cavs with 9 points a piece.
2:33: Cavs 24, Pacers 21: Cavs offense still running strong, while Tristan Thompson sinks the first 3-point shot of his NBA career. Cleveland already deep into its bench, with Larry Nance Jr., John Henson and Kevin Porter Jr. on the court.
6:53: Cavs 13, Pacers 13: Strong start for the Cavs offensively, with Kevin Love scoring 7 quick points. Cavs back at the free throw stripe after the timeout. Jordan Clarkson left for the locker room at one point and doesn't appear to be back on the bench.