CLEVELAND -- The Cleveland Cavaliers struggled to shoot the ball against the Boston Celtics throughout Game 1 of the 2018 NBA Eastern Conference Finals at TD Garden on Sunday afternoon, but those offensive lulls compounded into defensive issues.
After reviewing film of their 108-83 Game 1 setback and recalculating their plans ahead of Game 2, the Cavaliers know evening the series will come down to the ability to play a tougher, more physical brand of basketball.
"As a team, one through five, we've got to all play tougher," center Tristan Thompson said. "Obviously, when I check in the game, I try to bring that toughness and energy, but our starters have got to be ready to throw the first punch. We need them to do that. We need them to be physical and set a tone early. If they do that from the opening tip, it makes it easier for the second unit to come in and keep that energy going.
"They were tougher than us. They set the tone early, and we weren't able to clean up our boo-boo on our lip, so we've got to be ready to go. Game 2's going to be very important. We want to set the tone early, and I think that's what T-Lue's going to challenge us to do."
PHOTOS: Cleveland Cavaliers face Boston Celtics in Game 1 of 2018 Eastern Conference Finals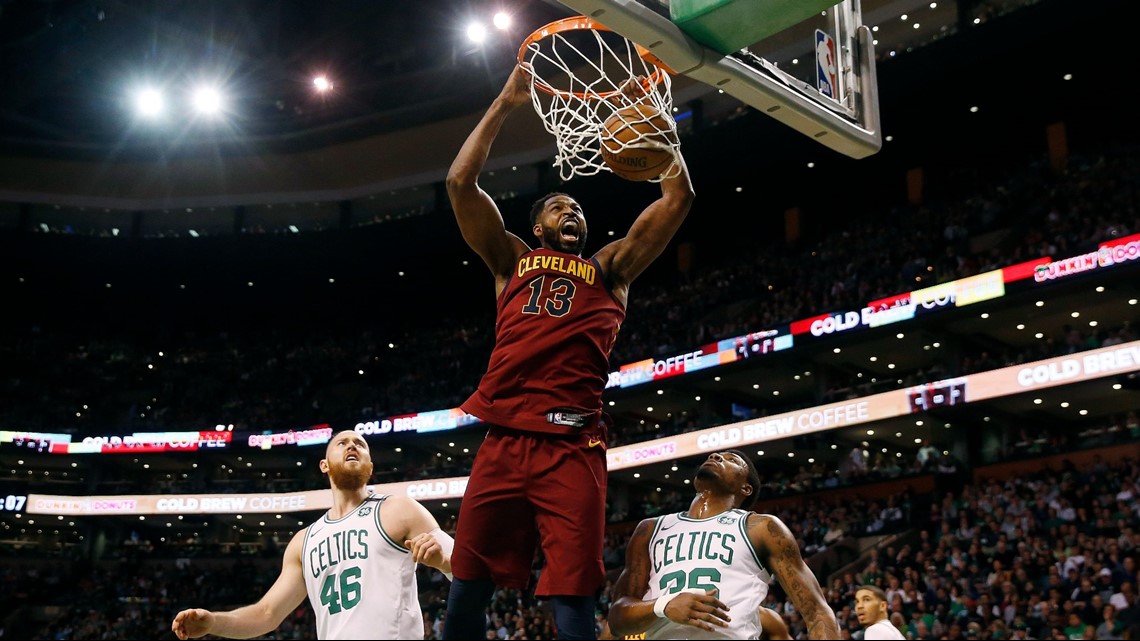 READ: Cleveland Cavaliers expect LeBron James to have 'big response' in Game 2 against Boston Celtics
The Celtics out-rebounded the Cavaliers, 48-40, including a dominant 42-31 edge on the defensive end of the floor, and registered five blocked shots as opposed to the three Cleveland sent away from the hoop in the loss.
But a physical outing from the Celtics was nothing the Cavaliers did not expect heading into Game 1.
"They're a very physical team," Cavaliers center Kevin Love said at Monday's practice. "They've been hitting teams first, and also, they have a ton of movement and are able to switch on the defensive end, offensive end.
"They really turn the ball over on both sides of that floor. They get the swing-swing pass and whether it's (Al) Horford or (Jayson) Tatum or any one of those guys, they keep that ball moving. They're making their move."
David Butler II
WATCH | Cleveland Cavaliers unleash Game 2 hype video: 'Whatever it takes to win'
In addition to having an edge on the Cavaliers on the glass, the Celtics dominated the interior with a 60-38 advantage in paint scoring. Boston converted 30 of its 45 attempts (66.7 percent) inside the key in Game 1, something Thompson took as a personal insult, as well as a challenge.
"That's unacceptable," Thompson said. "That's unacceptable. Us bigs, we should be pissed off about that just because our job is to protect the paint, so we've got to do a better job of that. We've just got to communicate. On the pick and rolls, they were able to get downhill a lot, so we've got to clean that up."
David Butler II
Mentioned as a player who could be elevated into the starting lineup for Game 2, Thompson is focused more on bringing the physicality and hustle rather than when his name is called to play.
"It doesn't matter," Thompson said of starting. "At the end of the day, when you come into a game, put your hard hat on, do your job and do whatever it takes to win."