CLEVELAND — Whether you're visiting for NBA All-Star Weekend in Cleveland, or you've lived here your entire life, there are certain things that should be on your list to do while the city honors the 75th anniversary of the NBA.
That's why we've created your #3AllStar Cleveland Bingo card, full of the top 24 places to go, sights to see, things to enjoy and people to try to run into over the next 96 hours.
From Thursday through Sunday, while celebrities and NBA super fans descend on our fair city, hitting these hot spots will guarantee that you have a truly Cleveland experience and could raise your chances of a run-in with basketball royalty. Up your chances even more by scanning the QR code in the free space for the most up-to-date NBA All-Star Weekend coverage from 3 News!
As you check off items on your #3AllStar Bingo card, tag us on Twitter (@wkyc) and Instagram (@wkyc3) and use the hashtag #3AllStar so we can follow along with your fun!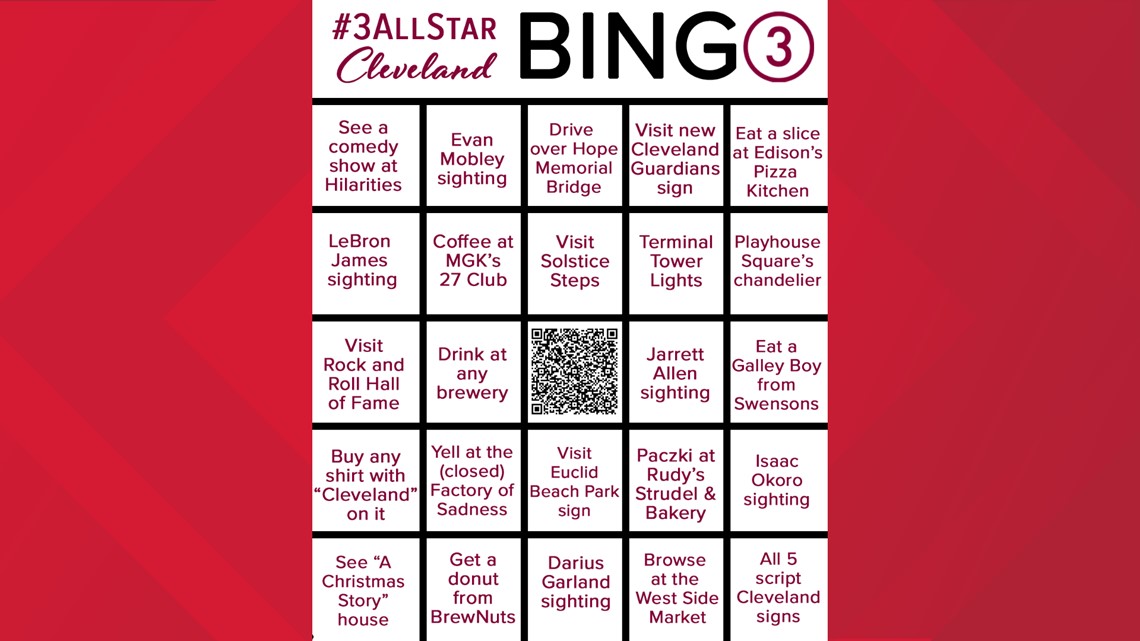 Naturally, we had to include trying to catch of glimpse of All-Star Team Captain LeBron James, with Cleveland Cavaliers players Darius Garland and Jarrett Allen. And we can't forget Clorox Rising Stars competitors Isaac Okoro and Evan Mobley.
Beyond those celebrity sightings, a few staples you need to make sure indulge in include a donut from Brewnuts Pub in Gordon Square, a slice at Edison's Pizza Kitchen in Tremont, and a Galley Boy at the new Swensons location in Brookpark. And you could very well run into Cleveland native rapper Machine Gun Kelly if you make it to grab a coffee at his 27 Club in the Flats.
Let's not forget we have new baseball team name, so grab that photo with the Cleveland Guardians sign while you can, and drive over the Hope Memorial Bridge to see the statues that inspired the new moniker.
The ones truly committed to the most Cleveland experience possible will find time to visit the historic Euclid Beach Park sign and pick up a paczki from Rudy's Strudel & Bakery.
Convenient to those staying downtown, wind your way through the Rock and Roll Hall of Fame (and toss in a vote for your fan favorite among this year's nominees), check the calendar to see a comedy show at Hilarities on East 4th Street, stop across the street to get a t-shirt with the word "Cleveland" on it, and walk down by the lakefront to get a few yells in at the (now closed) Factory of Sadness.
And before you head out of town, swing through Tremont to see the "A Christmas Story" house, and walk through Playhouse Square to see the beautiful chandelier hanging outside of on your way to take in the Terminal Tower Lights in Cleveland Public Square.
If you master this #3AllStar Bingo card, you can rest assured that you've had the most Cleveland weekend possible.