CLEVELAND — The 2022 NBA All-Star Weekend in Cleveland is just hours away from officially kicking off and Rocket Mortgage FieldHouse is ready.
On Thursday, 3News' Will Ujek went inside this weekend's home arena for a first look at the All-Star court. While All-Star Weekend won't officially kick off until Friday, the court at Rocket Mortgage FieldHouse is already dressed for the occasion, with the All-Star Game court decals and accompanying decorations set up throughout the lower bowl of the arena.
Additionally, a stage/scoreboard has been set up one of the baskets, which will be used to help keep track of scores during events such as the 3-point contest and slam dunk contest during NBA All-Star Saturday night.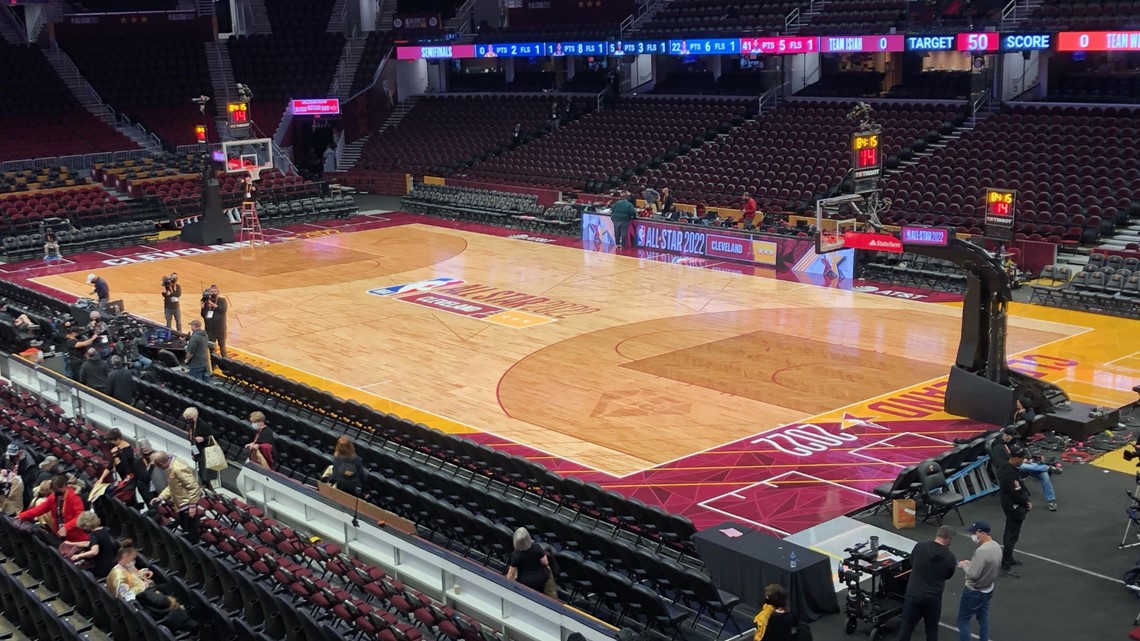 The signature wine and yellow colors of the Cleveland Cavaliers.
The baselines and sidelines showcase a faceted diamond pattern as an homage to the NBA's diamond anniversary.
A trio of stars shooting across center court trail the league's history of milestone anniversaries celebrated in Cleveland.
The NBA All-Star 1981 logo sits within the bottom left star, highlighting the league's 35th Anniversary; the NBA All-Star 1997 logo sits within the top right star, highlighting the league's 50th Anniversary; and the NBA All-Star 2022 logo sits prominently at center court, highlighting the season long celebration of 75 years of NBA basketball.
A subtle gradation of wood tone transitions from center court to within the key, to inside the paint.
A unique wood design is inlaid in the paint on each side, with a parquet pattern on the left and a herringbone pattern, which was used on basketball courts as early as 1893, on the right.
A silhouette of the NBA75 logo sits in the top left and bottom right corners of the court.