Wagner was the difference in win over Loyola Chicago
The clock struck midnight early for Cinderella in the NCAA Men's Basketball National Semifinals on Saturday night.
Loyola Chicago had no answer for 6-foot-11 Michigan forward Moritz Wagner, who finished with 24 points and 15 rebounds in the Wolverines' 69-57 victory at the Alamodome.
The Wolverines outscored the Ramblers 35-14 after falling behind 43-34. Wagner scored his game-high 24 points on 10-of-16 shooting. He also had three steals. Charles Matthews finished with 17 points and was the only other Michigan player in double figures.
Cameron Krutwig (17) and Clayton Custer (15) led the scoring for Loyola (32-6).
Michigan (33-7) advances to the NCAA title game for the the seventh time in program history and first since 2013. The Wolverines won the championship in 1989. Michigan will play the winner of the Kansas-Villanova semifinal for the title on Monday night.
Loyola reached the Final Four for the first time since 1963, when it won the title in its only other Final Four appearance.
Wagner has been a force for Michigan
Junior forward Moritz Wagner has led the Wolverines' comeback from a 10-point deficit. He has 24 points and 15 rebounds with 1:39 left, and Michigan up 61-53.
Loyola starting to crack under Michigan's pressure
The Ramblers are starting to fade. They're having problems getting anything going against the Wolverines' half-court defense.
Michigan's Duncan Robinson has nailed two threes
Duncan Robinson, the guy with the great basketball team, hit his second three-pointer to cut Loyola's lead to 45-42 with 10:06 left. Ramblers forward Cameron Krutwig just scored in the paint to put Loyola back on top by five. Loyola needs to keep going inside to Krutwig.
Big men duking it out in the paint
Michigan forward Moritz Wagner has 13 points and 11 rebounds with 15:56 left, but Loyola forward Cameron Krutwig has countered with 11 points. But Krutwig has only one rebound. The Ramblers will need him to start hitting the glass a little stronger in the second half.
Loyola takes 29-22 halftime lead
Senior forward Donte Ingram hit a short jumper right before the buzzer to give the Ramblers a seven-point lead at the half. Moritz Wagner finished the half with 11 points and 11 rebounds to pace the Wolverines. Loyola 6-9 forward Cameron Krutwig scored eight points and got stronger as the half went on. The Ramblers will need Krutwig to counter Moritz in the second half.
Michigan's Wagner is a load
Wolverines junior forward Moritz "Moe" Wagner, a 6-foot-11 junior, is having his way with the Ramblers in the paint.
Wagner is big and physical, but he also has a nice around the basket. He leads all scorers with 11 points at 3:33 of the first half.
Michigan playing with more physicality
Michigan has been more physical than Loyola Chicago so far in the first half, but it looks like the Ramblers are starting to find their groove and just play basketball.
Loyola just went ahead 17-15.The Alamodome appears to be filled to near capacity. It's a great setting. Michigan post player Moe Wagner, who has seven points, has been a problem for the Ramblers.
Ramblers struggling offensively
Loyola Chicago can't find the basket in the early going. The Ramblers have scored only four points on two baskets with 12:38 left in the half.
Michigan leads 12-4, but neither team is shooting well. Shooters usually have problems with their depth perception in the early going inside the cavernous Alamodome.
FINAL FOUR: Loyola Chicago inspired by beloved 98-year-old team chaplain
NCAA Men's Basketball National Semifinals
Loyola Chicago (32-5) vs. Michigan (32-7)
When, where:Saturday, 5:09 p.m., Alamodome
Series history: Michigan leads 2-1
Last meeting: Loyola 112, Michigan 100, Feb. 1, 1969, Chicago
Loyola's last game: Beat Kansas State 78-62, March 24, South Region final, Atlanta
Michigan's last game: Beat Florida State 58-54, March 24, West Region final, Los Angeles
Notable: Loyola Chicago is in the Final Four for the second time in school history. The Ramblers won the national championship in their first appearance in 1963 . . . Michigan is making its eighth appearance in the Final Four and won the national title in 1989.
It was the spring of 1963.
The tragedy in Dallas that November was still eight months away, and few Americans had ever heard of Vietnam.
In college sports, the Loyola Chicago men's basketball team was in the midst of a season to remember.
Making their first appearance in the Final Four, the Ramblers stunned two-time defending champion Cincinnati 60-58 in overtime, winning the title game on a tip-in by Vic Rouse at the buzzer.
Loyola Chicago is back in the Final Four for the first time since that game on March 23, 1963, in Louisville, Ky. The 55th anniversary of the climactic victory against Cincinnati came on the day before the Ramblers beat Kansas State last Saturday in the South Region final, punching their ticket to the Final Four in San Antonio.
Loyola (32-5) plays Michigan (32-7) in the first semifinal game at 5:09 p.m. Saturday at the Alamodome, where San Antonio is hosting its fourth Final Four since 1998.
No one has enjoyed the Ramblers' Cinderella run to college basketball's biggest stage more than Sister Jean Dolores Schmidt, the team's chaplain and most beloved fan.
"This is the most fun I've had in my life," she said Friday, speaking to a packed room of media members at the Alamodome. "It is just so much fun for me to be here, and I almost didn't get here, but I fought hard enough to do that because I wanted to be with the guys."
Not many 98-year-olds have drawn the media attention Sister Jean has attracted this week, but she's handled the glare of the spotlight with aplomb. She demonstrated that with her characteristic grace and humility during a 20-minute session with dozens of reporters.
Asked by the moderator if she was "ready to roll," Sister Jean smiled and quickly replied, "You better believe it."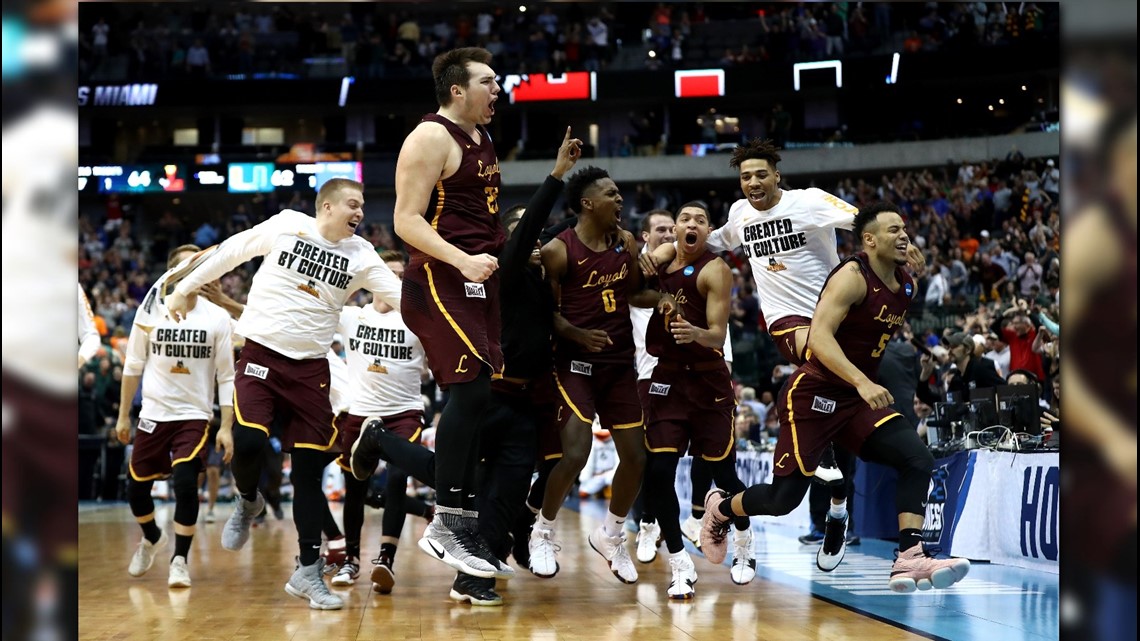 The media blitz Friday reflected how quickly Sister Jean became a national story during the run-up to Saturday's semifinals.
"I can't believe it," she said, when she was asked about the media turnout. "I wake up and say, 'Is this real or is it a dream? And I say, 'No, it's really for real.' It's very real for me to see you, but not so many at a time, and I'm excited about it."
Sister Jean acknowledged being awed by the attention initially, but then remembered what she's told students through the years.
"I never even imagined two or three, let alone this large group," she said. "Everything just seemed to mushroom, and I could never tell you how that happens. It's just like when students visit universities before they're admitted, when they're in high school. I always tell them that something magical happens. You don't know what it is, but you know you belong there.
"And so I got nervous when all this was happening. I said to myself, 'Well, I tell other people it's magical, and so just go and do it.' And it's a big thrill for me to be here this morning with all of you, and you know what? I'm not a bit nervous."
Sister Jean later watched the Ramblers practice on the Alamodome court from her wheelchair, smiling and accommodating anyone who wanted their photo taken with her.
Senior guard/forward Donte Ingram spoke highly of Sister Jean in an earlier news conference that included coach Porter Moser and four other players, Marques Townes, Clayton Custer, Ben Richardson and Aundre Jackson.
"Her aura is so bright," Ingram said. "She sends emails after the game, generalized and individualized, letting you know what we did well and just to keep it going and instilling that confidence in us. Obviously, to have her support, it's great. And she's like no other. We're happy to have her on our side."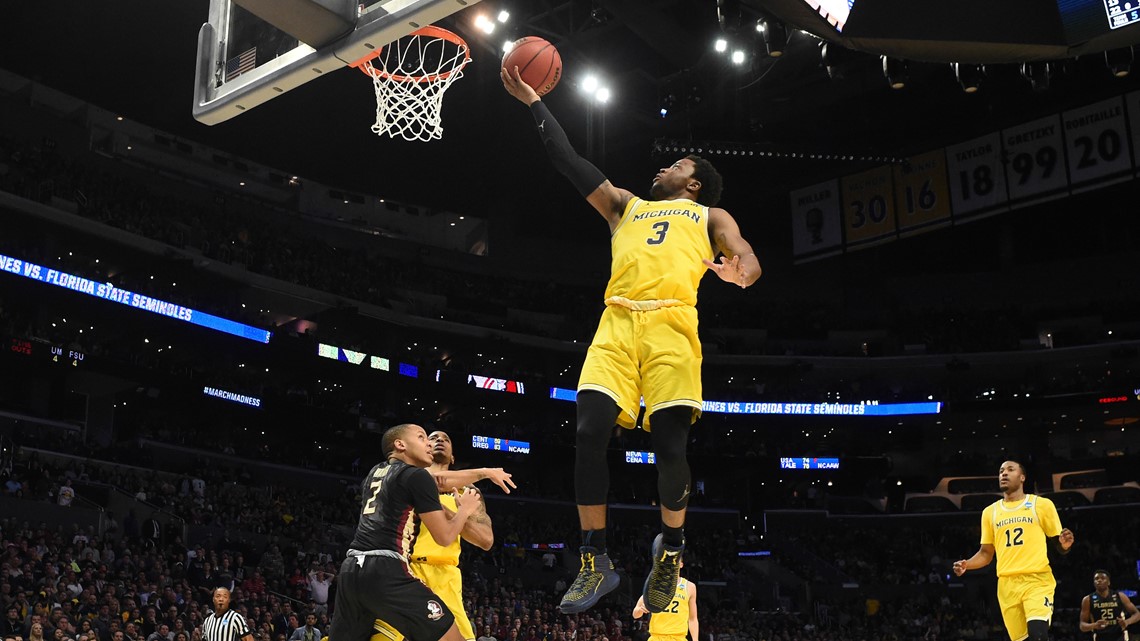 Freshman Max Rettler, who plays in the Loyola pep band, said Sister Jean's popularity goes beyond basketball on the Loyola campus.
"Everybody knows who Sister Jean is," Rettler said. "She's been a legend on campus for many years. She's also had an active role as a campus minister. She has a little prayer service in her apartment once a week. As popular as she is with the team, she's also a vital aspect of Loyola and who we are. She's special to us."
Loyola, only the fourth No. 11 seed to reach the Final Four, will take a 14-game winning streak, the longest in the country, into its clash with Michigan. The Ramblers won both the regular-season and tournament titles in the Missouri Valley Conference.
Loyola faces a formidable challenge against Michigan, which has tied the school record with 13 straight wins. A victory over the Ramblers would extend the Wolverines' single-season record for wins to 33.
Michigan beat Purdue for the Big 10 Tournament championship and advanced to the NCAA Tournament as a No. 3 seed. The Wolverines earned their eighth berth in the Final Four with a 58-54 win against Florida State in the West Region final.
Loyola has five players who average double figures in scoring. Custer leads the way with a 13.2 average, followed by Ingram (11.3), Townes (11.2), Jackson (11.0) and Cameron Krutwig (10.3). Ingram (6.3) and Krutwig (6.1) are the top rebounders. Guards Ben Richardson, Townes and Custer, and forwards Ingram and Krutwig have started together since early January.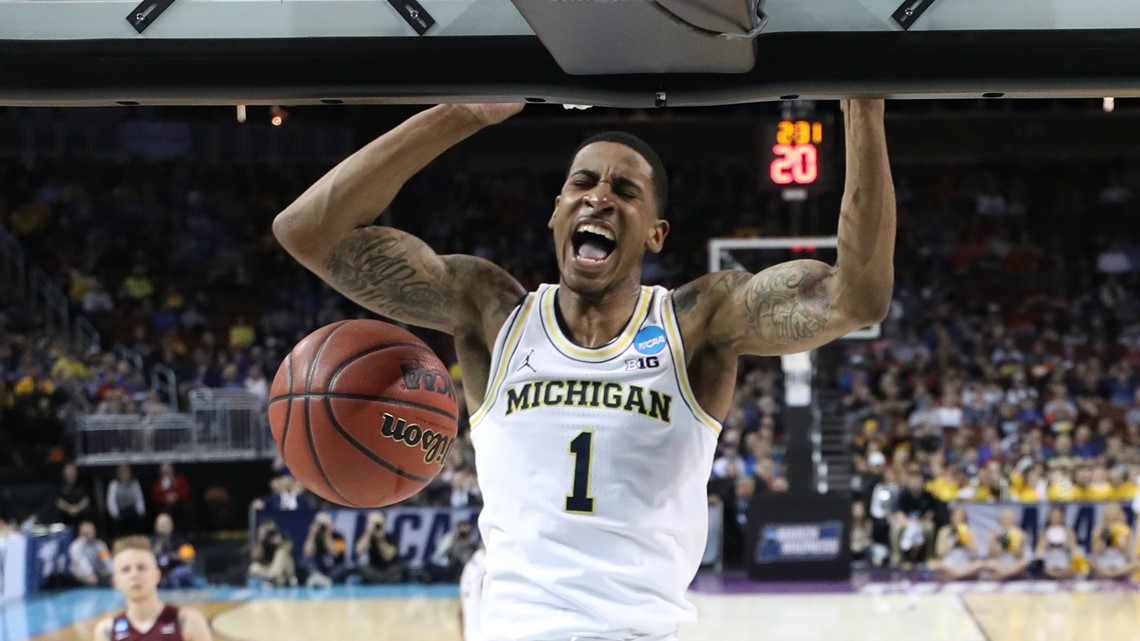 Coached by John Beilein, Michigan would advance to the title game for the seventh time in program history and first since 2013 with a victory against Loyola.
Forward Mo Wagner (14.3), guard Charles Matthews (13.0) and guard MA Abdur-Rahkman (12.8) are the Wolverines' top scorers. Wagner is the team's leading rebounder with a 6.9 average.
Sister Jean said she likes to pray for both teams, but left no doubt where her heart lies.
"Sometimes the fans from the opponents say, 'We noticed that you gave Loyola a little more attention than you gave us.' And I say, 'Well, if you wore maroon and gold (Loyola colors), you would, too." So I have a working relationship with the opponents, too.
"A lot of opponents have taken my picture, so I thought, well, I wonder where their heart is. But I always pray, too, that nobody gets injured because nobody likes to lose a (team) member, regardless of what part of the season it is."