This is what College of Wooster freshman swimmer Molly Likins experiences nearly every time she jumps into a swimming pool, be it for practice or a meet within the North Coast Athletic Conference, but it is not because she mentally blocks out all other distractions.
A hearing impairment provides unique challenges to those who compete in sports, but for Likins, it has led to plenty of experiences that might not have been possible otherwise.
The recipient of a cochlear implant in her right ear at the age of three and 14 on the left side, Likins views the impairment as a chance to broaden her horizons, both in the swimming pool and on the softball diamond, as well as in life outside of competition.
"It opened more opportunities for me that I don't think I would have if I hadn't been implanted with cochlear implants," Likins told WKYC.com in an exclusive interview.
"I don't think I would've had as many successful opportunities. Other than just being able to hear my professors or my teachers, I've always had this tweak about also being in the deaf community, and that's how I got into USA Deaf Swimming."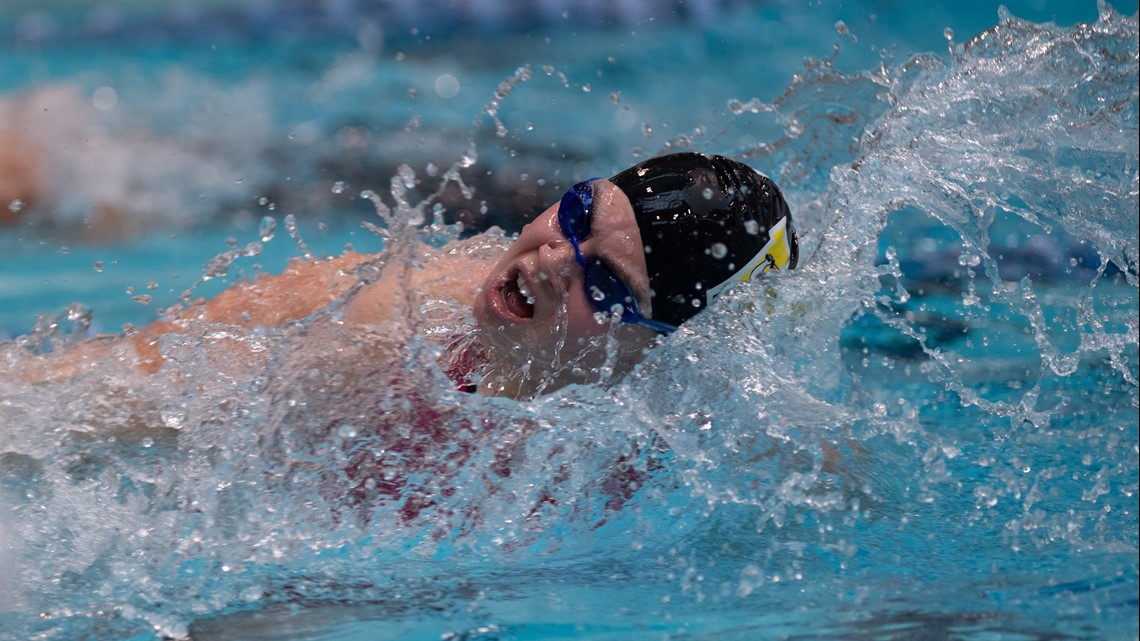 Long before Likins was swimming for the Wooster Fighting Scots, she was competing on the international stage.
Likins first competed at the Deaf World Swim Championships in San Antonio in 2015, and then, travelled to Samsun, Turkey to compete in the 2017 Deaflympics. While representing Team USA, Likins set new national records in the 50 and 100-meter breaststroke events and on the mixed medley and women's medley relay teams.
"San Antonio was a blast," Likins recalled. "My mom was kind of searching, 'Is there any actually deaf national swim teams because there's the Paralympic Team, and obviously, the Olympic Team?' She stumbled upon the US Deaf Team and she looked at all of the qualifying times to be on the team and she's like, 'You're able to get a lot of these times. Why don't we email them and see what it would take to go to San Antonio?'
"For the Deaf Olympics in Turkey, I had such a blast in Texas with these people, so I'm like, 'I'll do it again.' Learning about different deaf communities from all over the world, it's really exciting. I love to meet people and learn different signs because I sign very little. I just love my deaf community as well as my hearing community."
Likins hopes to continue competing internationally after completing the 2018-2019 swimming and softball seasons at Wooster.
"This summer is in Brazil," Likins said. "I've sent my application in to hopefully go to Sao Paulo, Brazil."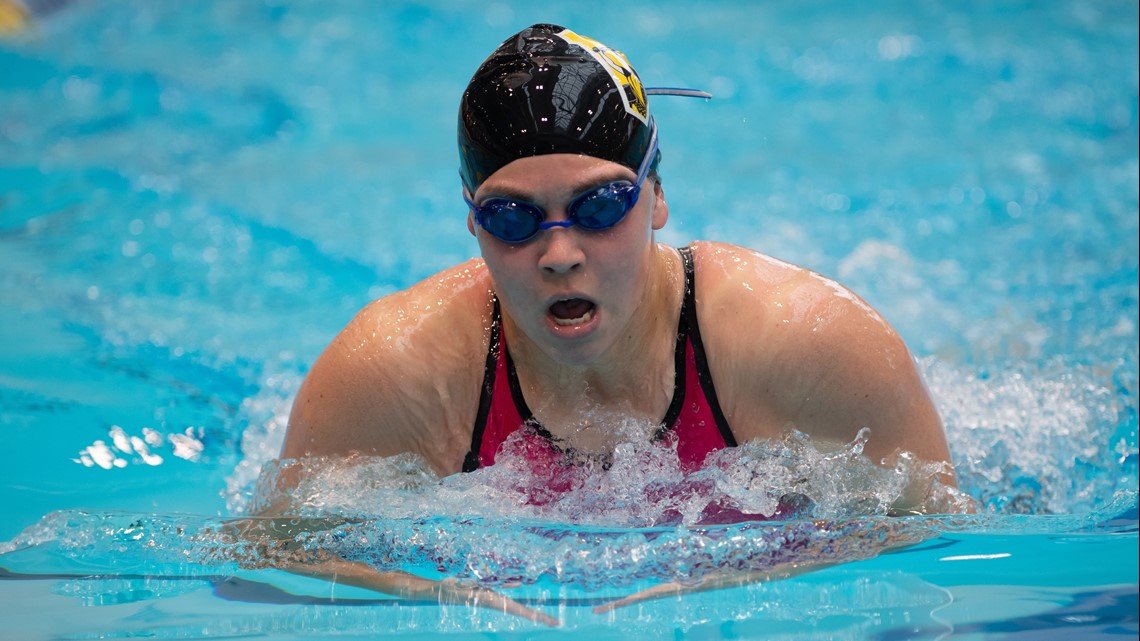 Originally, when Likins decided to come to Wooster, she was going to focus on softball and academics and leave her swimming career in the past, but that plan did not last for long.
Through the efforts of Wooster coach Rob Harrington, Molly's older sister, Heidi, who was already on the team, and their mother, they got Likins to give swimming a try, and the rest is history, as now, she is focused on being a dual-sport collegiate athlete.
"I was iffy about swimming because my high school career, it was great because I was succeeding, but it wasn't just as fun anymore," Likins recalled. "I was like, 'I'm going to hang off on swim.' Then, Rob was like, 'We could really use a breaststroker.'
"'Just try it out.' I'm like, 'Okay, I'll swim and see what it's like,' and I absolutely love the atmosphere here.
"I couldn't give up the other, really. I've always had swim and softball, swim and softball, swimming and softball every year ever since I was about six. I've always been swimming. I've always been playing softball. I've played basketball. I was always doing something athletic, and then, I just eased into swimming and softball and never stopped."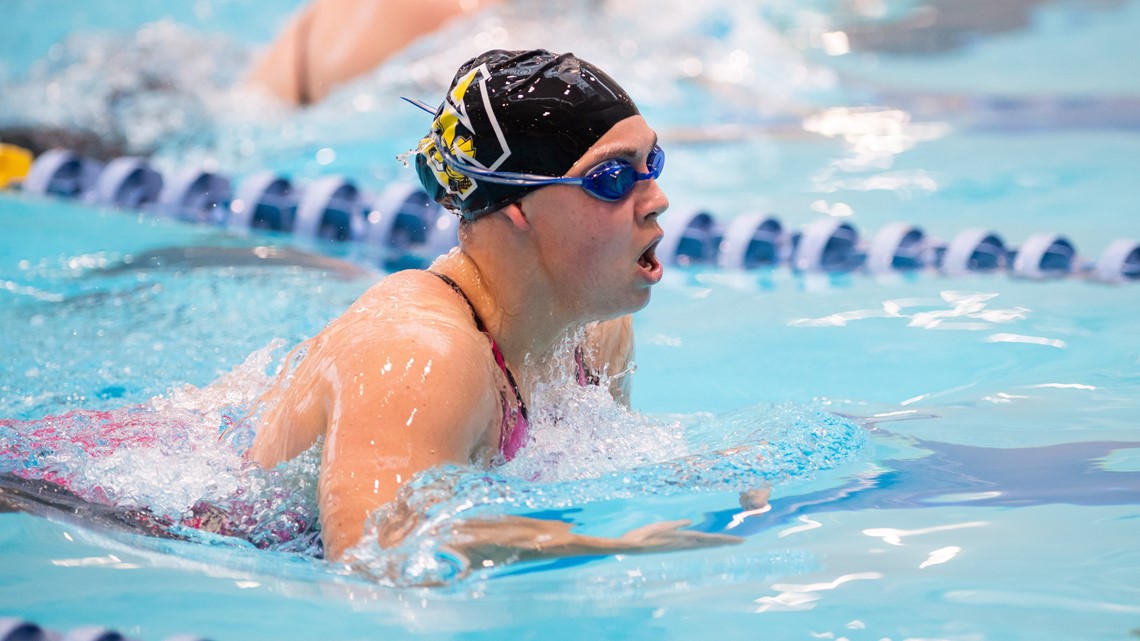 Before worrying about Brazil, there was the matter of competing at the 2019 NCAC Championships in Granville, Ohio last week, and it was a busy tournament for Likins.
She competed in the 100 and 200-yard breaststroke races, as well as other individual events and various relay teams.
Likins was part of a fourth-place team in the 200-yard freestyle relay and third-place showing in the 400-yard medley relay. Also, Likins was part of a second-place 200-yard medley relay team. In addition to the multiple relays, Likins posted a top-five finish in the 100-yard breaststroke, as well as a seventh-place showing in the 200-yard breaststroke.
By competing internationally and at the collegiate level, Likins is hopeful that her story and pursuit of "the thrill of succeeding and just having that pride of winning" inspires others to strive for things once considered unattainable.
"I try to be the best person I can be, so that others can push themselves to be the best that they can be," said Likins, a native of St. Clair, Michigan.
"In my hometown, I have met deaf kids who want to do sports, but their parents are scared that they're going to be treated differently. I have been treated differently, but now, I've proven them wrong. It's just a matter of proving to themselves that they could be just as good as other swimmers or athletes."