'100% committed': The 10-year saga of the Haslam ownership of the Cleveland Browns
On the day the Browns return to training camp, we look back at the first ten years of Jimmy and Dee Haslam's ownership of the franchise.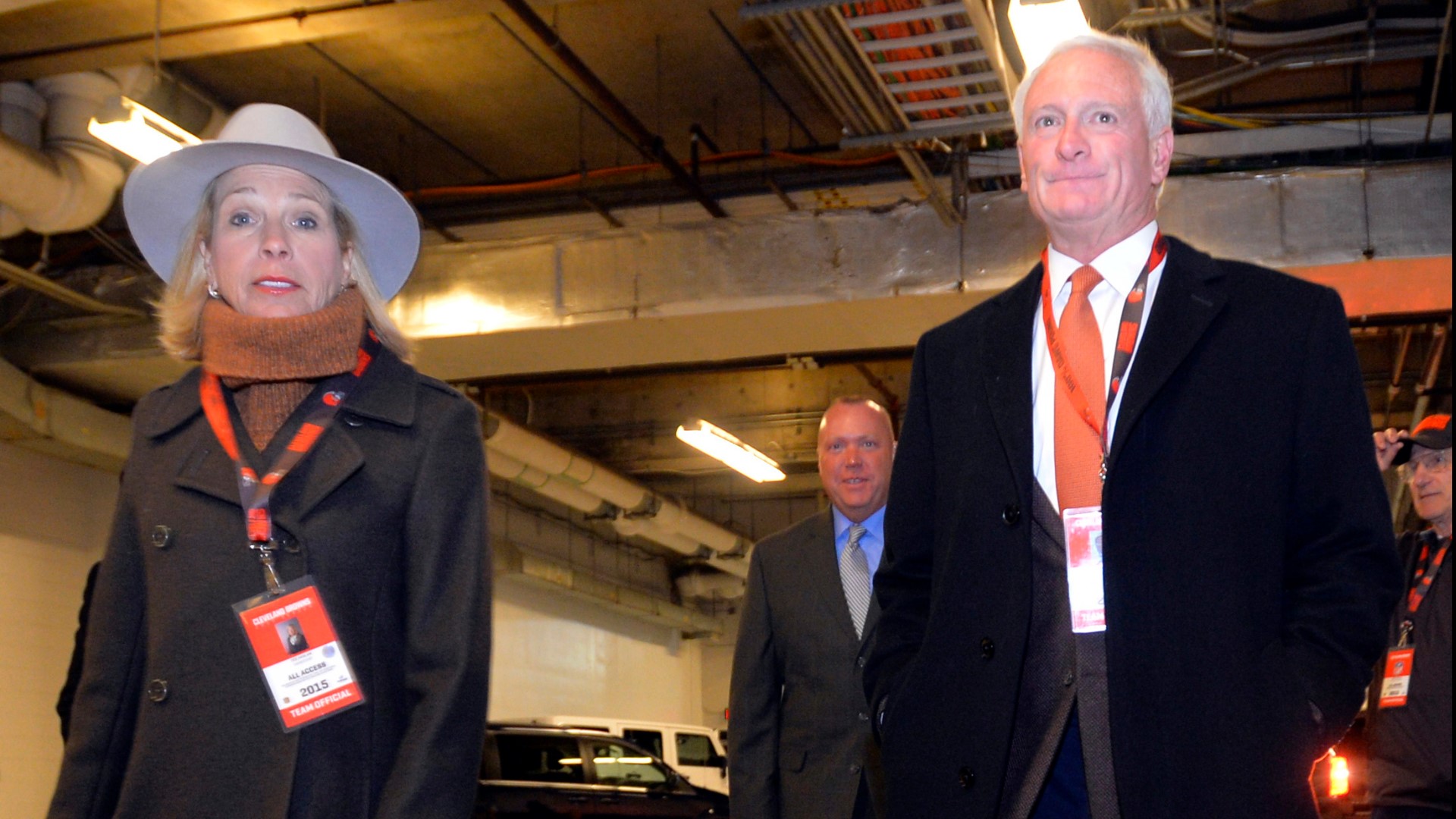 As the Cleveland Browns begin training camp ahead of the 2022 season, we mark the 10-year anniversary of the team being under the ownership of Jimmy and Dee Haslam. The duo came in with one mission in 2012: To bring winning football back to Cleveland. So far, that mission has resulted in just one playoff appearance mixed in with some of the worst seasons in franchise (and NFL) history. Along the way, the Haslams have hired five different head coaches, have had five different men running their football operation, and numerous starting quarterbacks.
Fresh off of their biggest gamble, it's still fair to ask one question: Can the Browns win the Super Bowl with Jimmy and Dee Haslam as owners? In the meantime, here is a look back at their time in Cleveland, which many of us first found out about thanks to an early morning text message.
The Beginning
:
"If you walk out of here and only remember one thing, remember the Haslam family is 100% committed to making the Cleveland Browns a winner again."
Although the Haslams officially became the owners of the Cleveland Browns on Oct. 25, 2012, the story actually begins three months earlier.
Kenny Roda, then a co-host of "Cleveland SportsNight" on ESPN 850 WKNR, was awakened by an text message sent at around 6:30 a.m. on July 27.
"A source told me that (then-Browns owner) Randy Lerner was selling the team," Roda recalls. "I remember thinking, 'Am I dreaming?' It ended up being a crazy morning."
Roda got in touch with colleagues at WKNR to help nail down the story. Soon, the Browns were forced to put out a statement confirming that Randy Lerner, who had owned the team since his father Al passed away in 2002, was selling the franchise to Pilot Flying J CEO Jimmy Haslam for just over a BILLION dollars.
Everything about Jimmy Haslam and his family screamed success.
Jimmy Haslam not only was a successful business executive, he had also been minority owner of the Pittsburgh Steelers since 2008. His father, Jim, was the founder of Pilot Enterprises, one of the largest privately owned companies in the nation. His wife, Dee, was a successful media executive who produced such shows as Trading Spaces on TLC.
His brother Bill? The governor of Tennessee.
Now, that family would be running the Cleveland Browns.
As per usual, we never got to see Randy Lerner hand the baton to Haslam. He released a statement saying that he was "overwhelmed" by the offer from Haslam and needed several days to consult with his mother and sister before agreeing to sell the Browns.
"I feel a deep debt of gratitude to the loyal and passionate fan base, as well as the people I've met and worked with over the years," he wrote. "It has been a privilege to be involved with the Cleveland Browns and my only hope is that the Haslam family has the best of luck and that the Browns are restored to their rightful place among NFL Champions."
Randy Lerner had never seemed "passionate" about owning the Cleveland Browns. He gave few interviews and held fewer press conferences. His passion seemed to be overseas in England with the other team he owned, Aston Villa of the Premier League. Lerner entrusted the Browns franchise to Mike Holmgren in late 2009, naming the former Super Bowl-winning coach the team's president. The experiment proved disastrous, with the Browns posting a record of 14-34 during his tenure.
Roda remembers vividly the atmosphere in Berea after his story came out. "I went to training camp that day and got a death stare from (then-Browns head coach) Pat Shurmur because of all of the questions that were being asked. It's like 'Don't shoot the messenger.'"
Less than a week after Roda got his phone call, the Cleveland Browns set up a press conference on Aug. 2, 2012 to introduce James Haslam III as the team's new owner.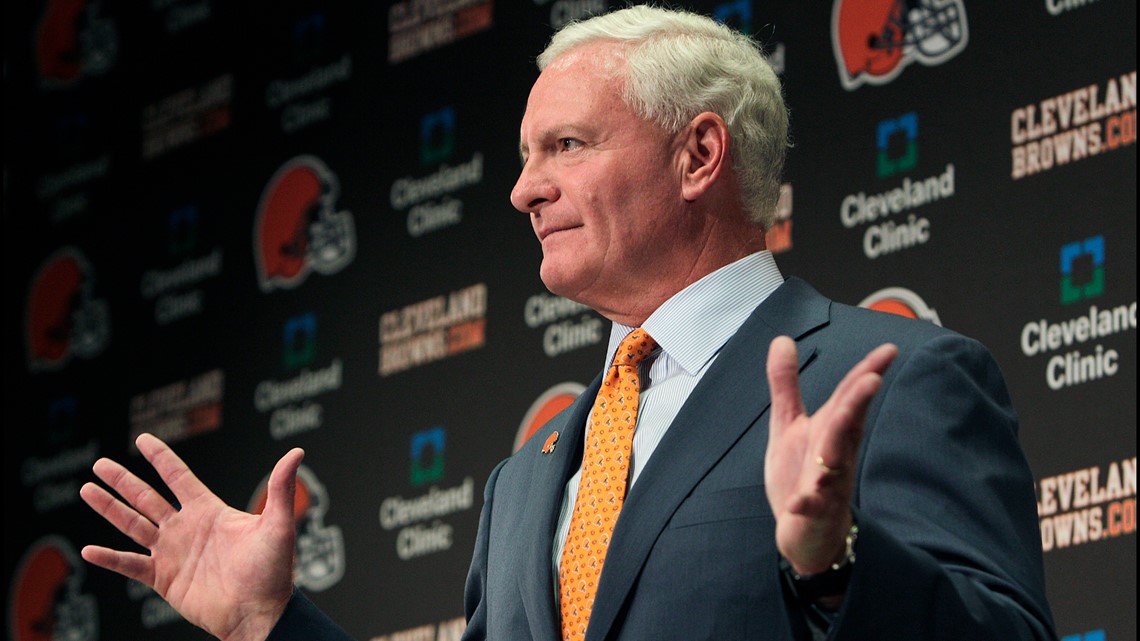 The 57-year-old said all the right things to the media that day:
"There's no reason why this can't be a winning franchise. Everything's here, right? There's no reason. If they don't, I'll accept the blame. 'It's our fault, we didn't execute like we should.' Every other piece is in place here: Great fan base, you have the money you need. We just have to execute."
"They have the 'Steeler Way' of doing things. I think we will now have the 'Browns Way' of doing things. They build through the draft and those are the things that I learned there. I will also say this, I have absolutely no trouble wearing orange and brown now. I took my Steeler watch off yesterday, put my Browns watch on today, and we're fired up."
"If you look at our main company, Pilot Flying J, it's been in business for 53 years. We have a very, very senior group of individuals, a very set culture, and candidly, that's how we plan on doing it here. We're going to devote whatever time necessary it takes to get things right here in Cleveland, and I believe they're on the right path now. We're going to take whatever steps necessary to bring winning football back to Cleveland."
But perhaps this last quote best defines Haslam's tenure:
"Dad and I were taking showers after practice and he said, 'What do you think?' and I said, 'I think we have a lot to learn,' but we think it's an unbelievable opportunity here and if you walk out of here and only remember one thing, remember the Haslam family is 100% committed to making the Cleveland Browns a winner again."
Jimmy Haslam would have to wait until October for the NFL to finally approve his ownership bid. If we needed any kind of clue as to what kind of owner he would be, it was perhaps best seen in this clip from Oct. 21, 2012, when the Browns were playing in Indianapolis. Trailing by four points in the fourth quarter, rookie wide receiver Josh Gordon failed to hold on to what would have been a touchdown pass thrown by Brandon Weeden. Haslam was caught on camera showing his disgust. The Browns went on to lose that game en route to a 5-11 season.
Also that October, Haslam hired former Eagles executive Joe Banner to serve as the team's CEO, tasked with running the team's day-to-day operations. Although not known as a strong football man, Banner came to Cleveland with the reputation of being a shrewd business executive and an expert in managing the salary cap. It would be his job to find the right general manager and head coach.
Banner's choice for general manager was controversial from the day it was rumored. Banner picked NFL Network analyst and former Browns, Eagles, and Raiders personnel man Michael Lombardi. Lombardi was reviled in his time in Cleveland with Bill Belichick in the early 1990s, most notably for jettisoning Bernie Kosar as quarterback. Banner thought highly of Lombardi when the two were together in Philadelphia and ignored the criticism.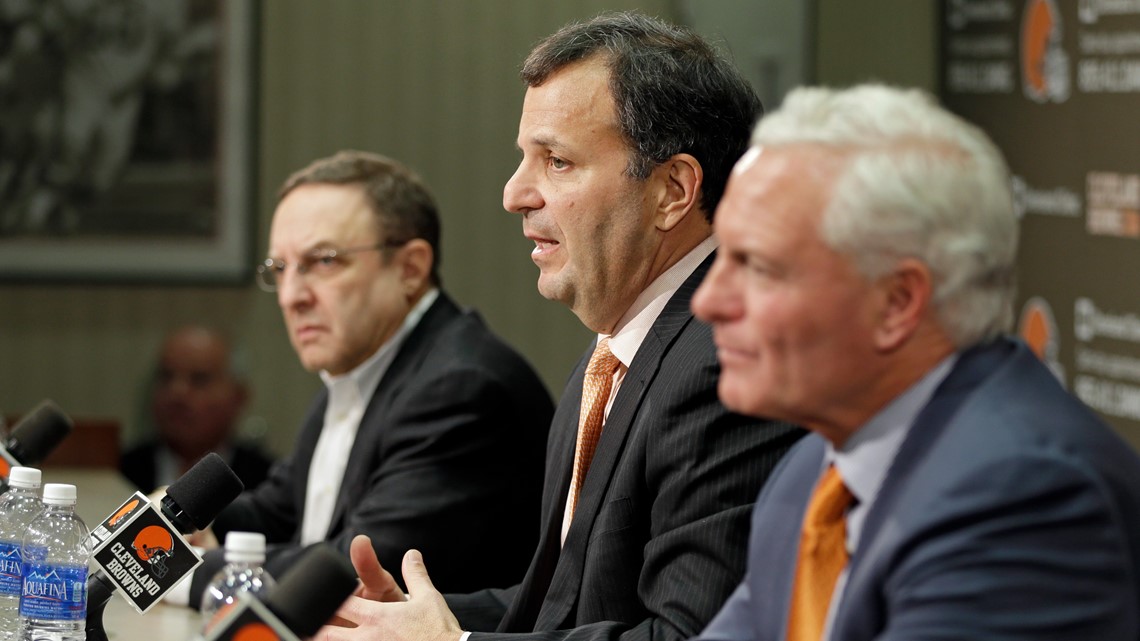 It was said that a trio of Banner, Lombardi, and new head coach Rob Chudzinski would be well-aligned and provide the stability necessary for long-term success.
Yet, all three would be out of a job after one season.
FLASHBACK: Take a look at some of Jimmy Haslam's previous end-of-season press conferences:
Pilot Flying J
:
"We don't know a lot. It appears to be centered on a very insignificant number of customers and the application of rebates, that rebates that were owed to the customers were not paid. We, of course, disagree with that."
"I thought, 'Wow. Just wow,'" recalls veteran Knoxville-based investigative reporter Jamie Satterfield of when she heard the news of the raid. "If the feds feel bold enough to conduct a high-profile daytime raid of a Haslam-owned firm, I can't wait to see their case."
Jimmy Haslam moved quickly to try to get in front of the story, telling reporters the next day that the federal probe appeared to involve rebates for a small number of customers.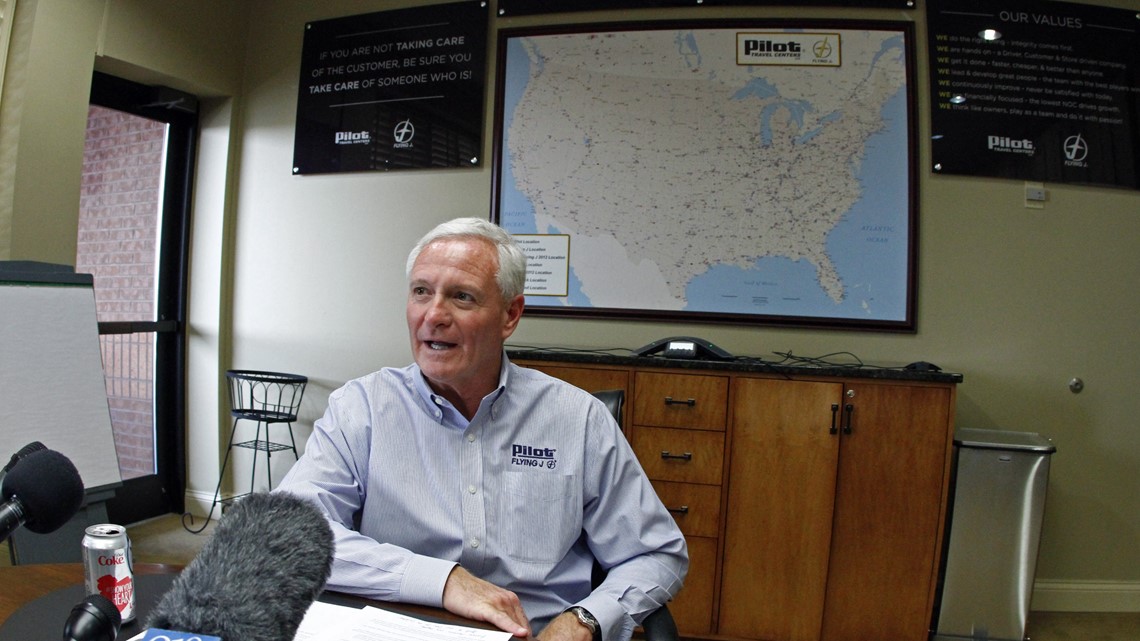 "We don't know a lot," he said in a news conference on April 16. "It appears to be centered on a very insignificant number of customers and the application of rebates, that rebates that were owed to the customers were not paid. We, of course, disagree with that."
But the investigation would cast a shadow on Haslam, his family, and the Browns for years to come. He seemed to understand what was coming.
"First of all, I apologize, because the last thing we ever want to do is put any kind of blemish on the city of Cleveland — which we've grown to love — or the Browns," Haslam added. "So I personally feel bad about that, even though I don't think we've done anything wrong."
Initially, it did not seem like investigators agreed. Three days after the raid, it was revealed that documents claimed both Haslam and Pilot Flying J president Mark Hazelwood were aware that the company was engaging in rebate fraud.
It would ultimately be revealed that Pilot employees conspired to engage in rebate fraud since at least 2008. The scheme, worth more than $50 million, was done by intentionally withholding diesel fuel price rebates and discounts from customers.
As lawsuits were filed and pressure mounted, Haslam told reporters he had no intention of stepping down as Pilot's CEO during the investigation. He outlined a five-point plan to get his company back on track, pledged to trucking executives in a forum that he had not participated in a rebate scheme, all the while remaining out of legal peril.
Many of his employees were not so fortunate.
Seventeen former Pilot Flying J staffers pleaded guilty in the five-year plot to defraud trucking firms. Hazelwood and two others were convicted of crimes, while two more were granted immunity. Pilot Flying J's board admitted prosecutors could prove the plot defrauded truckers of $56.5 million and paid a $92 million criminal penalty. The company also paid an additional $85 million in a settlement with trucking companies.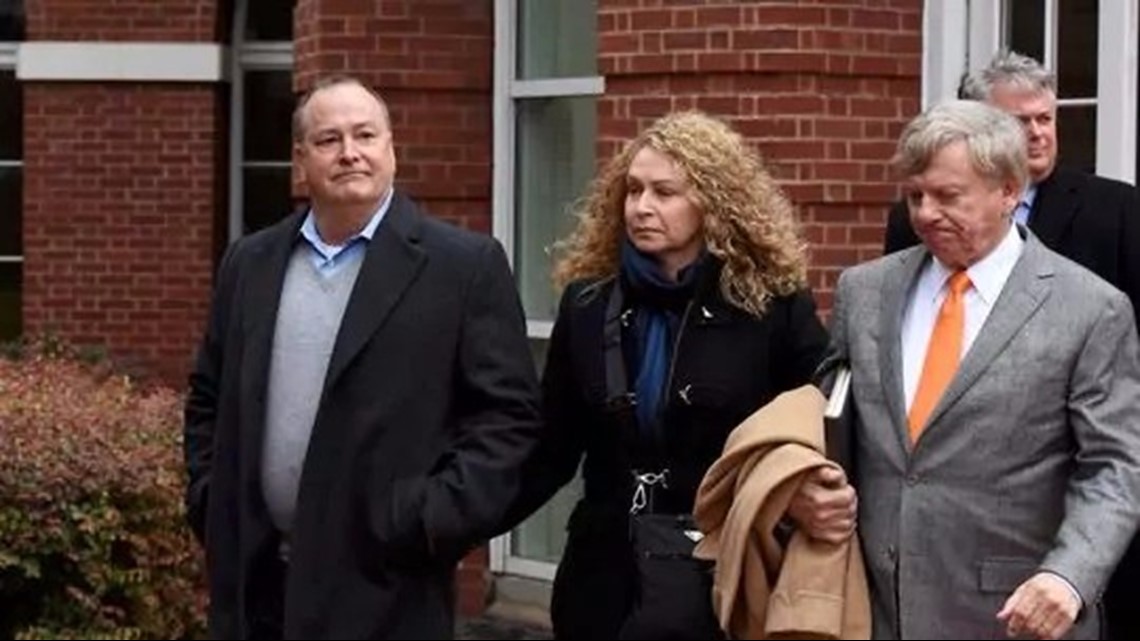 In his trial, Hazelwood was defended by Rusty Hardin, the same Rusty Hardin who would later serve as the attorney for Browns quarterback Deshaun Watson in his sexual misconduct cases. In December 2017, prosecutors revealed that secret recordings were made of Hazelwood making racially offensive and disparaging comments about "the entire population of Cleveland, Ohio, as well as the Cleveland Browns and the city of Oakland, Calif."
Yet, despite the embarrassment of the tapes, despite being under an intense microscope for five years, Haslam avoided prosecution.
"Testimony and undercover recordings provided strong evidence that Jimmy Haslam knew his sales staff were playing fast and loose with these rebates," Satterfield, who covered the story extensively for the Knoxville News Sentinel, said. "But there's a saying among cops, agents, and prosecutors: 'If you're going to shoot the tiger, you better kill him.' Clearly, the feds did not believe they had enough evidence to 'kill' the tiger."
"To me, this case has turned into yet another story of how the bigwigs at the top of the corporate chain skated," Satterfield reflects, "while their underlings took the fall."
Also in 2020, Jimmy Haslam indeed stepped down as Pilot Flying J's CEO and transitioned into a new role as board chairman. Next year, the company is set to be taken over by Warren Buffett's Berkshire Hathaway.
Although Haslam was never charged with any wrongdoing, the five-year saga of the Pilot Flying J raid and trial had somewhat eroded the trust and confidence Browns fans had in his leadership. His credibility in Cleveland was also damaged during that time span thanks to a bevy of questionable hirings and personnel decisions.
Lowlights
:
"We haven't made good decisions along the way so we accept the blame. Our record as owners is terrible. But we're not giving up. Has it been fun? No. Has it been discouraging at times? Yes. But are we going to give up? No. We're more than ever determined to get this right."
Despite the optimism heading into the 2013 season, the Browns floundered to a 4-12 record that included seven straight losses to end the year. Chudzinski was let go on the evening of the team's final game, a 20-7 loss in Pittsburgh.
As was the case the year before, Haslam and Banner aimed high for a new head coach. The previous year, they had swung and missed in efforts to bring Oregon's Chip Kelly to Cleveland. Among their high-profile targets in early 2014 were New England offensive coordinator Josh McDaniels and Denver offensive coordinator Adam Gase. Both passed on the opportunity.
Eventually, the Browns settled on Bills defensive coordinator Mike Pettine, but there would be no stability in Berea.
Nearly a month after Pettine was hired, Haslam stunned the NFL world by announcing he was firing both Banner and Lombardi. The Browns became the first team in league history to fire both their head coach and GM after just one season.
Banner and Lombardi had reportedly clashed throughout the team's search for a head coach, with Haslam becoming frustrated with both men. The tipping point apparently was when the team interviewed former Tampa Bay Buccaneers coach Greg Schiano, who had been recommended to the Browns by both Bill Belichick and Urban Meyer. Banner reportedly made it clear in the interview that he wanted no part of Schiano, and Haslam decided he wanted no part of either Banner or Lombardi anymore.
So at this point in Haslam's 17 months as the owner of the Browns, the team had fired:
Two head coaches (Shurmer and Chudzinski)
Two general managers (Tom Heckert and Lombardi)
One CEO (Banner)
One team president (Holmgren)
"I will accept comments and criticism about change," Haslam said after making the moves. "There is no primer for being an NFL owner. It is learn-as-you-go."
The departure of Banner and Lombardi would place Ray Farmer in charge of the Browns' football operations. Farmer had previously served as an assistant GM for the team and had actually interviewed for the Dolphins general manager job before getting promoted.
He had no input in the hiring of Pettine and would have roughly two months to get ready for the 2014 NFL Draft. It was a recipe for disaster.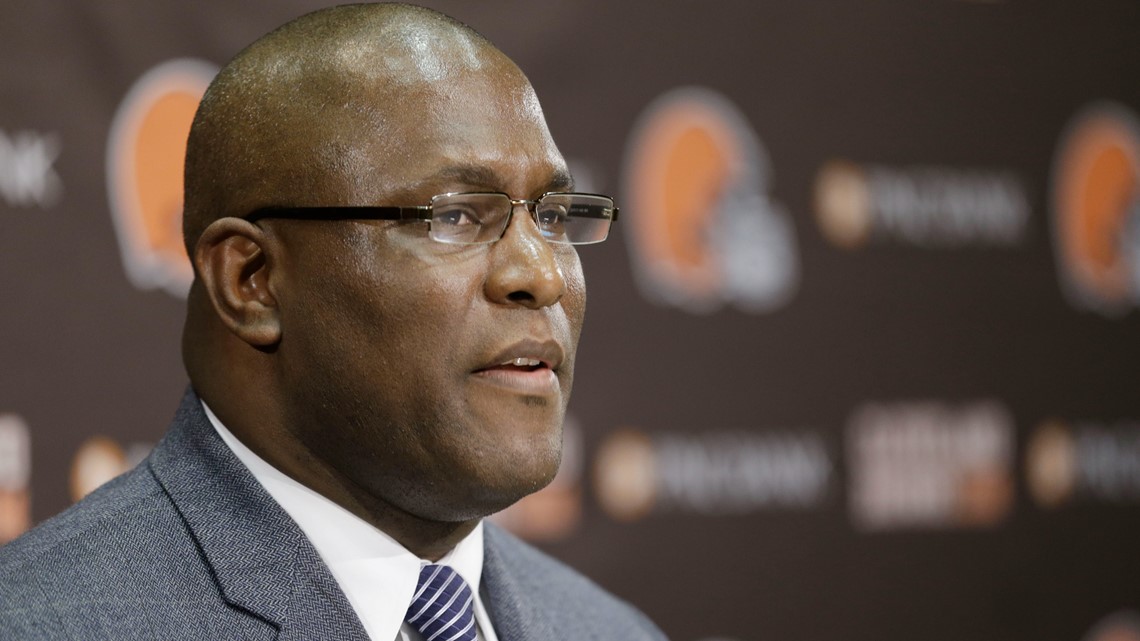 Farmer first traded down from the fourth overall pick, passing up players like Khalil Mack and Mike Evans to select cornerback Justin Gilbert at No. 8. The team reportedly had barely known Gilbert when they drafted him, and passed on future stars like Aaron Donald and Odell Beckham Jr.
Then, of course, came the text.
Former Heisman Trophy-winning quarterback Johnny Manziel texted Browns assistant coach Dowell Loggains as the first round was progressing. According to Loggains' account, here's what happened:
Manziel told Loggains, "I wish you guys would come get me. ... Hurry up and draft me because I want to be there and I want to wreck this league together."
"When I got that text, I forwarded it to the owner and the head coach," Loggains later recounted. "I'm like, 'This guy wants to be here, he wants to be a part of it.' As soon as that happened, Mr. Haslam said, 'Pull the trigger, we're going up to get this guy.'"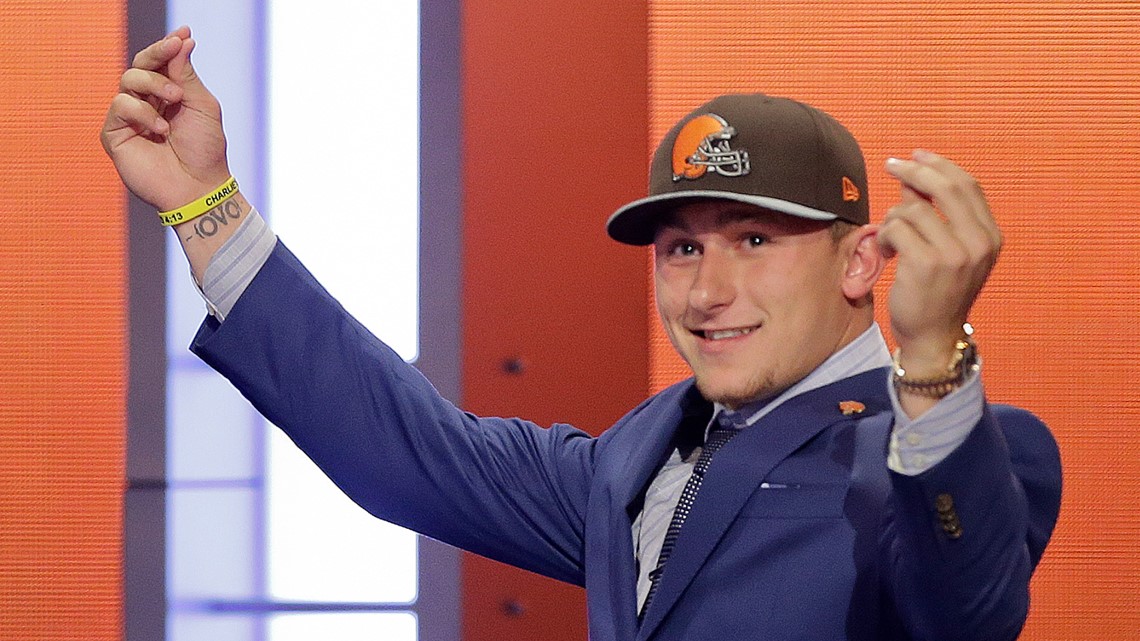 The Browns traded up and drafted "Johnny Football." Whether Loggains' account is accurate or not, it added to the narrative that the Browns under Haslam was a fly-by-the-seat-of-their-pants organization. Manziel, meanwhile, would prove to be a headache off the field, while unproductive on it. Here are just a few of the highlights, or lowlights:
Riding on an inflatable swan drinking a bottle of champagne
Viral pictures of him rolling money into a small tube in a Las Vegas bathroom
Extending his middle finger at the Washington bench during a preseason game on national TV
Missing a team walk-through and treatment before a road game; team security officials had to go to his home to find him
Entered a rehab program after his rookie season
Investigated for a domestic incident in Avon
Instead of staying home after sustaining a concussion, he was seen in Las Vegas wearing a blonde wig, fake mustache and, glasses, calling himself "Billy"
In addition to his questionable draft choices, Farmer also got in hot water with the team and the NFL for sending text messages to members of the Browns coaching staff during games. It led to highly thought-of offensive coordinator Kyle Shanahan resigning abruptly after the season. Farmer was suspended for four games in 2015, and the Browns were fined $250,000.
Things were no better on the field. The Browns finished 7-9 in 2014, but lost their last five games. One year later, they finished 3-13. Pettine and Farmer were both jettisoned almost immediately after the team's final game, yet another loss to the Steelers.
"We've made this decision because we don't believe our football team was positioned well for the future," Haslam said after firing yet another coach and GM. "We are all disappointed with where we are, and we take full responsibility."
What he did next stunned everyone.
On the same night he fired Farmer and Pettine, Haslam promoted general counsel Sashi Brown to vice president of football operations. Brown had never worked in the personnel side of the NFL before; now he was in charge of the team's 53-man roster.
Haslam also announced the club would hire a head coach first, then a general manager. The coach would report to the owner, while the GM would answer to Brown.
Just a few days later, Haslam announced the hiring of baseball personnel man Paul DePodesta to serve as the team's chief strategy officer. DePodesta, who inspired Jonah Hill's character in the movie "Moneyball" and had worked for the Indians in the late 1990s, came to Cleveland with a reputation as an analytics genius. He would report directly to Haslam and carry out a "process-oriented role."
Eventually, Brown would also hire a young scout named Andrew Berry away from Indianapolis as vice president of player personnel, and Brown himself would assume the duties of de facto GM. It was as if Harvard had come to Cleveland, as Brown, Berry, and DePodesta all had degrees from the famed Ivy League school.
The new coach would be Bengals offensive coordinator Hue Jackson, respected as a play-caller and a developer of quarterbacks, but not an analytical kind of coach. As ESPN's Seth Wickersham later reported, the rest of the Browns search committee wanted Sean McDermott, who has led Buffalo to four playoff appearances in five seasons. But Haslam wanted Hue. He got his way.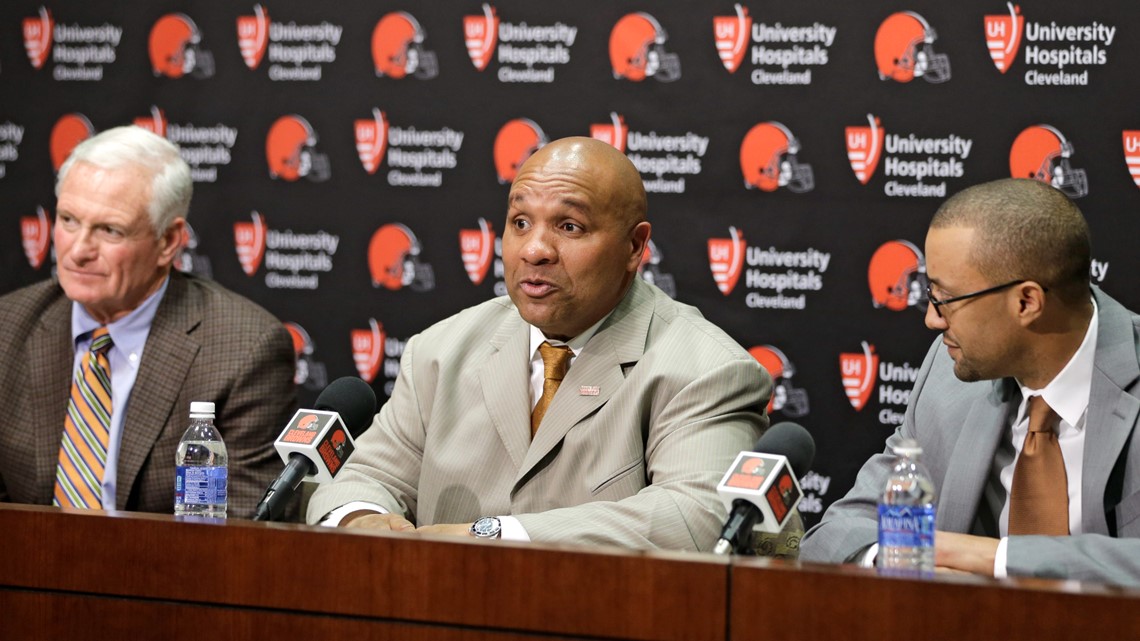 What also changed with the Browns starting with the hiring of Jackson was the much more visible role of Dee Haslam as the team's co-owner. She was a part of the coaching search committee and, moving forward, Jimmy Haslam would seldom be at any news conference without Dee at his side.
It became clear as the 2016 offseason rolled on that the Cleveland Browns would be strictly in an asset accumulation mode. They traded down twice in the first round of the NFL Draft, dealt away All-Pro punter Andy Lee, failed to re-sign right tackle Mitchell Schwartz and racked up salary cap room and extra draft picks.
With the front office and coaching staff seemingly polar opposites, the Browns on the field were disastrous in 2016. They finished 1-15 and continued to be in rebuild mode. The team did take Myles Garrett with the first overall pick in 2017, but passed up quarterback Deshaun Watson at No. 12 by trading down and taking safety Jabril Peppers and tight end David Njoku later in the first round.
2017 would be even worse on the field for the Cleveland Browns, as they became just the second team in the league history to post an 0-16 record. Jackson would live to coach for the next season, while Brown was fired in early December. He would be replaced by former Kansas City GM John Dorsey.
This may have been the lowest point of the Haslam ownership in Cleveland. Wickersham reported that Dee Haslam said the following to employees: "We just don't know what we are doing. If we'd known how hard it would be, we never would have bought the team." Through a team spokesperson, she denied making the statement.
One moment seemed to best typify the Browns' dysfunction between Jackson's coaching staff and Sashi Brown's front office.
Cincinnati.com later reported the trade would have sent a second and third-round draft pick to the Bengals. There apparently was a "disconnect" between the coaching staff and personnel department in regards to McCarron.
FLASHBACK: Jim Donovan and Dave "Dino" DeNatale discussed the failed McCarron trade on the Donovan Live Postgame Show on Oct. 31, 2017:
The Browns were 1-31 in the two years since they went to an analytics front office with a Hue Jackson coaching staff. Something had to change.
The Turnaround
:
"We are excited about the core players we have to build around and develop, and we look forward to bringing in a strong head coach that will put this group of players in the best position to succeed."
On the heels of the Browns' winless record in 2017, social media influencer Chris McNeil organized a "Perfect Season Parade" outside of FirstEnergy Stadium on Jan. 6, 2018. Despite bitter cold temperatures, thousands of fans showed up for the "festivities." Some were there to vent; others were there to poke fun at the misery of the past two seasons. It at least proved that the fan base in Cleveland hadn't lost interest.
In many ways, it marked a turning point in the history of the Browns and ownership of the Haslams.
Armed with a pair of picks in the top five of the NFL Draft, new Browns GM John Dorsey went to work scouting and reshaping the roster. He acquired wide receiver Jarvis Landry in a trade with Miami, then drafted former Heisman-winning QB Baker Mayfield with the first overall pick and Ohio State corner Denzel Ward (a Nordonia grad) at No. 4. In the second round, the Browns selected Georgia running back Nick Chubb.
The pieces were starting to come together.
The Browns tied the Steelers in the season opener, then beat the New York Jets in front of a nationally televised audience on a Thursday night in Week 3 for their first victory in 635 long days. The 21-17 win was highlighted by Mayfield replacing an injured Tyrod Taylor at quarterback.
But all was not well inside the Browns coaching room. Jackson had kept his job despite the 1-31 record, but had been told to delegate play-calling to new offensive coordinator Todd Haley. The two did not get along, and after a 33-18 loss at Pittsburgh, Haslam fired both men.
"We understand how critical this time period is in the development of our football team, individually and collectively, and believed it was in the organization's best interest to make the move at this time, in order to maximize our opportunities the rest of this season," Jimmy and Dee Haslam wrote in a statement.
Defensive coordinator Gregg Williams took over as interim head coach, while running backs coach Freddie Kitchens was promoted to offensive coordinator.
After their bye week, the Browns took off, winning five of their final seven games. They finished 7-8-1 and had narrowly missed out on a playoff berth.
Finally, there was some excitement in Cleveland. The roster was full of young, emerging stars like Garrett, Chubb, Mayfield, and Ward, while Landry had helped to change the culture of the team (as evidenced by the below rant during HBO's Hard Knocks earlier that summer. CAUTION--video contains explicit language).
Now it was time to pick a new head coach. After the Browns offense exploded during the season's final seven games, Dorsey wanted to promote Kitchens, while DePodesta fought hard for Minnesota offensive coordinator Kevin Stefanski. Dorsey got his man, and finally, the Browns would allow for the general manager to oversee the coach. With Kitchens promoted and a blockbuster trade to acquire star wide receiver Odell Beckham Jr., everything seemed to be in place for the team to make a run for the postseason in 2019.
But these are the Browns.
Kitchens was in over his head from day one as head coach. The offense that had been so explosive during the end of the 2018 season was stuck in neutral. The Browns limped to a 6-10 record that included losses in four of their final five games.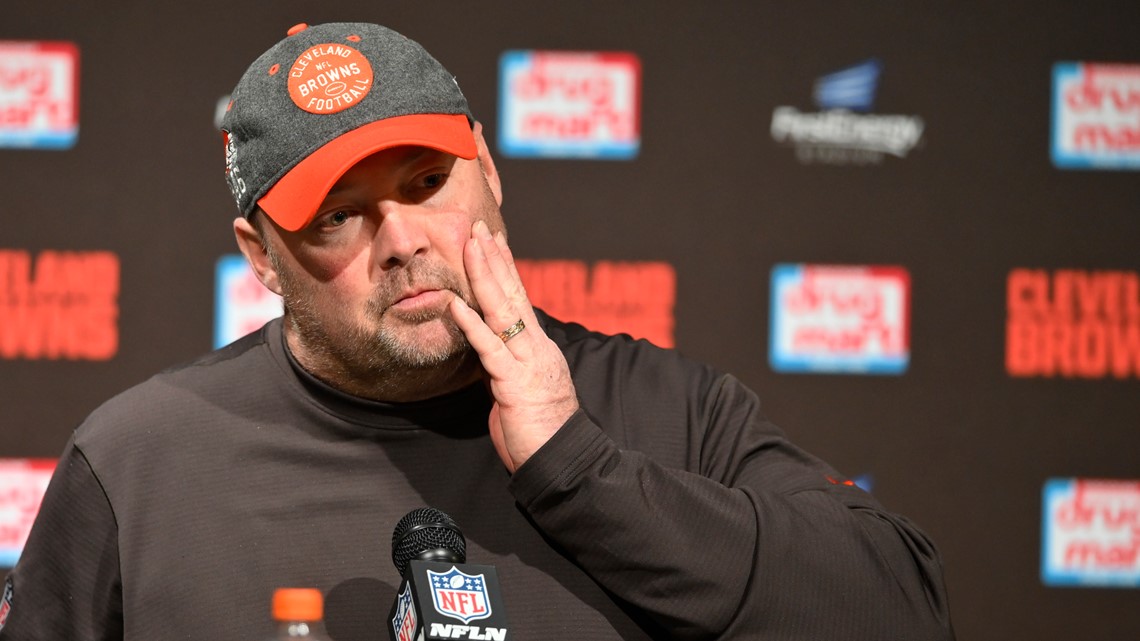 It was the same familiar movie Browns fans were used to seeing in the season finale: Lose to a division rival (the Bengals, in this case), fire the coach the same day. Kitchens was gone by the time the plane from Cincinnati landed at Hopkins.
"Our focus is on hiring an exceptional leader for this football team and we will take a comprehensive approach to this process," the Haslams said in their statement. "We are excited about the core players we have to build around and develop and we look forward to bringing in a strong head coach that will put this group of players in the best position to succeed."
Two days later, Dorsey was gone, too. Like other general managers before him, he had lost a power struggle. This time. it was with DePodesta over front office hierarchy and his authority.
"As the role of the general manager continues to evolve in this league we felt there were areas that needed to be reassessed," Jimmy and Dee Haslam wrote in yet another statement. "Over the last 48 hours, we've had discussion with John about his role but could not come to an agreement on a position that would enable him to remain with the organization."
With DePodesta calling the shots, Stefanski became the choice as new Browns head coach. Andrew Berry, who had worked with both Brown and Dorsey in the past, was brought back to Cleveland to become executive vice president and GM after a one-year stint with the Philadelphia Eagles.
The key word we heard in January of 2020? Alignment.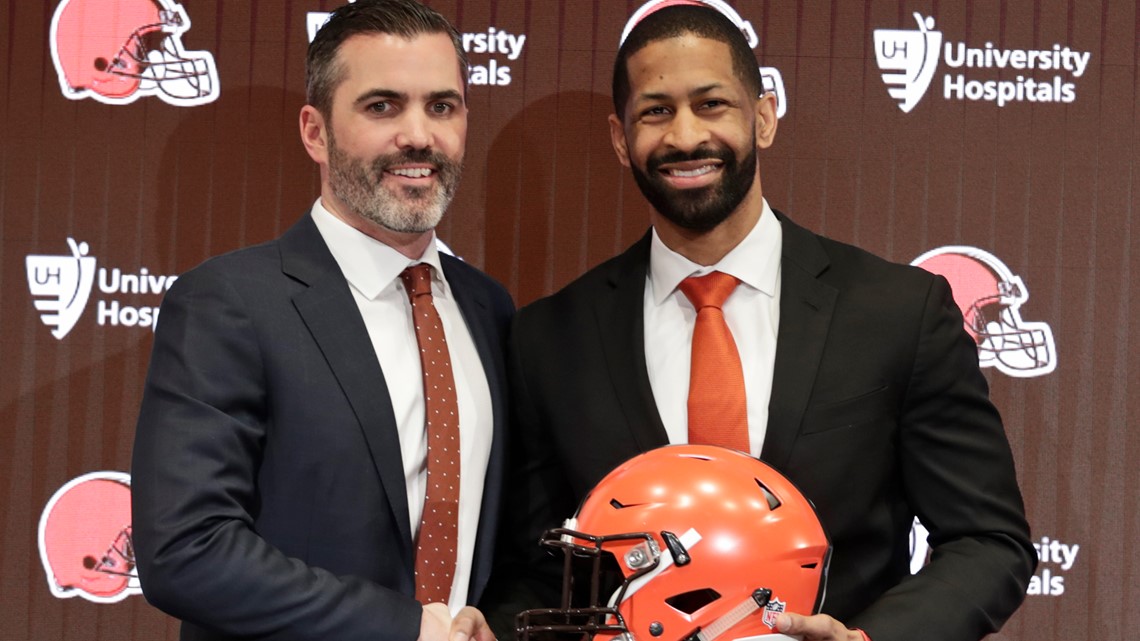 That alignment would be crucial during the challenging 2020 season. Not only was Stefanski in his first season as a head coach, he was doing it in the middle of the COVID-19 pandemic. The team had to go without preseason games, use virtual meetings, and have roster uncertainty heading into just about every game.
In a season where only a limited number of fans were able to see games in person, the Browns put together their finest performance since returning to the NFL in 1999. They finished 11-5, their first winning season since 2007. Cleveland broke an 18-year playoff drought, won their first playoff game since 1994 in a wild-card victory in Pittsburgh, and narrowly lost to the eventual AFC champion Chiefs in the divisional round.
Stefanski was named NFL Coach of the Year. The Browns were the talk of the NFL, this time for good reason. The Haslams finally had a winner.
But there were other reasons for Jimmy and Dee Haslam to feel good around this time.
In 2018, the pair had stepped up to help buy the MLS' Columbus Crew, who had been set to move to Austin, Texas. The deal included a proposal for a new stadium complex in Columbus' downtown Arena District which opened in 2021. Two years after the Haslams bought the team, the Crew captured the MLS Cup.
Meanwhile, the Haslams have also working behind the scenes with city and county leaders to develop the lakefront area around FirstEnergy Stadium. In 2021, the Haslam Sports Group announced a $230 million proposal for a park-like land bridge over State Route 2 and the railroad tracks. The hope is to link the lakefront area around FirstEnergy Stadium, Great Lakes Science Center, and the Rock and Roll Hall of Fame with the rest of downtown, specifically to the mall atop the Huntington Convention Center.
Over the years, Jimmy and Dee Haslam have also worked to give back to the Northeast Ohio community by supporting several charitable causes. Through Haslam Giving, they have focused on the areas of education, social justice, youth sports, parks and public spaces, arts, and health and human services. Since 2005, the Haslam family has invested nearly $100 million for organizations serving their native Knoxville, Tennessee, as well as Cleveland and Columbus.
Jimmy and Dee Haslam have made Cleveland their home. Now, they hope to finally deliver the long-sought prize of a Super Bowl to the Browns.
The Gamble
:
"We put more time, more thought, more effort, talked to more people, did more research on this decision — by far — than any other decision we've made with the Cleveland Browns. It's not something we took lightly."
The Browns took the field in 2021 with optimism at an all-time high. Fans dared to dream about the team finally making it to the Super Bowl.
In Week 2, everything changed. Mayfield suffered a shoulder injury that plagued him throughout the year. While appearing to try to play through the pain, his performances seemed to get worse every week. Off the field, Beckham Jr.'s father posted an 11-minute video to his Instagram account showcasing all of the times that Mayfield missed opportunities to throw to his son. Beckham ended up being released, which divided the locker room.
The Browns finished 8-9. There would be no playoff repeat.
The breaking point happened after a 26-14 loss to Pittsburgh in early January. Mayfield followed up a four-interception performance on Christmas Night in Green Bay by throwing two more picks against the Steelers. He was sacked nine times, four by All-Pro T.J. Watt.
"Obviously, their front's pretty good. It has been for years," Mayfield said of the Steelers. "But when you've got T.J. Watt over there and we're not giving our rookie tackle a whole lot of help, it's not going to be good."
"When it comes to what we've had to deal with all season, there's been a lot of ups and downs. Do I believe I could play better? Absolutely. Do I believe there's positions that we as an offense could have been put in that could have been better? Absolutely."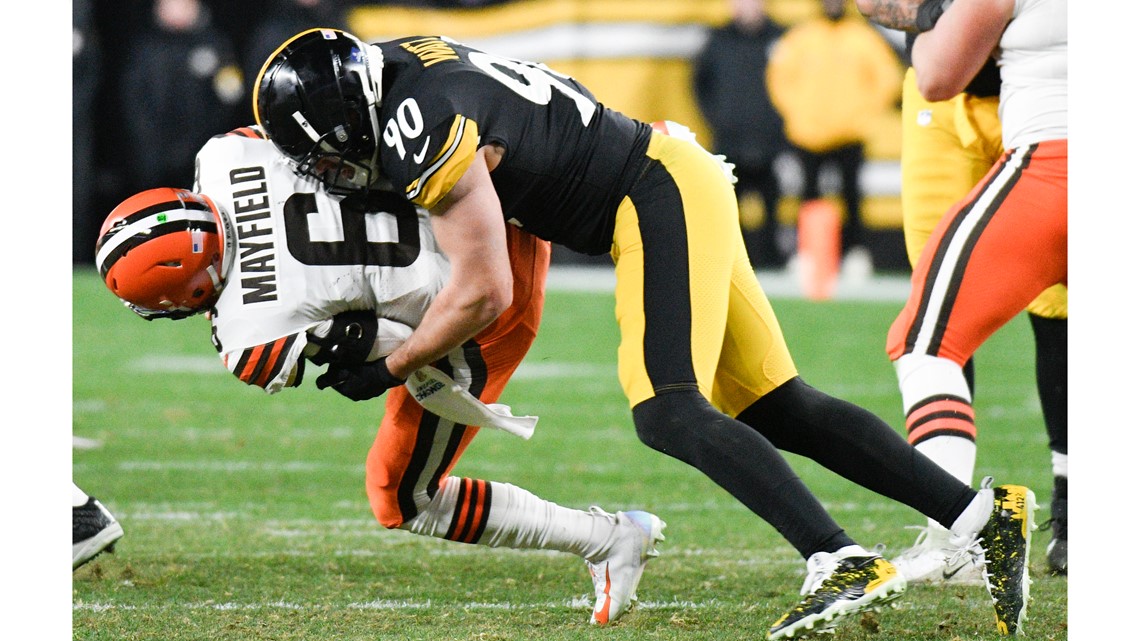 Mayfield also told reporters that he, his family, and his agent had decided that it was best for him to sit out the Browns' season finale against Cincinnati. Clearly, there were tensions. What was also at play was Mayfield was finishing the next-to-last year of his rookie contract. The window for him to get a huge raise was closing rapidly.
A divorce seemed to be inevitable, but what would the Browns do at quarterback if they jettisoned Mayfield? Could they pry Jimmy Garoppolo from San Francisco? Perhaps a deal with the Falcons for veteran Matt Ryan?
On March 11, everything changed for the Browns and their owners.
The Browns explored trade options and flew to Texas to meet with Watson. After reportedly being out of the running, the Browns pulled off one of the biggest blockbuster deals in NFL history, the deal which will ultimately help define the ownership of Jimmy and Dee Haslam in Cleveland.
Watson was acquired by the Browns on March 18 in exchange for three first-round draft picks, plus two other future picks. Watson then signed a guaranteed five-year, $230 million contract with Cleveland, setting a record for the most guaranteed money ever given in an NFL pact.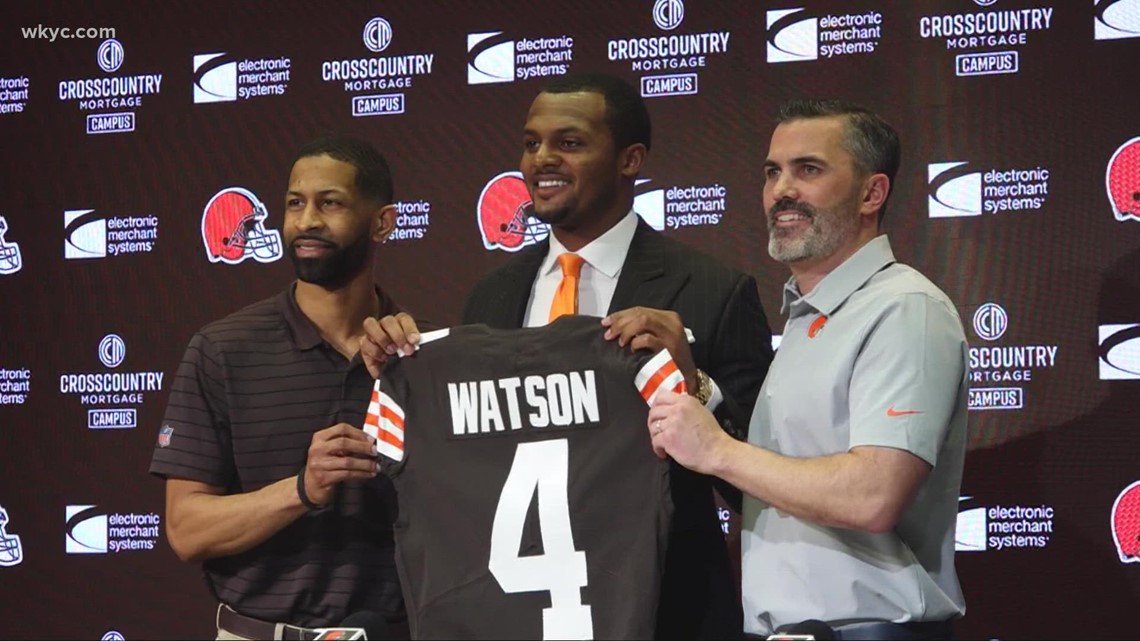 No one could dispute the talent of Watson, a three-time Pro Bowler who was just 26 years old at the time of the trade. But Watson was still facing a bevy of legal problems, including a civil lawsuit involving more than 20 women, and an investigation by the NFL.
"We trust the legal process, and I think due process does exist in our country, and the extensive amount of time we spent researching him led us to make the decision we made," Jimmy Haslam said during their press conference on the day the Browns introduced Watson. Jimmy and Dee Haslam were out of the country and spoke to reporters via Zoom.
And what of the disturbing allegations made by the more than 20 women?
"Dee and I had conversations with our daughters collectively and individually," Jimmy Haslam stated. "We weighed their opinions very heavily as we did several of our friends and other family members who are not involved with the Browns."
"I think they worry about individuals that have experienced sexual abuse and how this would impact them," Dee Haslam added. "I think that's been our concern as a family. How is it going to impact people that have experienced sexual abuse and what are they going to think? We care about these people, so that's been something we've thought about."
"We put more time, more thought, more effort, talked to more people, did more research on this decision — by far — than any other decision we've made with the Cleveland Browns," Jimmy Haslam declared. "It's not something we took lightly."
Ironically, that puts Watson on pace to rejoin the Browns on December 4, when Cleveland travels to Houston to take on the Texans. You just can't make this stuff up.
"I am ultimately extremely optimistic Watson can take the Browns to another level," 3News anchor Jay Crawford said. "When we last saw him on the field, it was clear he was a top 10 quarterback. Winning in the league without a top 10 QB isn't impossible, but it is difficult. This team is built to win now. As time moves on, the window will begin to close, which is why it's so important to the franchise that he is able to play sooner than later."
While we wait for Watson to make his debut later this year, let's look back at this past decade and for some key questions:
What can we take away from the first 10 years of the ownership of Jimmy and Dee Haslam?
Continuity has been hard to come by. The franchise has hired five head coaches and five general managers since 2012.
Winning has been even harder. The Browns are just 52-108-1 during the Haslam regime, with only one winning season and one playoff win.
"In my view, it's all about hiring the right people, and clearly based on the history and track record that has been a major issue for this club," Crawford added. "You always hope the current regime is the right regime. My eternal optimism has led me to be fooled before. I hope my instincts are right this time, but I really like this current group."
Would the Browns franchise be better off with the Haslams or Randy Lerner as owner?
"That's a tough question," Roda admitted. "By a gnat's eyelash, I give the edge to the Haslams. Randy Lerner wanted nothing to do with owning the Browns. Jimmy and Dee have at least won a playoff game."
"I can't say the Browns would be better off under Randy Lerner," Crawford concurred. "Both have had a fair share of struggles."
To me, it all goes back to what Jimmy Haslam said on that first day, 10 years ago:
"There's no reason why this can't be a winning franchise. Everything's here, right? There's no reason. If they don't, I'll accept the blame. 'It's our fault, we didn't execute like we should.' Every other piece is in place here: Great fan base, you have the money you need. We just have to execute."
Browns fans can only hope that the Haslams execute better during this next decade.