CLEVELAND — Training camp is officially underway in Berea, and Browns fans and players alike are daring to dream big.
But in order to reach football's ultimate mountaintop of a Super Bowl, Cleveland knows it must learn to conquer the brutal AFC North.
The team mostly did that in 2020 with a 4-3 record against its division rivals, including an emotional wild card playoff win over the hated Pittsburgh Steelers. But the Browns also endured some close calls and a couple of blowout losses and still finished third in the standings due to tiebreakers.
Keep in mind, you don't necessarily have to win your division in order to win a Super Bowl (just ask the Tampa Bay Buccaneers). However, it certainly makes the road a little easier and when you play six combined games a year against your divisional foes, those contests can make or break your season.
So how do the Browns measure up to the rest of the North? Well, after years of wallowing in the cellar, the gap has finally been closed. Let's break it down, team-by-team:
Baltimore Ravens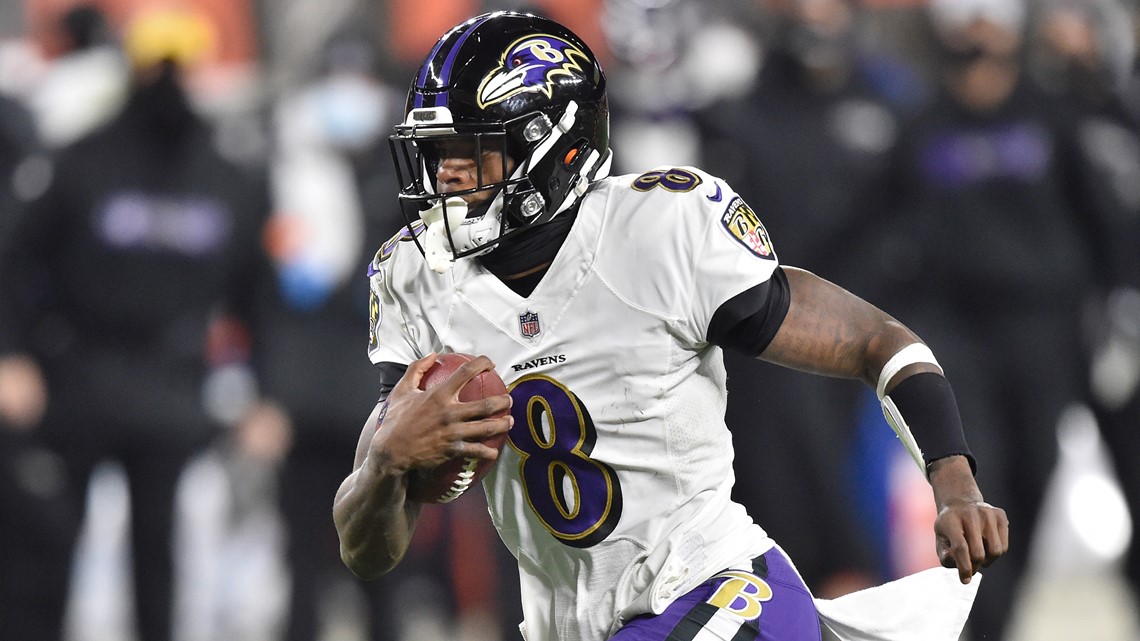 If you ask most observers, this is the Browns' biggest competitor for the division. The Ravens are coming off an 11-5 season in which they advanced to the divisional round of the playoffs and beat Cleveland twice (once via blowout, once in a classic Monday Night showdown), and still boast playmakers like quarterback Lamar Jackson and a defense led by corner Marlon Humphrey.
Baltimore made it a point to re-tool the supporting cast around Jackson this offseason, adding Alejandro Villanueva and former Browns guard Kevin Zeitler on the offensive line while also signing receiver Sammy Watkins and drafting wideout Rashod Bateman out of Minnesota. Cleveland had trouble containing Jackson in both of last year's games (as most teams do), but will hope to at least soften the blow with the acquisition of players like Jadeveon Clowney, Anthony Walker Jr., and John Johnson III on defense.
On paper, the Browns appear to have the advantage offensively (with the likely exception at quarterback) and showed just how well they could move the ball during last season's 47-42 shootout loss in prime time. On the other side, the Ravens look to have downgraded somewhat on defense after losing former Pro Bowlers Matt Judon and Yannick Ngakoue to free agency. To try and fill the void, the team signed veteran pass rusher Justin Houston and also used a first-round pick on Penn State linebacker Odafe Oweh.
The Browns will play the Ravens in back-to-back games in 2021 (with a bye week in between), including a Nov. 28 showdown in Baltimore on NBC's "Sunday Night Football." Expect both of those matchups to play a crucial role in the AFC playoff picture, if not the North division itself.
Cincinnati Bengals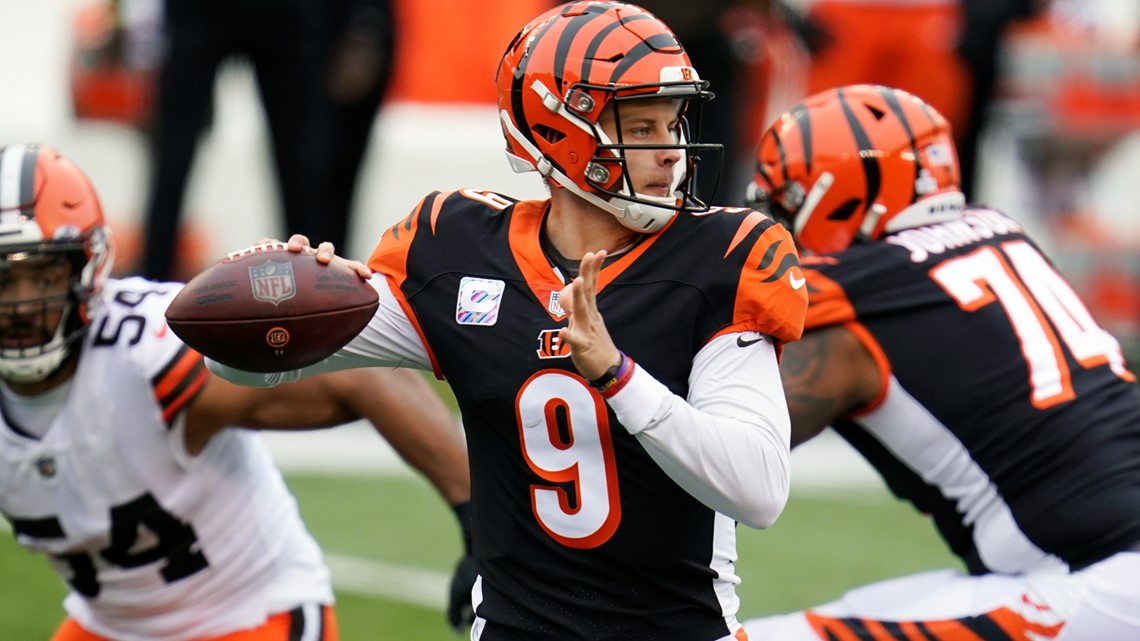 Once again a near-unanimous choice to finish last in the AFC North, but don't sleep on them. The Bengals are always a tough out, and although the Browns beat them twice last year, both games were decided by just a single possession.
Young star quarterback Joe Burrow returns after tearing his ACL in his 10th career game, and to help him out, Cincy used its fifth overall pick on former LSU teammate Ja'Marr Chase. However, their biggest problem in 2020 was the offensive line and while they did draft Jackson Carman out of Clemson in the second round and signed steady veteran Riley Reiff, there's still much to be desired from that unit.
Cincinnati wasn't much better on defense last season, so they decided to spend big there in free agency, bringing in defensive end Trey Hendrickson as well as corners Chidobe Awuzie and Mike Hilton on multi-year contracts. Former Cleveland defensive tackle Larry Ogunjobi also joins the fray, along with former All-American Joseph Ossai out of Texas.
The Bengals doubled their win total from two in 2019 to four in 2020, including a pair of victories over playoff-bound teams (Tennessee and Pittsburgh). There were a lot of other close calls and while they could still be headed for another double-digit-loss season, expect them to at least try to play spoiler to the contenders. The Browns will face them Week 9 in Cincinnati and again Week 18 in Cleveland, hoping to at least have the postseason clinched before that final game.
Pittsburgh Steelers

Long the class of the division and one of the most successful teams in NFL history, the Steelers are coming off a 12-4 campaign that saw them win their ninth AFC North title since realignment in 2002. So why do most prognosticators not have them repeating?
It may have something to do with how 2020 ended. Following an 11-0 start (including a blowout win over the Browns in Week 6), Pittsburgh dumped four of its last five regular-season games to limp into the postseason. That included a 24-22 Week 17 loss in FirstEnergy Stadium that saw Cleveland clinch a playoff berth against the Steelers' second string.
Just seven days later, the two archrivals met for a wild card rematch at Heinz Field. Despite missing their head coach and some key players due to COVID-19 protocols, the Browns performed what could only be described as a football exorcism, racing out to a 28-0 lead before rolling to a 48-37 win. Future Hall of Famer Ben Roethlisberger was intercepted four times in just his third career loss to Cleveland.
After loads of offseason speculation, Big Ben returns for what could be his final season — albeit looking much slower and weaker than when he was winning Super Bowls. JuJu Smith-Schuster, Chase Claypool, and Dionte Johnson give him plenty of receiving targets, while first-round pick Najee Harris will help the run game. However, the offensive line is in shambles following the departures of David DeCastro (released), Maurkice Pouncey (retired), Matt Feiler (Los Angeles Chargers), and Alejandro Villanueva (Baltimore), meaning Myles Garrett and Jadeveon Clowney could have a field day getting to Roethlisberger.
The defense was solid last year, with T.J. Watt and Stephon Tuitt leading the pass rush while Minkah Fitzpatrick tries to shut down the aerial attack. Most of the unit returns except for Bud Dupree and Mike Hilton, so the Browns stellar offensive line will still have its hands full protecting Baker Mayfield and opening lanes for Nick Chubb and Kareem Hunt. Cleveland's offense struggled at times against Pittsburgh a season ago and managed just 13 points in the second half of the playoff victory.
The Browns-Steelers rivalry finally feels like its back, what with plenty of sour feelings ("The Browns is the Browns") and even revenge on the minds of some. These two teams don't like each other, and will get a chance to show their mutual disdain on Halloween along the shores of Lake Erie followed by a Week 17 "Monday Night Football" battle by the Three Rivers. For the first time in decades, Cleveland may actually have the upper hand.