CLEVELAND — Not much to play for when the Cleveland Browns and Cincinnati Bengals meet in the 2019 regular-season finale at Paul Brown Stadium in Cincinnati because both teams were eliminated from the postseason and the Bengals already having clinched the No. 1 overall pick in the 2020 NFL Draft?
Don't tell that to the Browns because they are not buying it.
"This is one of 16, and there is no quit in Cincinnati," Browns coach Freddie Kitchens said. "We expect to get their best shot. The last game [against Cincinnati] means nothing. Last week means nothing to either one of us. What they did now, they should feel very good about, and I am sure they do about what they did.
"They were down, 35-12, with six minutes to go on the clock, and then, down 16 with three minutes to go on the clock, so that was remarkable. That was one for the history books just to get it to overtime. They did a remarkable job."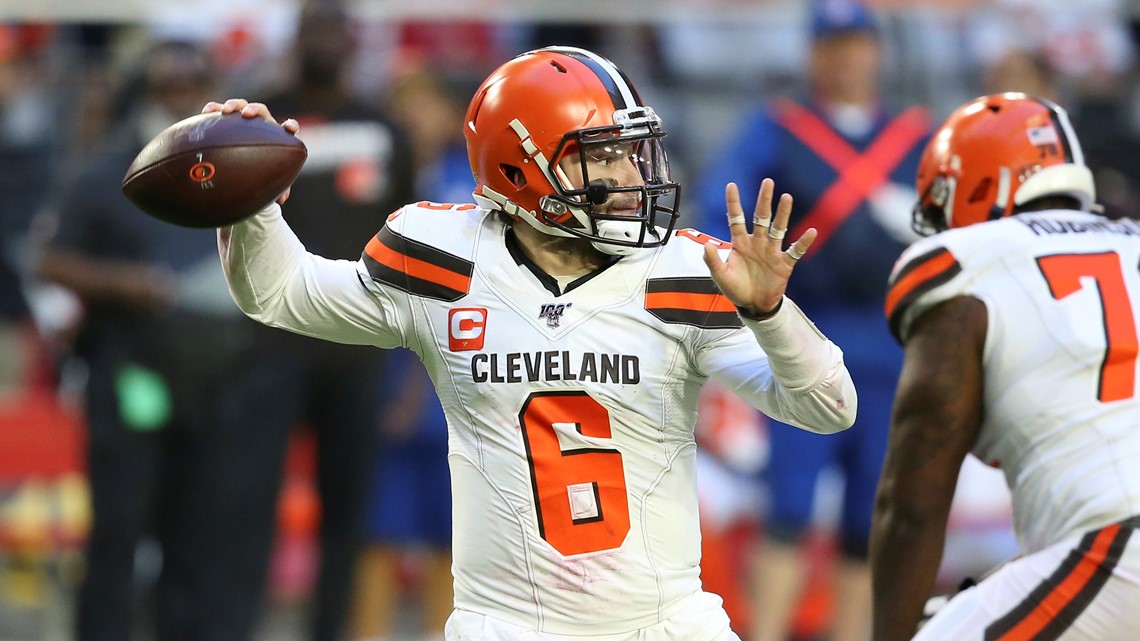 Here is a look at three things to watch for when the Browns and Bengals renew their rivalry in "The Battle of Ohio."
Baker Mayfield was six years old the last time the Browns had a quarterback make all 16 starts in a single season, but that is a streak of futility that could very well come to an end this week.
Mayfield, the Browns' second-year signal-caller, is set to break the 18-year quarterback drought against the Bengals (1-14) today.
"I am never one to shy away from competition," Mayfield said. "I play this game because I love it. I truly do enjoy the process. It is not always fun, but getting to go out there and compete on Sundays to try and have success is the fun part about it. Any chance I get to go out there for a game, I am going to do it."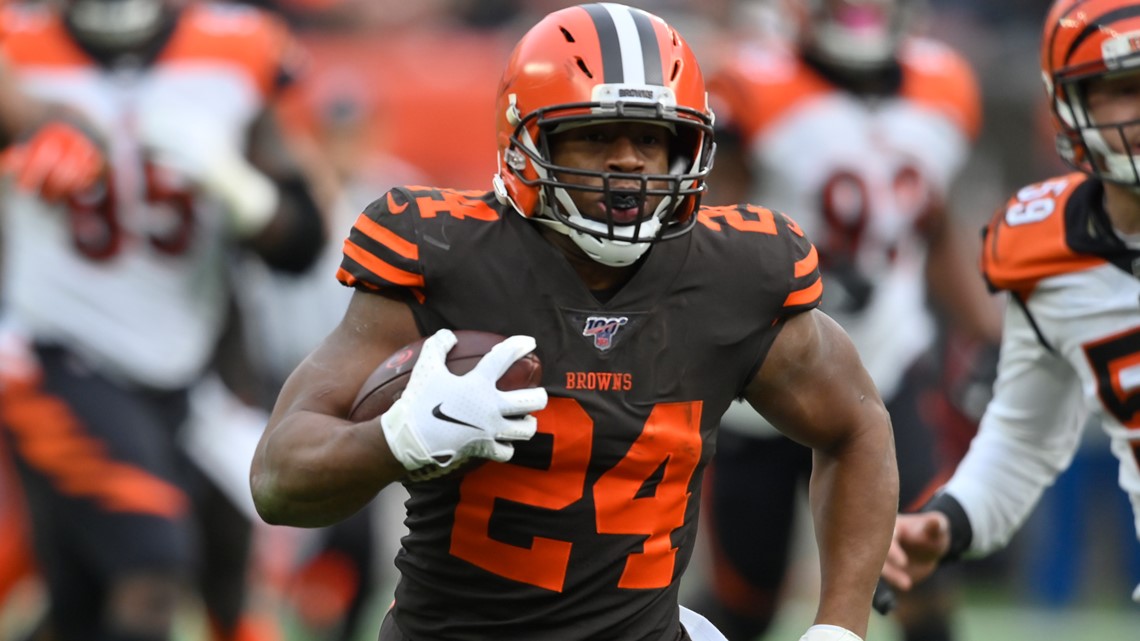 Chubb's carries and yards
The Browns have not had a running back lead the NFL in rushing since Leroy Kelly in 1968, but with a solid showing against the Bengals, second-year ball-carrier Nick Chubb could break that streak.
Currently, Chubb leads the NFL with 1,453 rushing yards and eight touchdowns with 61 first downs, 11 20-yard gains and four 40-yard rushes against only two turnovers. Also, Chubb has proven to be a multi-dimensional back with his 35 catches going for 277 yards, 13 first downs and four 20-yard plays.
Chubb only helped his chances of finishing 2019 as the NFL's leading rusher in the Browns' Week 15 loss to the Arizona Cardinals at State Farm Stadium in Glendale, Arizona, as he powered his way to 127 yards and one touchdown, a 33-yard score, on just 17 carries.
"He has a great personality. He is awfully quiet, but again, anything you ask him to do, he does," offensive coordinator Todd Monken said. "A consummate pro -- for as young as he is, he is consummate pro."
Kitchens added, "You guys know how I feel about Nick. Nick is one of the hardest workers we have. He shows up every day in meetings and on the field trying to get better. He has done an outstanding job of that."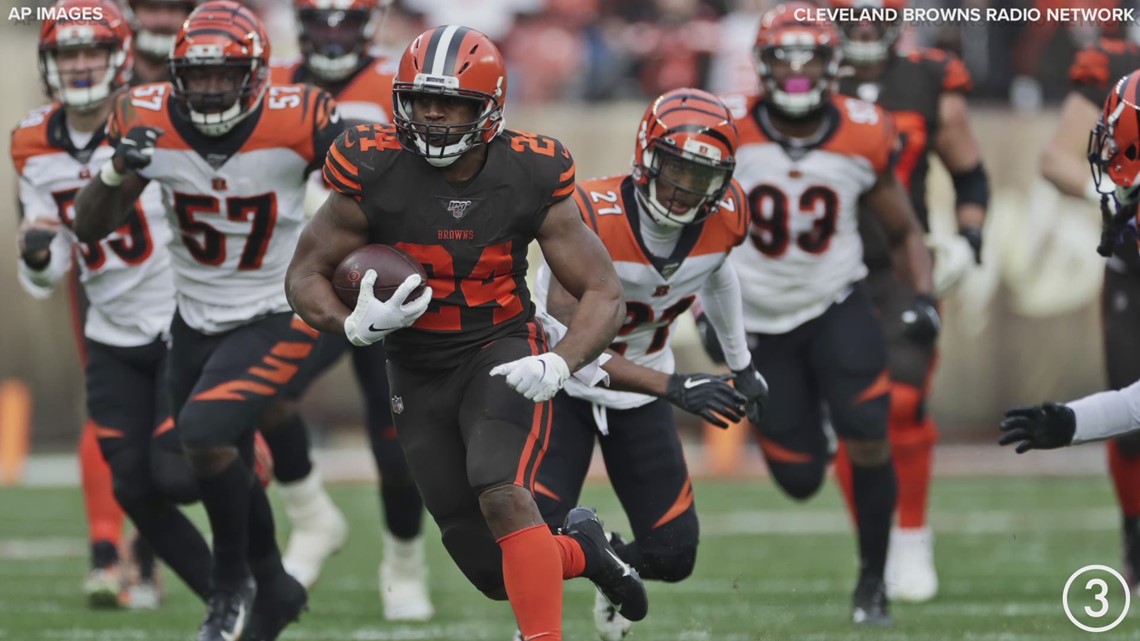 The 2019 season finished the same way the previous 17 have, with no trip to the postseason to follow Week 17, but the Browns know well that positives taken from today's game could spark further change in 2020.
When Mayfield went through the NFL Scouting Combine in 2018, he stated that if there was one player who could turn around the fortunes of a Browns team coming off of an 0-16 season in 2017 that it would be him.
Mayfield got his opportunity when the Browns took him with the No. 1 overall pick, and although there have been successes along the way, neither the quarterback nor the team are where they want to be heading into today's game.
"For us, we are trying to get as far away from what it has been at this place as quickly as we can," Mayfield said. "Seven wins is not good enough for us, and that is why people are frustrated around here, within this locker room. We understand that. It is not about the past. It is about right now and what can we do to get better for the future."