CLEVELAND — The Cleveland Browns had little time to sulk about missed opportunities in last Sunday's 20-13 loss to the Pittsburgh Steelers at Heinz Field because there was another AFC North Division game on the horizon.
Following the loss to the Steelers, the Browns had to regroup quickly and go through their preparations for today's game against the Cincinnati Bengals, who beat the New York Jets for their first victory of the season in Week 13.
"It's very disappointing, but we ain't got no choice now," running back Kareem Hunt said. "We have to move on, look forward to next week's game, get a win and get back on track.
"Honestly, the difference is the teams who want it done never get down on themselves. Bad things happen, and they just move forward. It isn't always going to be pretty or perfect. It's never going to be perfect, but as long as we executed and got the job done, that's all that matters."

Here are three things to watch for in today's first installment of "The Battle of Ohio" in 2019.
The Browns' playoff hopes took a huge hit with the loss to the Steelers, which dropped them to 5-7 on the season and two games in back of both Pittsburgh and the Tennessee Titans for the No. 6 seed in the AFC. Although the opportunity to win the AFC North Division is off the table, the Browns remain mathematically alive in the postseason race.
With only four games remaining in the 2019 regular season, the Browns know they can ill-afford another misstep and enter this week's matchup with the Bengals well aware of what is at stake.
"We have to realize that no matter what other things are going on, on the outside, we have to have that singular focus," quarterback Baker Mayfield said. "If we do want to make the playoffs, we have to buckle down and win each game from here on out. It is just plain and simple. We can't have any slip ups and we have to win."
Defensive back T.J. Carrie added, "We've got to win them all, man. You never know in this league. Winning takes care of a lot of things, though, a lot of ifs, buts and ands, so putting our best foot forward and winning them all is the biggest factor."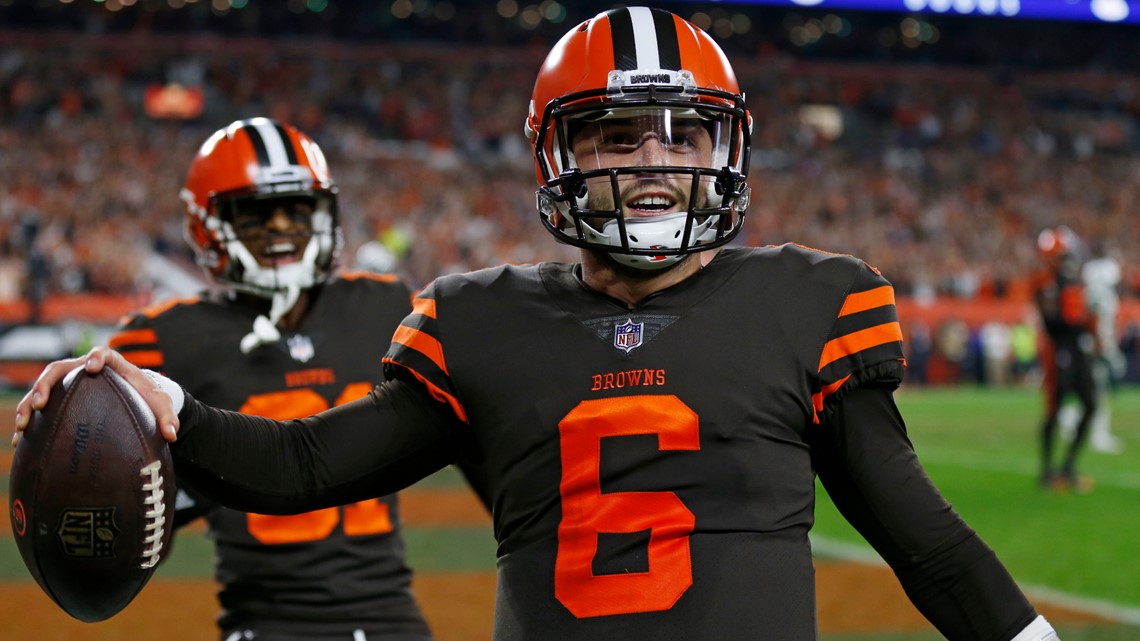 In late-game situations this season, Mayfield has completed only five of his 16 attempts (31.25 percent) for 76 yards with three first downs, no touchdowns and three interceptions while trailing the opponent with less than two minutes to play.
With less than four minutes remaining and the Browns trying to mount a comeback, Mayfield has completed 11 of his 27 attempts (40.74 percent) for 149 yards with seven first downs, no touchdowns and four interceptions.
That level of productivity is opposite what Mayfield was able to accomplish as a rookie in 2018, where he was 23 for 37 (62.16 percent) for 253 yards, 14 first downs and four touchdowns against one interception in games the Browns trailed with less than four minutes to play.
"When the bullets start flying, you are running around and some things happen, you might have…you are reading one thing, but you just have to be able to have that singular focus and focus on doing your job," Mayfield said.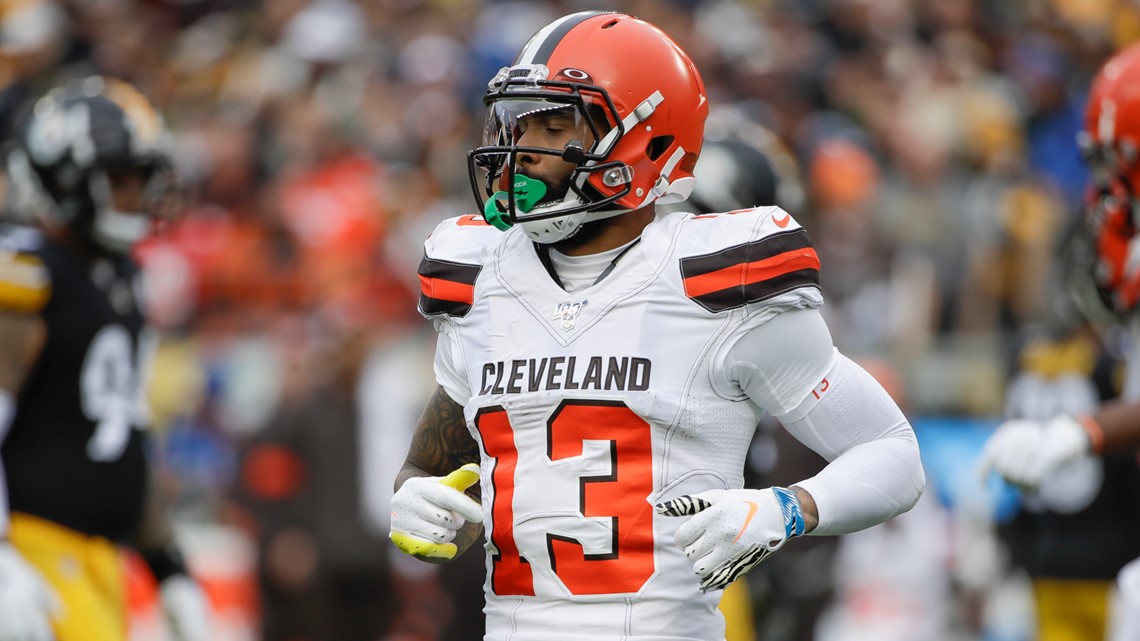 In 12 games this season, his first with the Browns, receiver Odell Beckham Jr. has converted 57 receptions into 805 yards and a 14.1 yards-per catch average, as well as a long play of 89 yards and two touchdowns. Also, Beckham Jr. has rushed for 10 yards on three carries.
Beckham Jr. is second on the Browns only to his close friend and former Louisiana State University teammate, Jarvis Landry, in receptions, receiving yards and touchdowns. Beckham Jr. is tied for the best yards-per-reception average among wide receivers and has the team's longest scrimmage play of the season, regardless of position.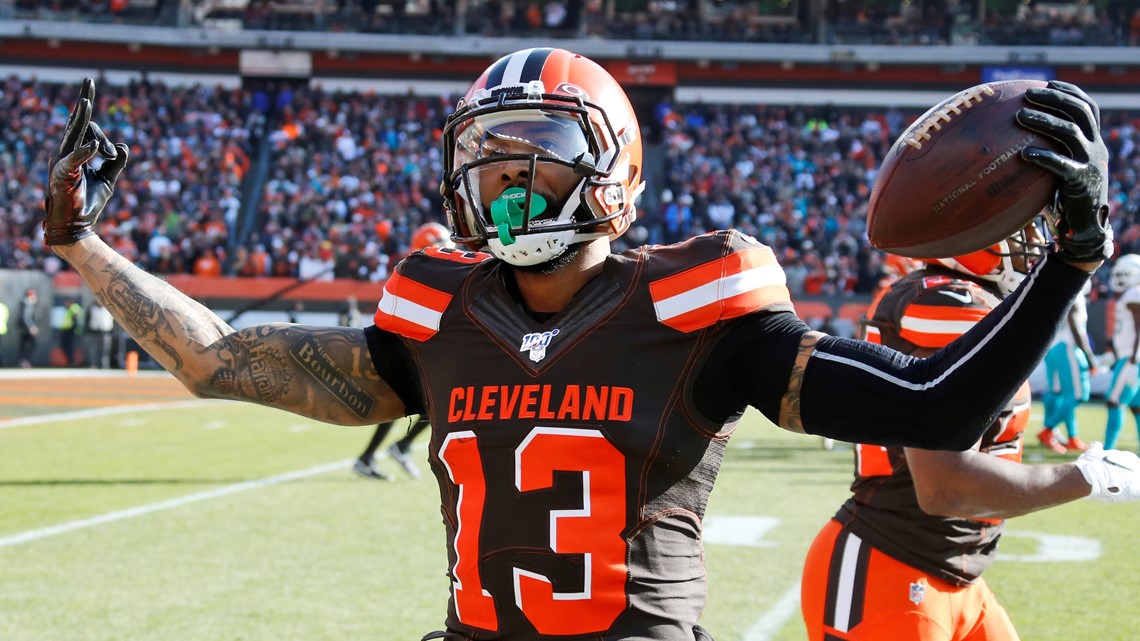 Although versatile enough to score from any position on the field, most of Beckham Jr.'s receptions have come in long yardage situations, as 38 of his 57 catches have needed to go 10 or more yards to secure a first down. Thirty-one of his receptions have come between the Browns' 21-yard line and midfield.
When the Browns have gotten into the red zone, Beckham Jr. has been targeted with only seven passes and turned one of those into catches, and his two touchdowns have come from 89 and 35 yards out.
"He wants to be the solution to helping us win, and he really just wants to win when it comes to it," Mayfield said of Beckham Jr.
"Anytime you are losing, it is frustrating and it is not fun. He wants to help out in any way he can, so we have to try and find ways to get him the ball. There have been a few things that are off here and there or else, we would have some bigger plays and a lot more connections."