WESTFIELD, Indiana — The Cleveland Browns enter the 2019 season with some pretty lofty expectations, both internally at team headquarters in Berea and externally, especially after the acquisition of Pro Bowl wide receiver Odell Beckham Jr. along with emerging talents in quarterback Baker Mayfield, running back Nick Chubb, defensive end Myles Garrett and veteran pass-catcher Jarvis Landry.
Because of that emerging talent and key offseason acquisitions in trades with the New York Giants, the Browns know they are going to get everyone's best effort during the 2019 season.
"I think we do have a target on our back just because of all of the people we have brought in, where the culture is headed and our expectations as a whole," Mayfield said following the Browns' joint practice with the Indianapolis Colts at Grand Park in Westfield, Indiana Wednesday.
"People expect us to do well. It is not like we are going to surprise people this year. They are going to come in and give us their best shot."
At 2-5-1 following a 33-18 loss to the Pittsburgh Steelers on October 28 and in the middle of an unprecedented midseason coaching staff upheaval following the dismissals of Hue Jackson and offensive coordinator Todd Haley with eight games left to play, the 2018 Browns looked to be anything but a team capable of the greatest year-to-year turnaround in franchise history.
However, a 5-3 record over the second half of the season and a three-game winning streak in December secured the Browns' highest single-season improvement in team history, as they finished plus-7.5 in wins over 2017's winless campaign.
Browns coach Freddie Kitchens was elevated to offensive coordinator over the second half of the 2018 season, and because of that experience, there is an added level of trust between the players and their first-time head coach.
"Right now, it is we believe in what we are doing, the coaching staff put together and we believe in everybody and we trust what they are calling and their schemes," Mayfield said. "I would say it is a little bit of last year of being comfortable and knowing what we did offensively, but this year, having a different staff and really trusting that."
Building that trust has been a key part of the training camp experience for the 2019 Browns, as it has allowed the coaching staff to push the players through high-intensity practices.
Since the Browns have been able to put on the full pads on the third day of training camp, there has been only one practice without them. The Browns have carried their pads through 11 practices and one scrimmage, all of which ran longer than the scheduled end time in the quest to get things done correctly.
"I think part of the culture change is definitely beating some of that out. Being a tougher team, being that mentality of coming out and realizing that we are going to be the tougher people every day and work for it. I think it has caught some people off guard a little bit, but me being around Freddie last year, not so much.
"Absolutely, I think we have guys who are bought in right now. That is the best part about it."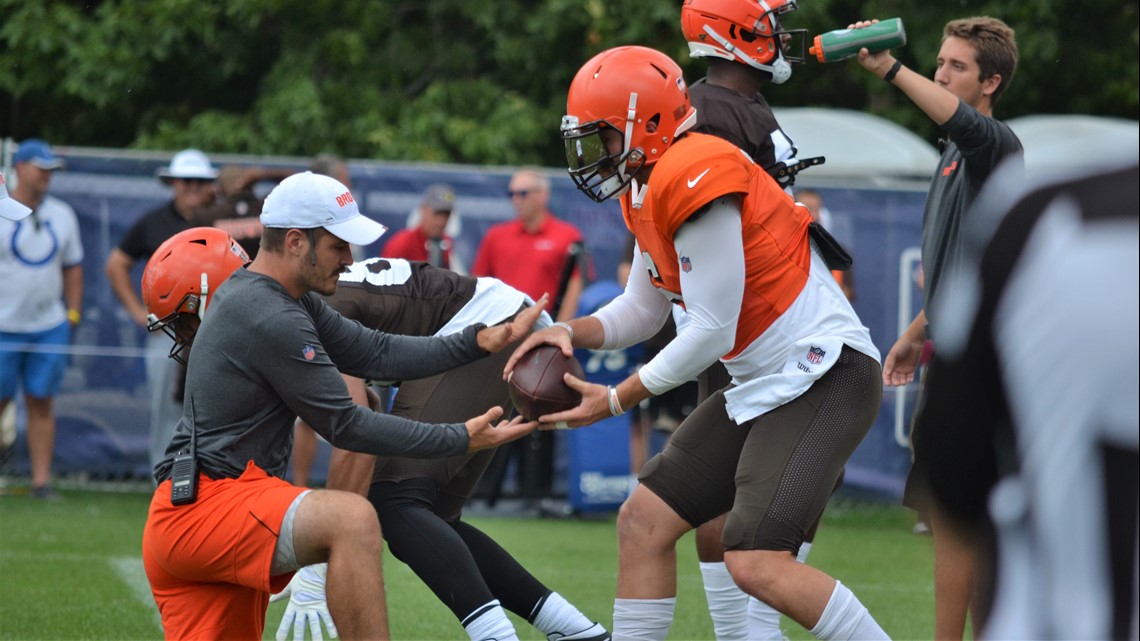 And Mayfield hopes the physicality in training camp will be good preparation for the challenges that await in the regular season, which gets underway against the Tennessee Titans at FirstEnergy Stadium in Cleveland on Sunday, September 8.
"We have to come in every game ready to go knowing that people are going to be ready to play us," Mayfield said.
Additionally, Hunt caught 79 passes out of the backfield for 833 yards and 10 touchdowns, including a single-season career high of seven in 2018.
As a rookie, Hunt went from not expected to have a large role in the offense to rushing for an NFL-best 1,327 yards on 272 carries, an average of 4.9 yards per attempt, which earned him a spot on the AFC Pro Bowl team.
"It is great to have Kareem out there, the special talent that he is and to get out there with us because he is going to have a long wait until he plays," quarterback Baker Mayfield said. "(It's about getting) some reps with us to where that itch gets back for him."