CLEVELAND — It has been nearly a year since running back Kareem Hunt stepped onto a football field for an NFL regular-season game, but that comes to an end Sunday when the Cleveland Browns host the Buffalo Bills at FirstEnergy Stadium.
After serving an eight-game suspension for off-the-field incidents, particularly the assault of a woman at The 9 hotel/apartment complex in February of 2018, Hunt will make his regular-season debut for his hometown team, and it could not come at a better time for the Browns, as they are mired in a four-game losing streak.
"We're hoping for an immediate impact," quarterback Baker Mayfield said after Wednesday's practice. "Everyone here knows what type of player he is. It's why he's here, so of course, he hasn't played in a long time, but he's studied the game plans, from what I understand, the past two weeks and he's been out there at practice and looked great today, so we're looking forward to see what happens."
In two years with the Kansas City Chiefs, Hunt rushed for 2,151 yards and 15 touchdowns with 106 first downs, 19 plays going for at least 20 yards and four 40-yard gains. Additionally, Hunt caught 79 passes out of the backfield for 833 yards and 10 touchdowns, including a single-season career high of seven in 2018.
As a rookie in 2017, Hunt went from not expected to have a large role in the offense to rushing for an NFL-best 1,327 yards on 272 carries, an average of 4.9 yards per attempt, which earned him a spot on the AFC Pro Bowl team.
In addition to his talents, Hunt has shown the Browns that he is determined to better himself off the field by making weekly visits to area high schools to share his cautionary tale of letting off-the-field incidents derail a lifetime of hard work.
"I'd say Kareem is just an all-around great player," Mayfield said. "We'll see as the week pans out what we really want to do to utilize him. I think he does both the pass game and run game. He's a threat in both."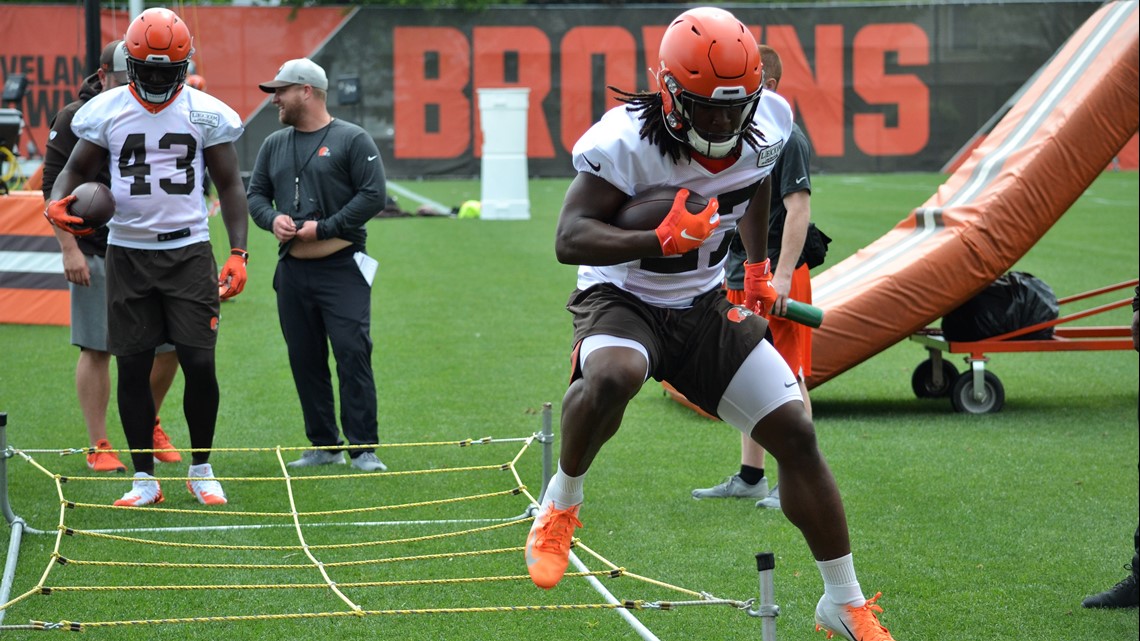 After returning to the active roster, Hunt will have to split carries with Nick Chubb, one of the NFL's most consistent running backs this season.
Chubb has rushed for 803 yards and six touchdowns on 154 carries. Currently, Chubb is fourth in the NFL in rushing yards, seventh in attempts, eighth in yards-per-carry average, fourth in overall scrimmage yards and tied for fifth in touchdowns.
Despite having to divide the workload, Mayfield is confident the tandem of Hunt and Chubb could help lead the Browns back into contention in the AFC.
"I think there's going to be certain things we do just to create plays for him to get him going, to kind of knock the rust off a little bit," Mayfield said. "But also, we need to do our stuff and fit him in however we can, see how teams are going to play him and essentially adapt and react to that."