CLEVELAND — If you are not helping his team, Cleveland Browns rookie quarterback Baker Mayfield has little time for you.
Mayfield is all about winning and is committed to doing whatever it takes to turn around the fortunes of a Browns franchise with just two winning seasons and one playoff appearance since returning to the NFL in 1999.
"I have the 'it's-me-against-the-world-attitude' and Cleveland has that same attitude, so it's a great match," Mayfield said to Jim Rome during an appearance on Radio Row at Super Bowl LIII in Atlanta earlier this week.
"The energy in the stadium now for home games is so exciting and they deserve a good football team and we're trying to build that right now."
At 2-5-1 following a 33-18 loss to the Steelers on October 28 and in the middle of an unprecedented coaching upheaval with eight games remaining on the schedule, the 2018 Browns did not look like a team capable of the greatest year-to-year turnaround in franchise history.
But a 5-3 record over the second half of the season and a three-game winning streak in December secured the Browns' greatest turnaround in team history, as they finished plus-7.5 in victories over the winless 2017 campaign.
With a 26-18 victory over the Bengals on December 23, the Browns not only swept The Battle of Ohio for the first time since 2002, but also, closed out a 5-2-1 showing at FirstEnergy Stadium in 2018, their second-best home record since the stadium opened in 1999.
"Absolutely, I wanted to be there," Mayfield said of Cleveland in an appearance on USA Today's Sports Pulse.
"There's no doubt about that, and it was a challenge, but does a competitor not want a challenge? I feel like everybody should want to be that person to help change it, to help be a key piece in it and to help turn it around."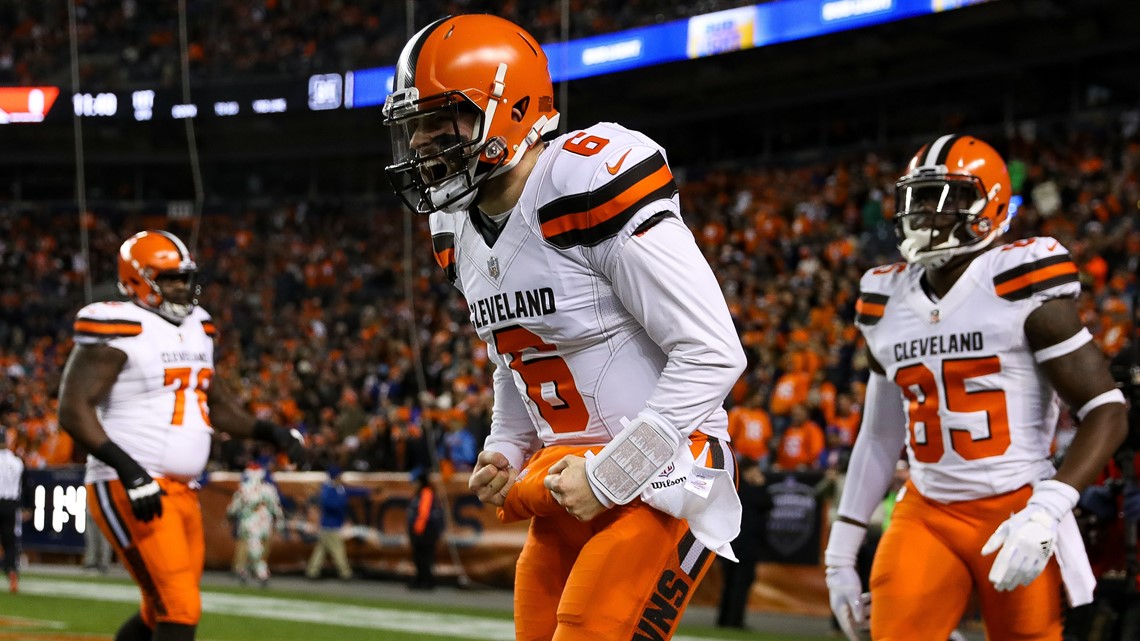 No rookie in the NFL's near 100-year history has thrown more touchdowns passes than Mayfield.
Mayfield broke the NFL record with his 27th touchdown throw of the season with 3:24 to play in regulation of a 26-24 loss to the Baltimore Ravens in an AFC North Division clash at M&T Bank Stadium in Baltimore on December 30.
After taking over the first-team offense in the second quarter of a Week 3 win over the New York Jets at FirstEnergy Stadium, Mayfield completed 310 of his 486 attempts (63.8 percent) for 3,725 yards and 27 touchdowns against 14 interceptions.
Although Mayfield does not get official credit for the victory over the Jets because he came on in relief of an injured Tyrod Taylor, the first-year quarterback guided the Browns to seven wins.
Under the direction of new Browns coach Freddie Kitchens, Mayfield completed 180 of his 263 attempts (68.4 percent) for 2,254 yards and 19 touchdowns against eight interceptions. Mayfield averaged 281.75 yards and 2.375 touchdowns per game with Kitchens calling the plays.
"It's been a lot of fun," Mayfield said to Rome. "There's definitely been a lot of ups and downs. There's been mistakes, but also, learning opportunities, so I've been thankful for this past year. It's been an unbelievable opportunity for me to live out my dream. I'm trying to seize the opportunity, and Cleveland's a good place to do it.''