CLEVELAND — It is no secret that Cleveland Browns quarterback Baker Mayfield had a sophomore slump during the 2019 season after a strong first year in the NFL, and some analysts are beginning to wonder if the team needs to move on from their "franchise quarterback."
Former NFL player Akbar Gbaja-Biamila joined "NFL: Total Access" Wednesday night and he was so confident in his thoughts on Mayfield that he gave out his phone number on air so fans could call/text him about the opinion.
"Baker Mayfield is a bum, as far as I'm concerned, and if anybody's got a problem with it, they can call me," Gbaja-Biamila said.
Mayfield saw a significant drop in production during his second professional season, as his completion percentage and touchdowns went down and the interceptions increased by seven as he became the franchise's first quarterback in 18 years to start all 16 games.
Mayfield completed 317 of his 534 attempts (59.4 percent) for 3,827 yards and 22 touchdowns against 21 interceptions in 2019 after completing 310 of his 486 throws (63.8 percent) with an NFL rookie-record 27 touchdowns against 14 picks during the 2018 season.
"If you look at Baker Mayfield, it all started with me last year during the offseason when he tried to manufacture this fake leadership, calling out Duke Johnson, talking about 'Oh, Duke Johnson, if you're not here, you're not…'" Gbaja-Biamila said. "Hold on, man. You just got there. Don't try to sell me this leadership thing.
"The thing about leadership is it's organic. It's all natural. It's not GMO. It's not this modified organism that all of a sudden, it pops up out of nowhere. That's what I saw in him. It showed up, especially under duress. His body language? Poor. His leadership? Poor. His production? Poor. I didn't like anything about him.
"This big production like all of the commercials, you know those sponsors, they're upset because they're not getting the rate of return that they thought they were going to get out of Baker Mayfield. They know it. That general manager knows it, and absolutely, the head coach knows it."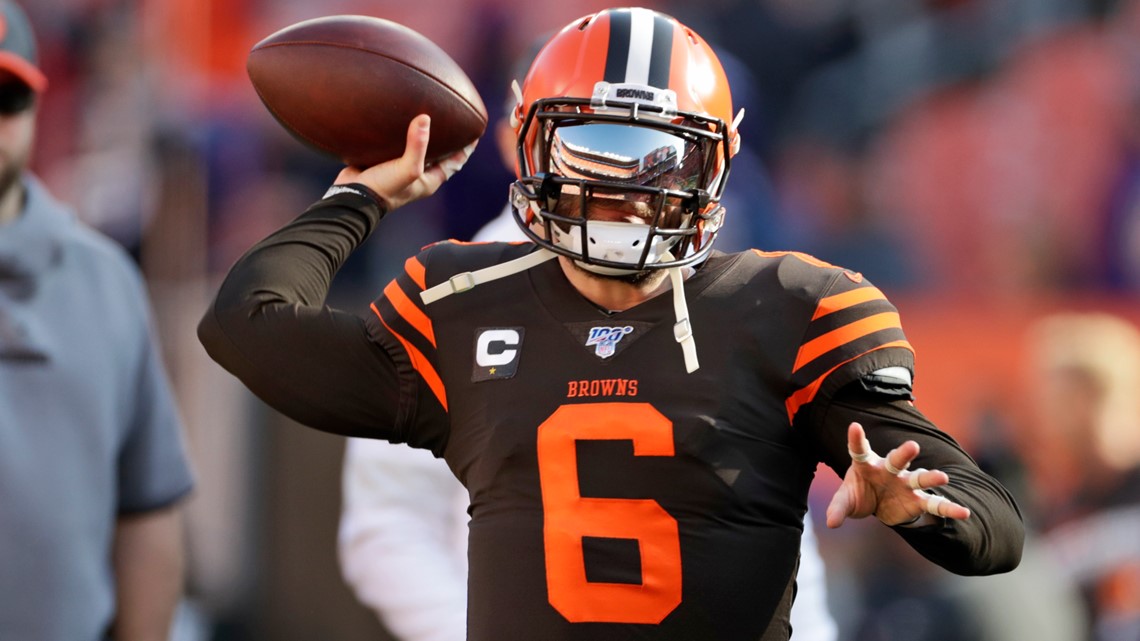 Gbaja-Biamila suggested that the Browns should not only move on from Mayfield, but also, has a veteran in mind that is very familiar with head coach Kevin Stefanski: former Minnesota Vikings signal-caller Case Keenum.
"There are great quarterbacks out there, one in particular I'm looking at that's a free agent, Case Keenum," Gbaja-Biamila said. "Yeah, you heard me correctly. I said Case Keenum. Why? You look at his numbers from 2019, far better than that of (Mayfield). You can get Case Keenum at a bargain deal."
After mentoring Minnesota's tight ends (2014-2015) and running backs (2016), Stefanski transitioned to quarterbacks coach, where in 2017, he helped the Vikings overcome injuries to Teddy Bridgewater and Sam Bradford by leading Keenum to his most successful professional season.
Under Stefanski's guidance, Keenum posted an 11-3 record after completing 325 of his 481 attempts (67.6 percent) for 3,547 yards and 22 touchdowns against only seven interceptions. Despite being sacked 22 times, Keenum had a career-best 98.3 quarterback rating.
"I put my number out there for a reason…because I know and I believe in Case Keenum," Gbaja-Biamila said. "You look at the production. Wherever he's gone, he's been productive. The numbers don't lie."