BEREA, Ohio — Cleveland Browns quarterback Baker Mayfield spoke openly about his feelings on the medical staff's handling of wide receiver Odell Beckham Jr.'s lower body injury that very well may require sports hernia surgery in the offseason.
In the hours after speaking on the topic following a 27-19 win over the Cincinnati Bengals at FirstEnergy Stadium, Mayfield tweeted an apology saying his intention was not to throw under the bus any member of the organization. Mayfield echoed those same sentiments following Wednesday's practice in Berea.
"I had the conversations that I needed to within our building," Mayfield said. "Like I said when I addressed it afterwards, the affect that those words have in the bigger scheme, the bigger picture were not my intentions.
"The people within our building know where I'm coming from. They know my frustration. They know that if I was happy-go-lucky about everything, then we'd have a real problem on our hands, but I talked to the people I needed to, and so, I'm confident in that and us moving forward."
Injury aside, Beckham Jr. has made an impact during the 2019 season.
In 13 games this season, his first with the Browns, Beckham Jr. has converted his 59 receptions into 844 yards, a 14.3 yards-per-catch average, with a long play of 89 yards and two touchdowns. Also, Beckham Jr. has rushed for 10 yards on three carries.
On the Browns, Beckham Jr. is second only to his close friend and former Louisiana State University teammate, Jarvis Landry, in receptions, receiving yards and touchdowns. Beckham Jr. is tied for the best yards-per-reception average among wide receivers and has the team's longest scrimmage play of the season, regardless of position, all while dealing with what is being reported as a sports hernia.
"Much like I hit on after the game, he's fighting through pain," Mayfield said. "It shows you how much he really wants to win. It's the things I've continually said. He wants to be the solution to help us. It's the same message.
"I think that's where the frustration comes from, and we can sense that, but that's that."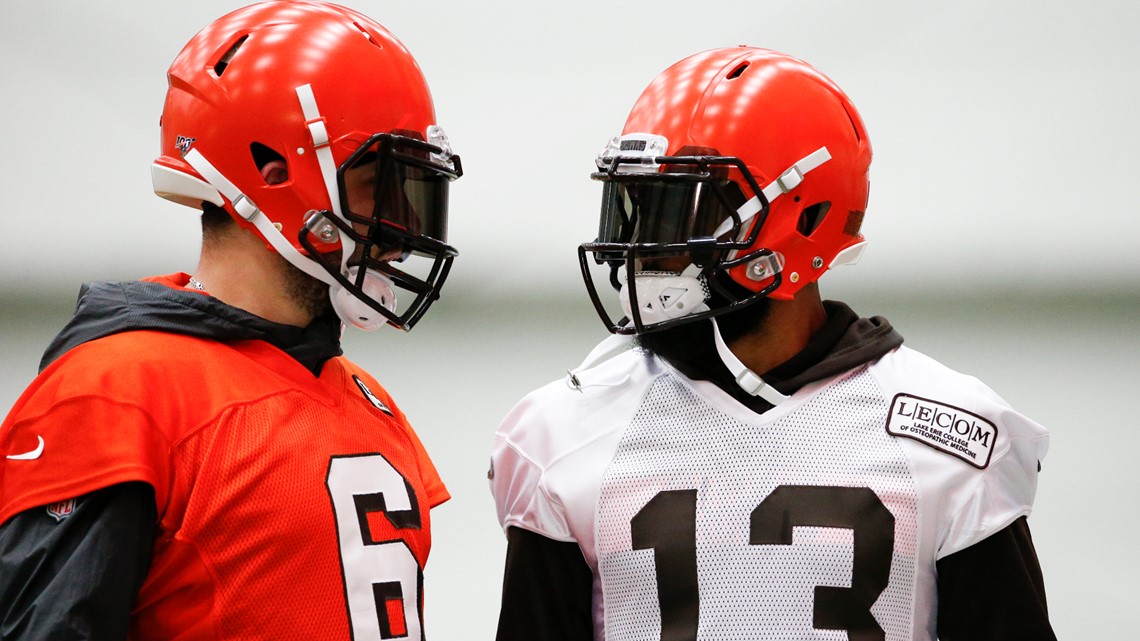 In addition to the report of Beckham Jr. continuing to deal with an injury, Fox Sports' Jay Glazer reported during last Sunday's pregame broadcast that the Browns' Pro Bowl receiver has been asking opposing players and coaches to "come get me out of here."
But that report is of little consequence to Mayfield, who trusts that Beckham Jr. is doing everything he can to help the team win games.
"I can't answer that for him," Mayfield said. "There's all the rumors going around, but my conversations with him, I know what we talk about, so I trust him wholeheartedly."