BEREA, Ohio -- Cleveland, Ohio has not been a prime destination for quarterbacks since the Browns returned to the National Football League for the 1999 season, but even with the knowledge that 28 other men have started for the franchise over the last 19 years, rookie Baker Mayfield is embracing his opportunity.
Mayfield has welcomed the opportunity to be a part of the Browns' organization and Cleveland community as a whole since being selected with the No. 1 overall pick in the 2018 NFL Draft out of the University of Oklahoma.
"I love it here," Mayfield said. "First of all, the Haslam family makes it, no other place is like this from what I've heard. In all of my visits, I also noticed that as well. They're here every day. You see them, so it's a huge community feel and everybody here has their own job and what are we doing to make this team better kind of feel and Cleveland as a whole is a great sports town."
PHOTOS: Cleveland Browns selected QB Baker Mayfield in 2018 NFL Draft because of winning pedigree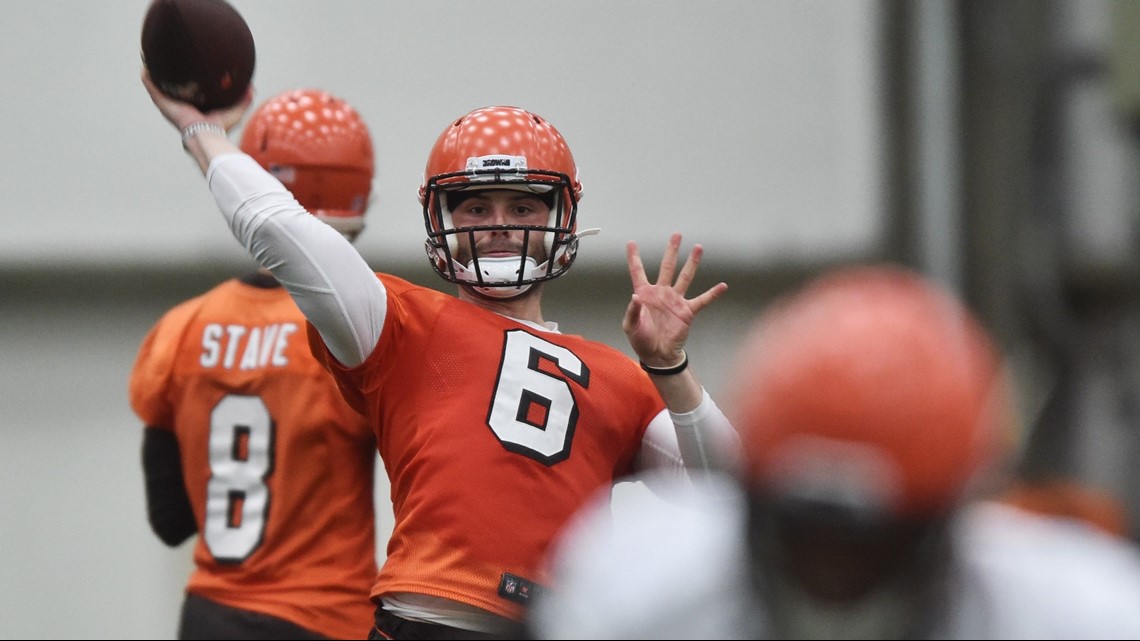 When Mayfield is not working his way up the depth chart during Organized Team Activities, and now, through mandatory minicamp, he ventured down to Quicken Loans Arena to take in a Cleveland Cavaliers playoff game.
By taking in the playoffs in person, Mayfield saw the hard work put in by Cleveland Cavaliers small forward LeBron James, who spent the last two months of the regular season and much of the 2018 NBA Playoffs building chemistry with new teammates.
Despite breaking in new lineups after acquiring guards Jordan Clarkson, George Hill and Rodney Hood, as well as center Larry Nance Jr., at the NBA trade deadline, James had standout performances throughout the regular season and playoffs, so much so that he was named a finalist for the 2017-2018 NBA Most Valuable Player Award.
During the postseason, James averaged better than 34 points, nine rebounds and nine assists while playing 42 minutes per game. Despite having to play two seven-game series before getting to the NBA Finals, James led the Cavaliers to their fourth consecutive Eastern Conference Championship.
"It's much more than just a game, how much the people care about the Cavs and the Browns around here," Mayfield said. "It's a huge deal, so it goes far beyond the win-and-loss record. It goes to affecting families around here, bragging rights to traditions to the history of this town and it means just that much more."
Chosen with the No. 1 overall pick in the 2018 NFL Draft, the 6-foot-1, 215-pound Mayfield put together a Heisman Trophy-winning campaign where he completed 285 of his 404 throws (70.5 percent) for 4,627 yards and 43 touchdowns against just six interceptions to cap off a four-year career that started at Texas Tech University.
During his three years at Oklahoma and one season with the Texas Tech Red Raiders, Mayfield completed 1,026 of his 1,497 attempts (68.5 percent) for 14,607 yards and 131 touchdowns against only 30 interceptions.
And Mayfield is very much looking forward to giving Browns fans reasons to cheer, just as James did for the Cavaliers since his return to Cleveland from the Miami Heat.
"People love the Browns here," Mayfield said. "People told me beforehand of being here, but actually, starting to settle in, you notice it more and more. It's a great spot to be, people that care about it that much, it means that much more to them."
Stream Live with fuboTV -Try Free Tria