CLEVELAND — Cleveland Browns quarterback Baker Mayfield married his fiancée, Emily, in front of family and friends at Calamigos Ranch in Malibu, California earlier this month, and some of those friends included current and former teammates.
Browns wide receiver Jarvis Landry was one of several Cleveland teammates in attendance at the wedding, and he was impressed with the whole event, as well as Mayfield's calm, cool and collected mindset despite the pressures that come with the days leading up to a ceremony and reception.
"It was beautiful," Landry said while appearing at the Cystic Fibrosis Foundation's Sports Challenge at Rhodes High School in Cleveland Friday morning.
"Emily was beautiful. Baker, he's QB1 up there. He wasn't nervous. He had the confidence you know Baker has. It was beautiful. It was a beautiful turnout. A lot of people showed up. The food was great. Everything was great."
Ahead of their two-week anniversary, the newlyweds shared videos of the big day on their respective Instagram accounts.
Mayfield posted the "teaser" video, and Wilkinson shared her excitement to see the full-length production that followed them on their wedding day.
"My sweetest, Baker, where do I begin," the former Miss Wilkinson said. "I cannot believe the day is finally here and we're getting married."
Mayfield followed by saying, "Em-Lou, from the very first time I saw you, I was in love. You truly are everything I ever wanted in a best friend and a wife."
At the end of the video, which included clips of the couple getting ready for the day, the ceremony itself, their entry into the reception hall and the first dance, the Mayfields expressed their appreciation for each other's love and support.
"Baker Reagan, I love you," Mrs. Mayfield said. "You have already made me feel like the happiest, most loved girl on the planet, so thank you. Let's get married."
Mayfield added, "I'm the luckiest man on the planet for being able to experience your love and even more lucky that I get to feel that love forever."
Following a honeymoon that included multiple workouts, Mayfield is set to return to Cleveland for the start of his second professional training camp next week, one that opens with lofty expectations among fans because of the acquisition of Pro Bowl wide receiver Odell Beckham Jr. coupled with game-breaking abilities shown by running back Nick Chubb and receivers Landry and Antonio Callaway.
After taking over the first-team offense in the second quarter of a Week 3 win over the New York Jets last year, Mayfield completed 310 of his 486 attempts (63.8 percent) for 3,725 yards and an NFL rookie record 27 touchdowns against 14 interceptions.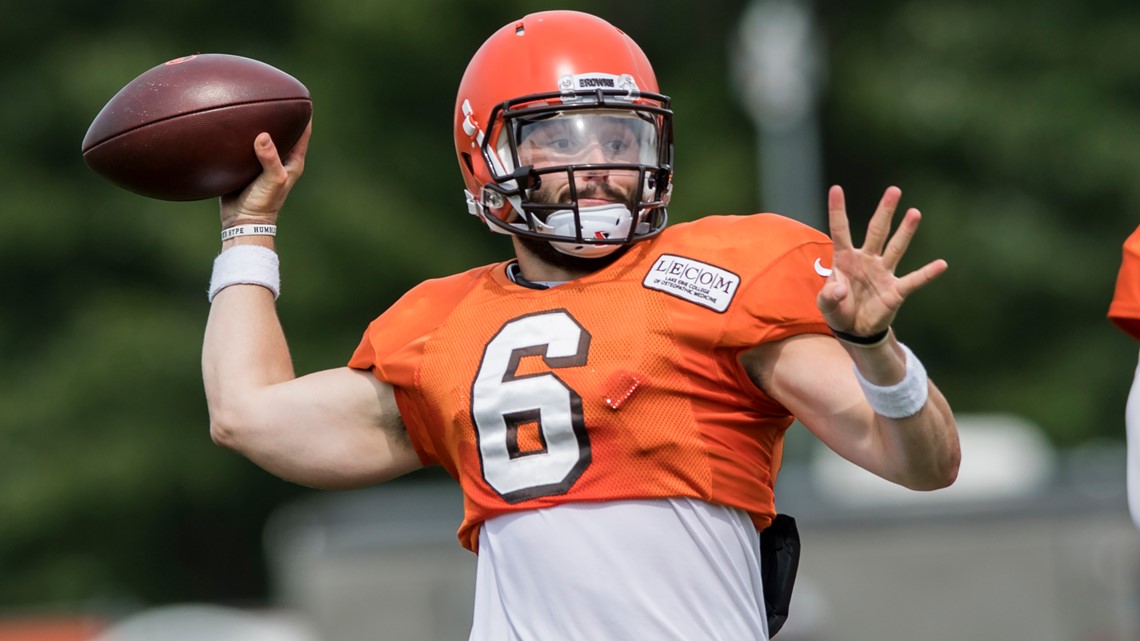 Under the direction of new Browns coach Freddie Kitchens, the interim offensive coordinator for the second half of the 2018 season, Mayfield completed 180 of his 263 attempts (68.4 percent) for 2,254 yards and 19 touchdowns against eight interceptions.
"I'm sure, in his mind, he was definitely thinking about it, but if we kind of gave him a little bit of relief about the nerves and everything that goes into a wedding by just going out there for two hours and catching balls from him for that week," Landry said of the player organized workouts in Los Angeles earlier this month.
"It was great and I was actually able to go to the wedding and the wedding was beautiful."