BEREA, Ohio — Practice continued for the Cleveland Browns on Wednesday as the team went through the fifth day of training camp, and the third consecutive day in pads.
Here's a rundown of what happened in Berea.
MACK UPDATE
The news on linebacker Mack Wilson does not sound promising. Wilson suffered a hyperextended left knee on Tuesday and may miss significant time while recovering.
"Unfortunate injury there for Mack. I feel for him. I talked to him last night. I really do not know the extent and how long this will be, but I will just make sure we defer to the medical staff," said head coach Kevin Stefanski.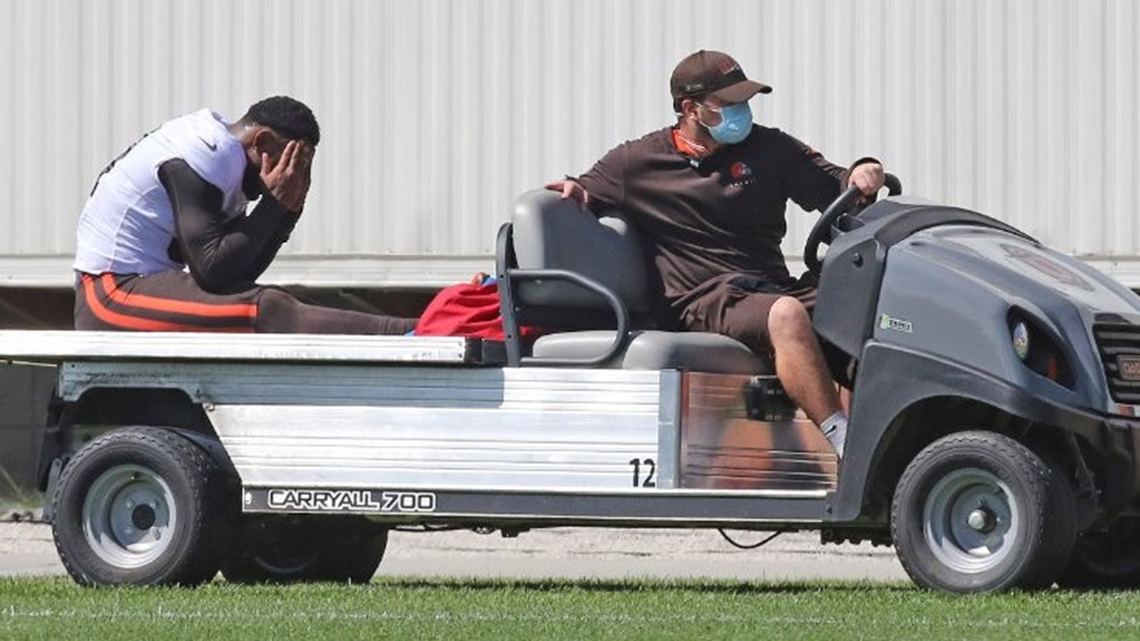 Wilson tweeted the below on Wednesday:
OTHER CAMP INJURIES
Here were the other players who were out of action on Wednesday, in addition to Wilson and Chubb: DE Myles Garrett (hamstring), P Jamie Gillan (illness), S Karl Joseph (foot), WR Jarvis Landry (hip), DT Larry Ogunjobi (groin), WR Damion Ratley (groin). C JC Tretter (knee).
GETTING THE HANG OF THE OFFENSE
As is often the case with a new coaching staff and new system, there can be a few bumps in the road as players try to get the hang of a new playbook. Keep in mind, because of COVID-19, the team has had precious little time to actually do work together on a field this offseason.
"I would say we are about where you think. You can have as many virtual meetings as you want, but until you physically get out there and do it, you are going to make mistakes," Stefanski said. "Our big thing is we like to identify and correct. Some of the best teaching moments are when someone does something wrong, and you get to teach off of it. There are great examples of that over the years. Really that is where you gain a lot of ground. That doing part is obviously critical to the learning part."
BAKER AND HIS BACKUP
Backup quarterback Case Keenum spent some time with the media on Wednesday. Not surprisingly, the topic of starting QB Baker Mayfield came up a few times.
"I have known he is a gamer and can make some big-time plays and some big-time throws. I was really excited to work with him, and being here, it is impressive to see. I was telling somebody yesterday, he has a lot stronger arm in person than he does on film, and he made some really good throws on film. It has been fun to get to know him first and then see him work, see him operate and see how he interacts with teammates. I am very impressed," Keenum said.
Keenum worked with Stefanski in Minnesota, so there's a comfort level there between the two.
"I have been around him so I know him," Stefanski said of Keenum. "He is a son of a coach. He loves this game, he wants to win and he wants to be a part of winning. I know that relationship is so important between the starter and the backup. I can tell you that he is eager to help this team win in any way he can, and that is supporting Baker in any way he can."
NEXT PRACTICE
The Browns will be back out on the field on Thursday at 2:00 p.m.
WATCH THE ACTION
Join Nathan Zegura and Josh Cribbs for an inside look at Wednesday's practice on Browns Live: Training Camp below.