CLEVELAND — With their 2020 season having come a close, the Cleveland Browns now turn their attention toward the 2021 offseason.
With that in mind, let's take a position by position look at where the Browns' roster stands entering the upcoming offseason.
Quarterback
Returning players: Baker Mayfield, Case Keenum
The Browns quarterback depth chart shouldn't look any different in 2021 with Baker Mayfield returning for what will be his fourth season as Cleveland's starter and veteran backup Case Keenum entering the second season of a three-year contract.
While the possibility exists that the Browns could add a third, developmental-type player in the draft, the biggest question for Cleveland concerning the quarterback position is whether Mayfield will sign a long-term extension, and if so, what will it look like?
Baker Mayfield
Case Keenum
Running back
Returning players: Nick Chubb, Kareem Hunt, D'Ernest Johnson, Andy Janovich
Nick Chubb and Kareem Hunt are slated to return as the NFL's most dynamic running back combination and while the Browns could always bring in competition, D'Ernest Johnson showed promise in limited opportunities and is a valuable special teams contributor. The big question at running back for Cleveland this offseason is how it will handle a potential extension for Chubb, who is entering the final season of his rookie contract. Hunt, meanwhile, enters the first year of the two-year extension he signed with the Browns last year.
At fullback, Andy Janovich returns following an impressive first season in Cleveland in 2021.
Nick Chubb
Kareem Hunt
D'Ernest Johnson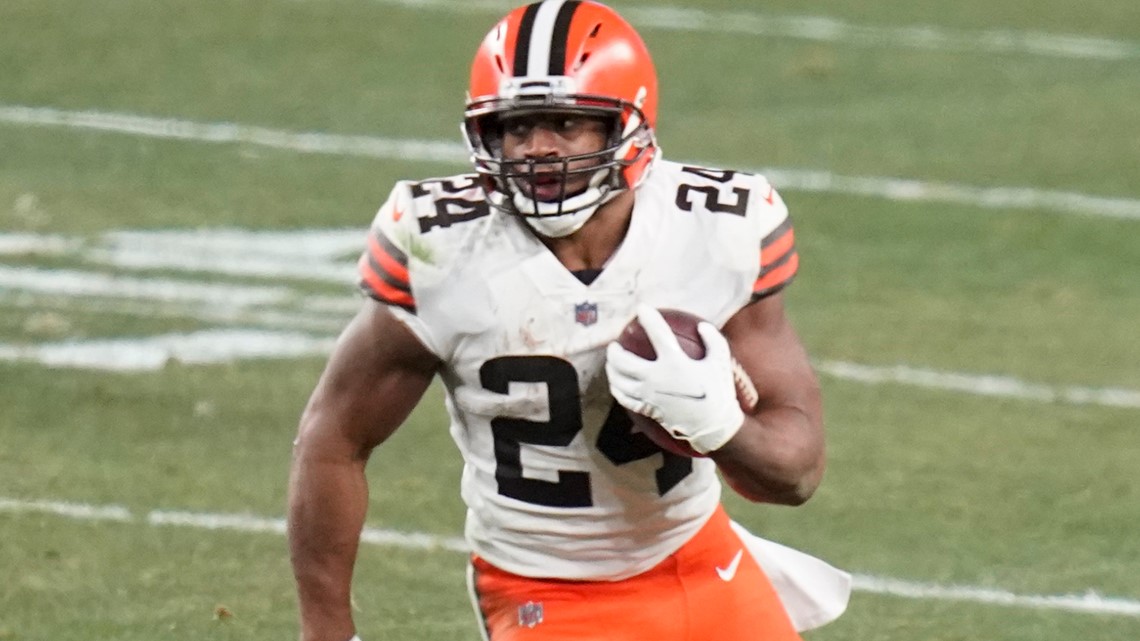 Wide receiver
Returning players: Jarvis Landry, Odell Beckham Jr., Donovan Peoples-Jones, Alexander Hollins
Pending free agents: Rashard Higgins, Marvin Hall, JoJo Natson, KhaDarel Hodge (RFA), Taywan Taylor
Thought to be one of their deepest positions just a year ago, the Browns enter the 2021 offseason with no shortage of intrigue at wide receiver.
Since being acquired in 2018, Jarvis Landry has been one of Cleveland's most consistent players, but the team's upcoming cap situation has led to some speculation the Browns could look to restructure his current contract. Meanwhile, general manager Andrew Berry has remained consistent in stating he views Odell Beckham Jr. as a part of the team's future, but that won't stop trade rumors from persisting as he continues to recover from the torn ACL that prematurely ended his 2020 campaign.
With big money currently committed to Landry and Beckham, the Browns may need to get creative if they want to re-sign Rashard Higgins, who has shown consistent chemistry with Mayfield. A restricted free agent, KhaDarel Hodge seems likely to return for a third season in Cleveland.
Independent of their current players and pending free agents, the Browns will likely also look to add speed to their receiving unit in the offseason ahead. Following Beckham's season-ending injury, Cleveland noticeably lacked a consistent downfield threat.
Odell Beckham Jr.
Jarvis Landry
KhaDarel Hodge
Donovan Peoples-Jones
Alexander Hollins
Tight end
Returning players: Austin Hooper, David Njoku, Harrison Bryant
Pending free agents: Stephen Carlson (ERFA)
Austin Hooper enters the second season of his four-year contract and should resume his role as one of Mayfield's top targets. Harrison Bryant showed promise throughout his rookie season, catching 24 passes for 238 yards and three touchdowns en route to being voted to the PFWA All-Rookie Team.
While the Browns picked up the fifth-year option on David Njoku's contract a year ago, it'd hardly be a surprise to see them look to trade the former first-round pick, who requested a trade from Cleveland last offseason. As an early rights free agent, Stephen Carlson is likely to return after appearing in all 16 games during the 2020 season.
Projected TE depth chart:
Austin Hooper
Harrison Bryant
David Njoku
Stephen Carlson

Offensive tackle
Returning players: Jedrick Wills Jr., Jack Conklin, Chris Hubbard, Drake Dorbeck
Pending free agents: Kendall Lamm, Michael Dunn (ERFA)
The Browns are set to return all five starters on their offensive line in 2021, including 2020 first-round pick Jedrick Wills Jr. and 2020 All-Pro selection Jack Conklin. Former starting right tackle Chris Hubbard also remains under contract, having proven himself valuable by filling in at both tackle and guard in 2020, while Michael Dunn is also likely to return as an early rights free agent.
Signed as an undrafted free agent last offseason, Drake Dorbeck returns after opting out of the 2020 campaign.
Jedrick Wills Jr.
Chris Hubbard
Michael Dunn
Drake Dorbeck
Jack Conklin
Chris Hubbard
Michael Dunn
Offensive guard
Returning players: Joel Bitonio, Wyatt Teller, Drew Forbes, Colby Gossett, Malcolm Pridgeon, Blake Hance
Pending free agents: Anthony Fabiano (RFA)
The longest-tenured member of the Browns roster, Joel Bitonio returns coming off his third career Pro Bowl selection, while Wyatt Teller enjoyed a breakout season in 2020, emerging as one of the league's top interior linemen. A postseason cult hero, Blake Hance remains under contract as well, with Hubbard and Dunn also possessing experience playing guard.
Cleveland will also receive a boost in depth from the returns of Drew Forbes, Colby Gossett and Malcolm Pridgeon, each of whom opted out of the 2020 campaign. Of that group, however, Forbes is the most likely to make the Browns' final roster.
From a contract standpoint, it's worth noting that Teller is now extension eligible. And with all of the guarantees on his contract having been paid, Bitonio may make for a potential candidate to have his contract restructured.
Joel Bitonio
Michael Dunn
Drew Forbes
Blake Hance
Wyatt Teller
Chris Hubbard
Nick Harris
Center
Returning players: JC Tretter, Nick Harris
J.C. Tretter is set to enter his fifth season as Cleveland's starting center, while 2020 fifth-round pick Nick Harris can provide depth at both center and guard. If for some reason the Browns decide they need to save money, Tretter's contract could be a place they turn, but returning all five starters what was one of the league's top offensive lines will likely be too good of an opportunity to pass up.
Defensive end
Returning players: Myles Garrett, Adrian Clayborn, Joe Jackson, Curtis Weaver, Trevon Young
Pending free agents: Olivier Vernon, George Obinna (ERFA), Porter Gustin (ERFA)
Myles Garrett is one of the best defensive players in football, but the Browns' need for an additional pass rusher is obvious. Not only is Olivier Vernon a pending free agent, but he just suffered a torn Achilles. Veteran Adrian Clayborn is steady, but far from an ideal option as a starter opposite Garrett.
While Cleveland will likely bring back Porter Gustin as an early rights free agent and Curtis Weaver was an intriguing prospect a year ago, defensive end stands out as one of the Browns' top positional needs. At this point, it would be a surprise to see Cleveland not invest resources, including draft picks and free agency spending, at the position.
Myles Garrett
Joe Jackson
Curtis Weaver
Adrian Clayborn
Porter Gustin
George Obinna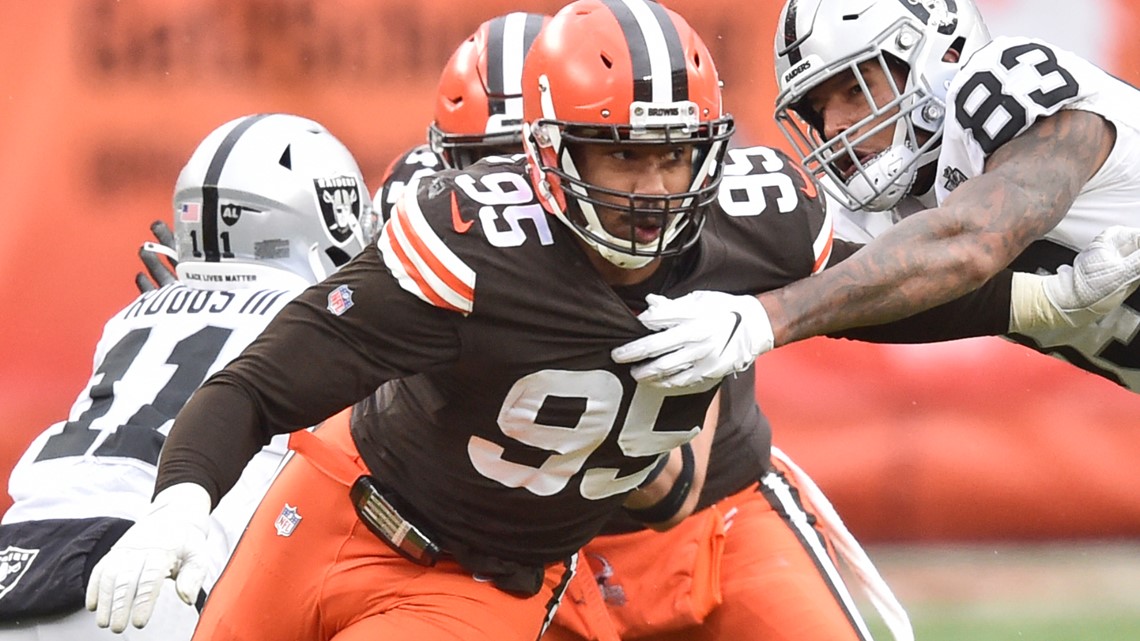 Defensive tackle
Returning players: Sheldon Richardson, Andrew Billings, Jordan Elliott
Pending free agents: Larry Ogunjobi, Vincent Taylor
A year ago, Sheldon Richardson projected as a potential cap casualty, but has since proven to be one of the Browns' most consistent defenders. Signed as a free agent last offseason, Andrew Billings returns after opting out of the 2020 season, which could allow Cleveland to let Larry Ogunjobi walk in free agency.
A 2020 third-round selection, Jordan Elliott possesses plenty of upside. But with Richardson in the final year of his contract and Billings only on a one-year deal, this is also a position the Browns will likely look to invest in via the draft and free agency.
Linebacker
Returning players: Jordan Phillips, Mack Wilson, Sione Takitaki, Tae Davis, Montreal Meander
Pending free agents: B.J. Goodson, Malcolm Smith, Elijah Lee
While linebacker was arguably the Browns' weakest position last season, analytically-driven front offices like Cleveland's don't typically invest heavy resources at the position. Still, B.J. Goodson played well enough that it wouldn't be a surprise to see the Browns attempt to bring him back in 2021, if they can do so a relatively cheap contract.
A 2020 third-round selection, Jordan Phillips showed upside as a rookie and could take on a larger role in the coming year. The same could be said for Sione Takitaki, who finished the 2020 season with a 71.2 grade, per Pro Football Focus.
But while Cleveland's front office may not invest heavily at the linebacker position, that doesn't mean it will ignore one of its most glaring holes either. Expect the Browns to take swings with mid-round picks on high upside players at the position throughout the draft and target stop-gap veterans on short-term deals in free agency.
Projected WILL depth chart
Mack Wilson
Montral Meander
Projected MIKE depth chart
Projected SAM depth chart
Cornerback
Returning players: Denzel Ward, Greedy Williams, M.J. Stewart, Robert Jackson
Pending free agents: Terrance Mitchell, Kevin Johnson, Brian Allen (ERFA), Tavierre Thomas (RFA)
Like defensive end, cornerback stands out as one of the Browns' most obvious offseason needs. Outside of Denzel Ward, who is one of the top players in the league at his position, Cleveland lacks reliable options, with Greedy Williams still recovering from a shoulder injury that kept him sidelined throughout the entire 2020 season.
Even if Williams returns -- as Berry has said he expects -- the Browns will need to find replacements for Terrance Mitchell and Kevin Johnson if neither veteran is re-signed. Look for Cleveland to target cornerbacks early in the draft, as well as in the free agency and trade markets.
Denzel Ward
Greedy Williams
M.J. Stewart
Robert Jackson
Tavierre Thomas

Safety
Returning players: Ronnie Harrison Jr., Grant Delpit, Sheldrick Redwine, Jovante Moffatt
Pending free agents: Karl Joseph, Andrew Sendejo, Tedric Thompson
Safety wasn't a strong point of the Browns' defense in 2020, but Cleveland appears to have its starters set at the position in Ronnie Harrison Jr. and 2020 second-round pick Grant Delpit, who missed his rookie season due to a torn Achilles.
The presence of Harrison will likely prevent the Browns from re-signing Karl Joseph, who played well at times during his first season in Cleveland. Despite Harrison and Delpit both being entrenched as young starters, this remains a position the Browns may continue to invest in should the right opportunities present themselves.
Ronnie Harrison Jr.
Sheldrick Redwine
Grant Delpit
Jovante Moffatt
Special teams
Returning players: Jamie Gillan, Charley Hughlett
Pending free agents: Cody Parkey
Jamie Gillan and Charley Hughlett will return as the Browns' punter and long-snapper, respectively, while kicker Cody Parkey is set to hit free agency. Parkey played well enough that it wouldn't be a surprise to see Cleveland attempt to re-sign him, although the Browns will likely also consider their options elsewhere for an upgrade at the position.