CLEVELAND — Cleveland Browns running back Kareem Hunt is determined to show he has learned and grown from an incident last February that resulted in his release from the Kansas City Chiefs and subsequent eight-game suspension.
Part of the way Hunt is trying to make a positive change is by visiting and speaking with Northeast Ohio students in hopes that they learn from his mistakes and stay on a good path.
"I've been going to schools and talking to high-school kids and just telling them, 'You guys, you got to make smart decisions,'" Hunt recalled after a recent OTAs practice in Berea. "'Everybody makes mistakes and you know, you just got to make the best decision for you.'
"Go out there and let them know how important it is and just tell them because I didn't really have anybody come talk to me when I was in high school or somebody to look up to and explain that, you know, nobody's perfect and you got to learn from your mistakes and don't make the same mistakes."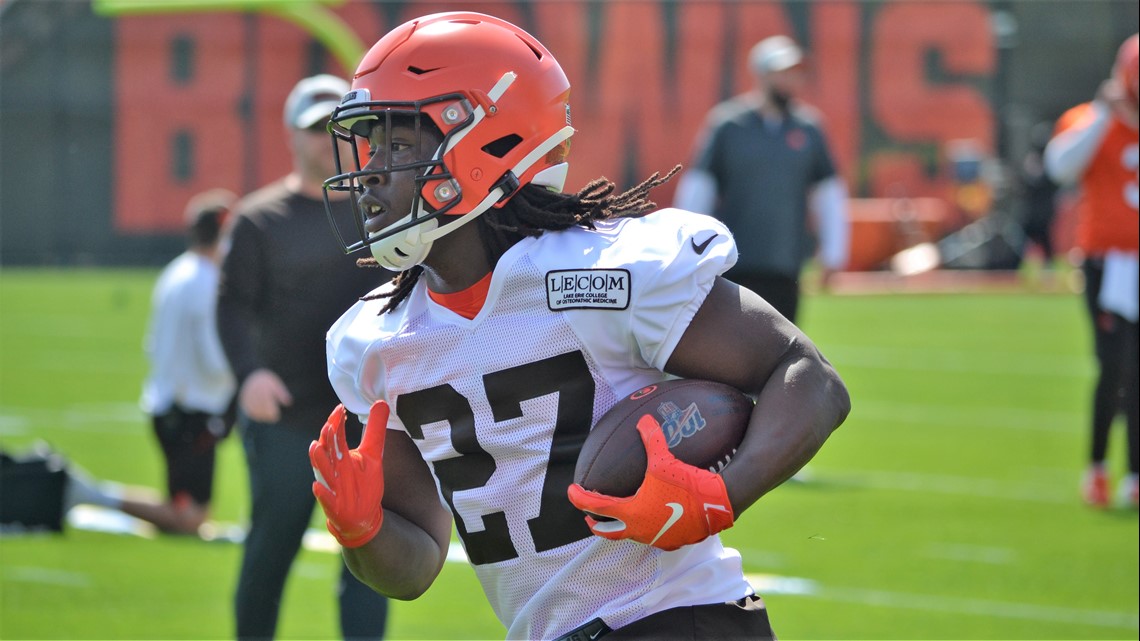 A native of Willoughby and graduate of South High School, Hunt was released by the Chiefs on November 30, 2018 when video surfaced of him pushing, and later, kicking a woman at The Metropolitan at The 9 complex in Downtown Cleveland in February of 2018. Since that video became public, reports of other incidents involving Hunt surfaced.
A product of the University of Toledo, the 23-year old Hunt was released by the Chiefs immediately after video of the incident went public. During the video, Hunt was seen having to be physically restrained by another member of a group that had gathered in a hotel hallway.
Since being released by the Chiefs and signed by the Browns in February, Hunt has sought counseling to address his off-the-field issues and goes to appointments twice a week.
"It's very meaningful for them and for me, just knowing that I can help them and talk to these kids about just life," Hunt said of the high-school visits. "A lot of them have dreams to play football and stuff like that, too, and just giving them positive lift-up. Just always believing in themselves and stuff like that, too.
"I enjoy going out there and doing that."

Above all else, Hunt hopes the students attending his speeches learn to "think before you act."
"When your emotions get high, just don't react off your emotions and think about the long run," Hunt said.