CLEVELAND — The Kansas City Chiefs and National Football League acted swiftly in releasing running back Kareem Hunt and putting him on the Commissioner's Exempt List, respectively, in the hours after video of him assaulting a woman went public last November.
After reviewing the video himself, Hunt understands why the Chiefs released him and accepted the eight-game suspension from the NFL without filing an appeal.
"I was like, 'Wow, it's pretty bad. That's not me,'" Hunt said after Wednesday's OTAs practice at team headquarters in Berea. "I knew it wasn't (me)."
A standout player for the Willoughby South High School Rebels, Hunt was released from his rookie contract on November 30, 2018 when video showed him pushing, and later, kicking a woman at The 9 Hotel in Downtown Cleveland. Since that video became public, reports of other incidents involving Hunt have surfaced.
During the video, the 23-year old Hunt was seen having to be physically restrained by another member of a group that had gathered in a hallway.
At the time of Hunt's release, the Chiefs said he was less than honest in reporting the incident, and he addressed that in his first media availability since signing with the Browns in February.
"I know I'm not going to mess this up again, and the Chiefs, I didn't really lie," Hunt said. "I just told them what I knew at the time, and when the video came out, it was me seeing it too for the first time again, it was so long ago. They felt like I lied to them. That's alright.
"I didn't tell them everything, so yeah. I really take it. I kind of did."
The Chiefs jettisoned Hunt despite two productive seasons in Kansas City.
Hunt rushed for 2,151 yards and 15 touchdowns with 106 first downs, 19 plays going for at least 20 yards and four 40-yard gains. Additionally, Hunt caught 79 passes out of the backfield for 833 yards and 10 touchdowns, including a single-season career high of seven in 2018.
As a rookie in 2017, Hunt rushed for an NFL-best 1,327 yards on 272 carries, an average of 4.9 yards per attempt, which earned him a spot on the AFC Pro Bowl team.
"It's not a good feeling," Hunt said of disappointing his supporters with the incident after a strong showing in his first two seasons. "It feels like you let everybody down. I felt that and I definitely don't want to go back to that place again. I'm always a person who loves seeing people happy."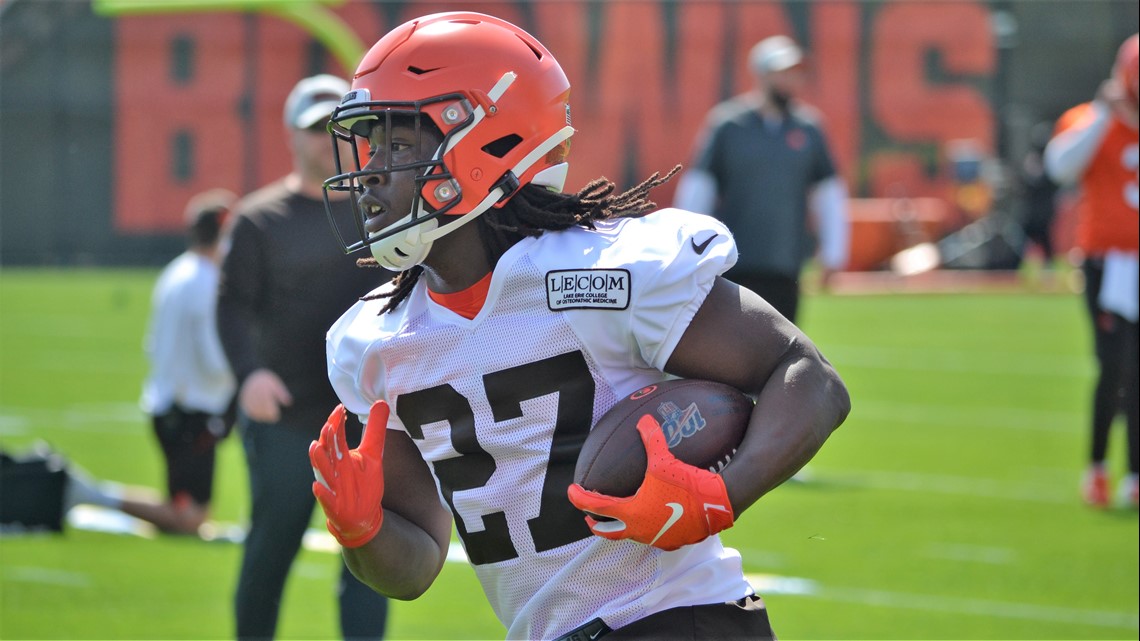 Because of the disappointment Hunt felt after the video was released, he is looking to make the most of his second chance.
"I've got to earn everybody's trust in the whole organization," Hunt said. "I'm not willing to mess that up.
"I'm just taking it very seriously. Like day-by-day, I'm just making the best decisions at the time and place and doing everything I can and prevent something like that from happening again."