CLEVELAND — On Oct. 7, the Cleveland Browns hit the road to face the San Francisco 49ers on Monday Night Football while still laying claim to a share of first place in the AFC North.
What a difference a month can make.
Beginning with a 31-3 defeat at the hands of the 49ers on that night, the Browns have now lost four straight games and trail the Baltimore Ravens by a full four games in their division. What's more is that Cleveland has hardly looked like one of the NFL's most talented teams, as it was believed to be prior to the start of the season, with a disjointed offense and ineffective defense both playing roles in the team's 2-6 start.
With whatever's left of their playoff hopes now on life support, the Browns will welcome one of the NFL's other most surprising teams -- albeit, for the right reasons -- to FirstEnergy Stadium on Sunday when they host the Buffalo Bills. Laying claim to a 2-6 record, Buffalo sits in second place in the AFC East and unlike Cleveland, remains firmly entrenched in the Wild Card race.
Can the Browns begin to turn their season around? Or will the Bills effectively end their playoff dreams? We'll find out on Sunday. Until then, here's everything you need to know about the Week 10 matchup between Cleveland and Buffalo: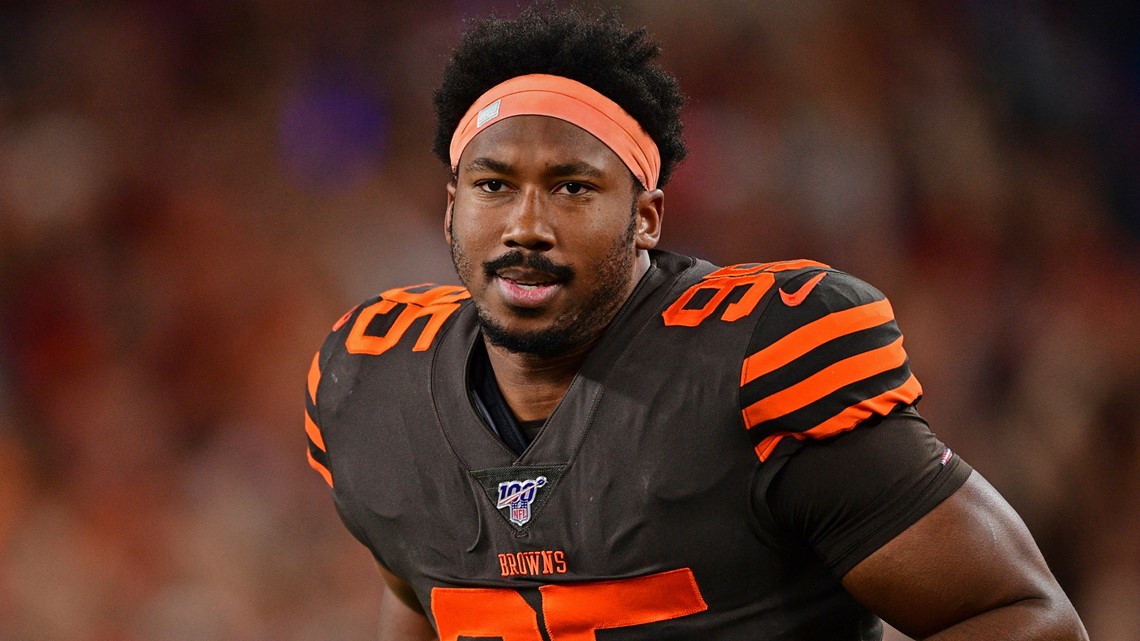 Game info, how to watch on TV, betting line:
Location: FirstEnergy Stadium, Cleveland, Ohio
Radio: ESPN 850, 92.3 The Fan, 98.5 WNCX
Betting line: Cleveland -2.5
Over-under point total: 40
Key storylines
Baker bounce back?
Perhaps the most alarming factor contributing to the Browns' disappointing season thus far has been the play of quarterback Baker Mayfield. After setting the NFL rookie record for passing touchdowns in 2018, the former No. 1 overall pick has seemingly regressed this season, as he's completed 58.7 percent of his passes for 1,963 yards, 7 touchdowns and a league-high 12 interceptions.
The advanced numbers have been even more troubling, as Mayfield has laid claim to the lowest completion percentage in the league and is the only quarterback to have thrown more interceptions than touchdowns while not being pressured.
If the Browns are going to turn around their season, those numbers are going to have to change. And nobody's looking more forward to making that happen than Mayfield himself.
"Stay the course. No matter what is going on, I think we have made strides in certain areas that I think we needed to," Mayfield said on Wednesday. "Now we just have to make the plays when they are there. We have to execute when it is in the red zone. We have to do those obvious things that we lost because of but to continue to stay the course and improve each week. We know right now with eight games left in the season just have a single-week focus coming into it and do our job."
Where art thou, OBJ?
Just as baffling as Mayfield's apparent regression has been the Browns' use -- or more appropriately, misuse -- of Odell Beckham Jr.
In his first eight games in Cleveland, the 3-time Pro Bowl receiver has totaled 39 catches for 575 yards and just 1 touchdown. The most damning number in regards to Beckham's Browns tenure comes in the form of his red zone targets, which he has received just four of.
Cleveland's inability to properly integrate Beckham came into focus during last week's loss to the Denver Broncos, when Mayfield failed to throw him the ball on the Browns' final offensive play of the game. According to CBS Sports' Jay Feely, Beckham could be heard saying "I can't get the ball to save my life" after the play, in which he was being single-covered by the Broncos.
Much like with Mayfield, if Cleveland is going to get back on track, Beckham is going to have to be a big reason why. And for the first time all season, the Browns seem to be aware they've failed to properly integrate their star wide receiver.
"It is Odell Beckham," Mayfield said. "He is going to have double coverage and we have to find ways to format things to get him the ball and force-feed him early on to where he can make an impact before we can have the perfect look to have a shot play. That is something we have learned the hard way, but I think as the weeks have gone on, we are continuing to improve on how to get the ball to him."
Hunt season
Nearly 10 months after his controversial signing, Karem Hunt will make his Cleveland Browns debut.
A Pro Bowl running back in his rookie season with the Kansas City Chiefs in 2017, Hunt was released late last November after video surfaced of him kicking a woman at a hotel in downtown Cleveland. In February, the Browns signed the Willoughby native, who was ultimately suspended for eight games to start the 2019 season as a result of the incident.
While it remains to be seen how Cleveland will use Hunt, his ability as a pass-catcher out of the backfield could help fill an obvious void in the Browns offense. In less than two seasons in Kansas City, the Toledo product amassed 2,984 total yards and 25 touchdowns, as it's never been his raw football ability that's been up for debate.
What's on the line?
With eight games left, the Browns only have so much time remaining before "turning their season around" turns into "making the most of what's left." With two games against the Ben Roethlisberger-less Steelers, two games against the Cincinnati Bengals and matchups with the Miami Dolphins and Arizona Cardinals ahead, Cleveland still has time to do the former. But that time is quickly running out for a team that hasn't earned any sort of the benefit of the doubt that it will win the games it should.
Prediction
Baker and the Browns finally pull it together with an increased emphasis on force-feeding Beckham.
Final score: Browns 31, Bills 23