CLEVELAND — The Cleveland Browns made the move of the offseason when they agreed to trade safety Jabrill Peppers and a pair of picks in the 2019 NFL Draft to the New York Giants for Pro Bowl wide receiver Odell Beckham Jr.
The move to acquire Beckham Jr. added another talented wide receiver to a corps featuring one of his best friends, Jarvis Landry, second-year speedster Antonio Callaway and the impact plays of Rashard "Hollywood" Higgins.
"They are team-oriented," quarterback Baker Mayfield said of the wide receivers at the start of the offseason program.
"They want to win. Probably will just close my eyes, throw it and hope that one of them catches it (laughter). I am not worried about that. They know that I am going to do my job. I hope that they trust in me to do that."
Beckham Jr. enters the 2019 season with the second-best yards-per-game ratio in NFL history, and slowing down is not an option for the sixth-year wide receiver.
Over 59 regular-season games, including 56 starts, in five years with the Giants, Beckham Jr. turned 622 targets into 390 receptions for 5,476 yards and 44 touchdowns. Beckham Jr. averaged 92.8 yards per game, including a league-best 108.8 during the 2014 season.
Beckham Jr. has put four 1,000-yard and three double-digit touchdown seasons on his resume since being selected with a first-round pick in the 2014 NFL Draft out of Louisiana State University.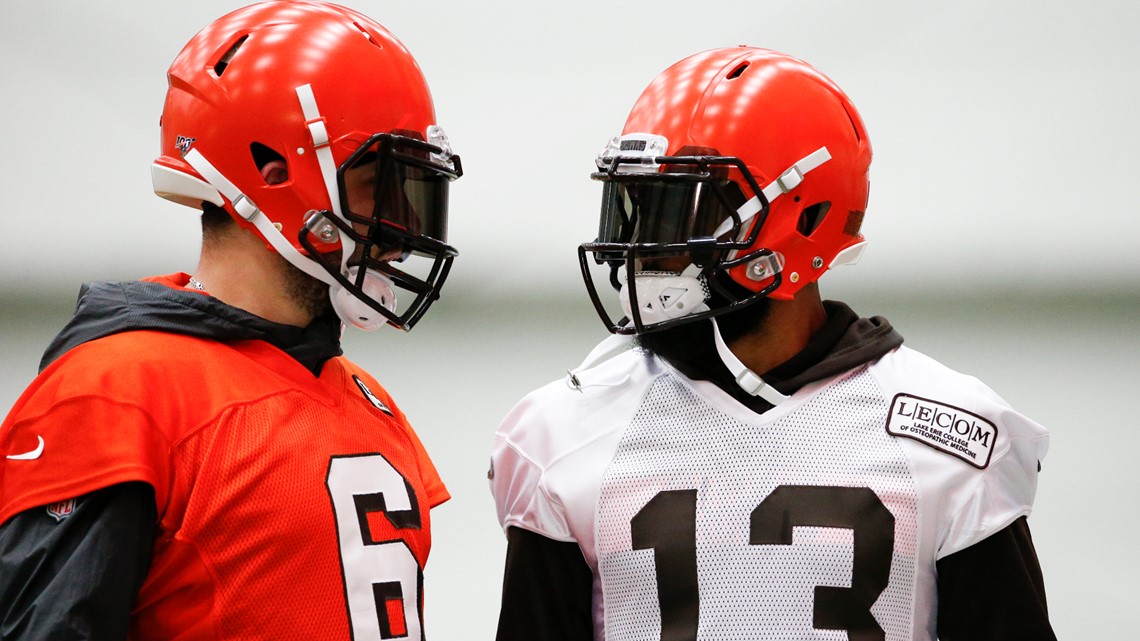 Last season, Beckham Jr. posted a 77-catch, 1,052-yard, six-touchdown effort for the Giants.
"His skillset, I would not say that it is unmatched, but it is pretty close," Browns coach Freddie Kitchens said.
"He is, of course, one of the best players in the National Football League on any given Sunday. Like a lot of great players, the one thing that they always strive to be on is a good team, I think because team accomplishments help individual players, and vice-versa, the individual players help team accomplishments. When you can marry the both together, that is when you really have something and you have something special."
Callaway's career with the Browns had a rocky start as the fourth-round pick in the 2018 NFL Draft was cited in Strongsville for driving with a suspended license and marijuana possession in the early-morning hours on a day off from training camp.
But despite the early mistake extending a pattern of concerning off-the-field incidents from his days at the University of Florida that dropped his stock in the draft, Callaway turned in a solid rookie season with 43 receptions for 586 yards, five touchdowns and 27 first downs in 16 games.
"He's taken a huge step," offensive lineman Joel Bitonio said. "He seems focused on football. I think when he first got here, there was a lot going on. He was drafted, and then, had some stuff, but he seems real focused on football.
"You always need that deep threat. Odell's a great receiver. Jarvis is a great receiver and Odell can do anything on a football field, but you also want that guy that can take the roof off the defense and really open it up for the tight ends and everybody else."