CLEVELAND — The Cleveland Browns sought to add depth to the linebacker corps during the 2019 NFL Draft, and they spent two picks on second-level defenders to bolster a unit that thinned down to starters Christian Kirksey and Joe Schobert and pass-rushing reserve Genard Avery after the team parted ways with Jamie Collins early this offseason.
The Browns used a third-round pick to select Sione Takitaki (BYU), and then, on day three of the NFL Draft, they picked Mack Wilson (Alabama).
"We want to add tough football players," Browns coach Freddie Kitchens said after the 2019 NFL Draft.
"We have some tough football players here. In general, it is a tough game played by tough people. That is what you want. You want guys that love the game of football, and I think we have helped ourselves in that area."
Two…as in second chances.
Admittedly, Takitaki's collegiate career did not start well, and eventually, he was dismissed not only from BYU's football team, but also, from the university itself. But while working construction jobs to put food on the table during his year away, Takitaki leaned on the support from his now wife and went back to BYU to put respect on his name.
Over 41 career games in four years with the BYU Cougars, Takitaki registered 241 total tackles, including 145 solo stops and 96 assists. Of those 241 total tackles, 33.5 went for lost yardage and 15.5 were sacks of opposing quarterbacks.
Takitaki defended five passes, forced two fumbles and recovered two others in his college career.
"I am a physical guy," Takitaki said after being selected by the Browns. "I feel like I do a good job of being physical, shedding blocks, things like that and filling gaps.
"I also am smart enough to use finesse moves here and there, and that really opens up doors when going against linemen and tight ends trying to block you, fullbacks and things like that. I really feel like I am a physical linebacker, but I also use a lot of finesse and am really smart."
The 6-foot-1, 235-pound Wilson was a three-year contributor to the Crimson Tide, including a College Football Playoff National Championship Game win following the 2017 regular season.
In 33 career games for Alabama, Wilson registered 113 total tackles, including 59 solo stops and 54 assists, with seven hits coming behind the line of scrimmage. Additionally, Wilson corralled six interceptions, which he returned for 39 yards and one touchdown, defended seven passes and recovered one fumble.
"I was expecting to go hopefully late first or second, latest was third," Wilson told the Cleveland media after being drafted. "I didn't know I was going to slip all the way to the fifth round.
"I'm blessed to be able to be in this opportunity. I'm not complaining. These opportunities don't come often. I'm just ready to get to work and just ready to get with the guys on the team and find that veteran who I'm going to follow in their footsteps to try to soak up the game as much as I can."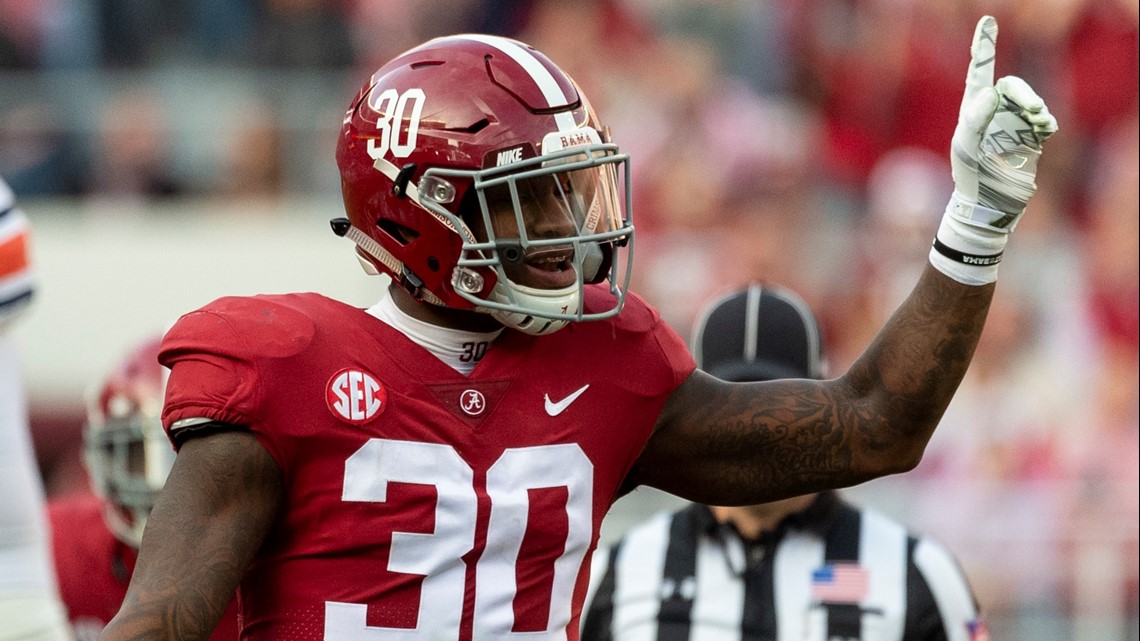 Although Wilson is happy to be with the Browns, he also took notice of the fact that 31 teams passed on selecting him multiple times, and that will be a motivator for him during his career.
"That chip is going to always be on my shoulder," Wilson said. "I'm going to always think about it.
"I feel like I have to prove people wrong, but I just want to show that in this draft, I was the best linebacker. There were 31 teams that slipped up on me, and somebody is going to have to feel all the pain that I built up these past few days."