With December having arrived, it's not just the end of the year that is near, but also, the end of the decade. And what a decade it's been for the Cleveland Browns.
In order to celebrate the 2010s, we're enlisting in your help to compile the Browns' All-Decade Team. Each day, we'll release a poll on Twitter asking you to vote for a particular position, in addition to sharing the previous day's result.
On Monday, you voted Myles Garrett and Jabaal Sheard as the starting defensive ends of the Browns' All-Decade Team for the 2010s. Below, you can vote for the team's defensive tackles.
With Sashi Brown taking over as general manager following the 2015 season, the Cleveland Browns embarked on an unprecedented rebuild that manifested itself in the form of a 1-15 record in 2016. While painful, those on-field struggles resulted in the Browns being awarded the No. 1 pick in the draft for the first time since 2000. And while one could argue with the process, what isn't up for debate is that having the ability to draft Myles Garrett made for a heck of a prize.
A former 5-star recruit who ranked as the No. 2 player in the 2014 class, Garrett spent his college career starring at Texas A&M, where he developed into a top tier draft prospect. Upon arriving in Cleveland, it didn't take long for Garrett to announce his presence either, as he recorded a sack on his very first defensive play as a member of the Browns.
After tallying a team-high seven sacks throughout an injury-plagued rookie campaign, the 6-foot-4, 272-pound specimen earned Pro Bowl honors in 2018, when he recorded 13.5 sacks. Through the first eight games of 2019, he had already tallied 10 sacks before he was ultimately suspended for the remainder of the season after striking Pittsburgh Steelers quarterback Mason Rudolph in the head with his own helmet.
Despite having only played in 37 games, the 23-year-old Garrett already ranks seventh in team history with 30.5 sacks. Although his suspension is currently indefinite, the expectation is he'll be reinstated prior to the 2020 season and will resume his role as the cornerstone of the Browns defense.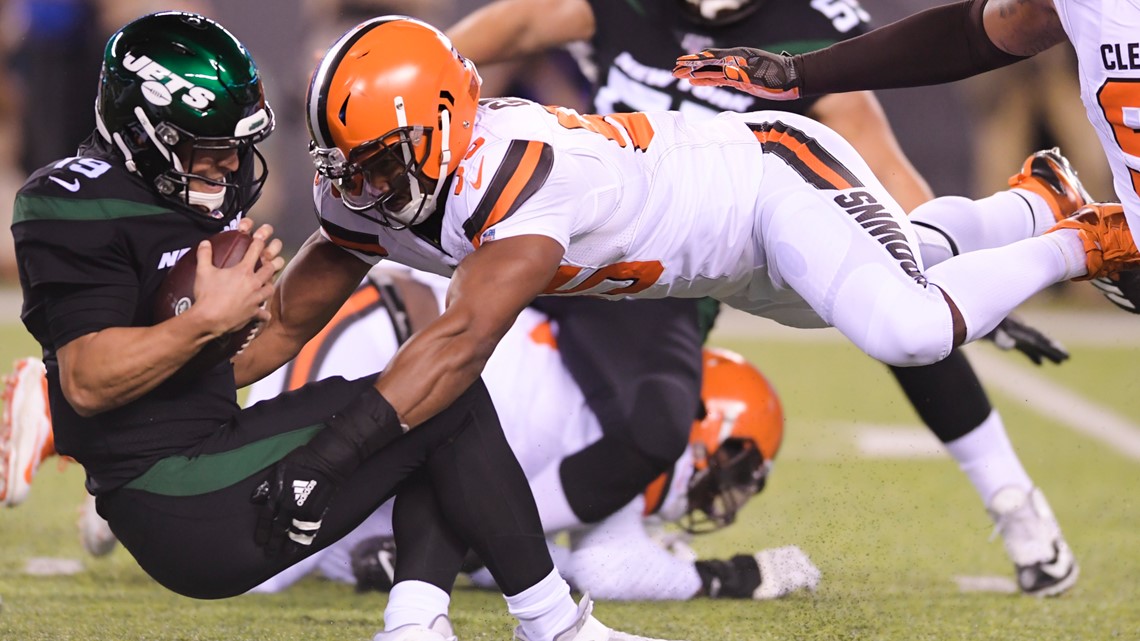 Seven years before Cleveland drafted Garrett, it used a second-round pick on a productive pass-rusher out of Pitt. That player, Jaabaal Sheard, ultimately led the Browns in sacks in each of his first three seasons with the team, despite seeing his position fluctuate due to constantly changing defensive schemes.
By the time he left Cleveland to sign as a free agent with the New England Patriots prior to the 2015 season, Sheard ranked ninth in franchise history with 23 sacks in four seasons. Appearing in 61 games, including 50 starts over the course of four seasons, Sheard also tallied 190 tackles, 27 of which came for a loss, 12 pass defenses and 7 forced fumbles.
Next up, the candidates for the Cleveland Browns' All-Decade Defensive Ends:
Ahtyba Rubin (2008-2014)
Selected in the sixth round (190 overall) of the 2008 NFL Draft. Started 70 games for the Browns between 2010-2014, including all 32 games from 2010-2011. Was utilized as a nose tackle, defensive tackle and defensive end across multiple defensive schemes. Ended his Cleveland career with 338 tackles, 15 of which came for a loss and 12 sacks.
Phil Taylor (2011-2014)
Selected in the first round (No. 21 overall) of the 2011 NFL Draft. Named the PFWA's All-Rookie Team in 2011 after starting in all 16 of the team's games and recording 59 tackles and four sacks. Appeared in 44 games (42 starts) for the Browns from 2011-2014, tallying 109 tackles, 15 of which came for a loss and seven sacks.
Danny Shelton (2015-17)
Selected in the first round (No. 12 overall) of the 2015 NFL Draft. Started 15 games at nose tackle as a rookie and all 16 of the Browns' games in 2016. Tallied 128 tackles, 11 of which came for a loss and 1.5 sacks in 46 games (44 starts) over the course of three seasons in Cleveland.
Larry Ogunjobi (2017-present)
Selected in the third round (65th overall) of the 2017 draft, becoming the first football player ever drafted out of UNC-Charlotte. Appeared in 14 games as a rookie and started in all 16 of the Browns' games in 2018, as well as 12 games in 2019. Has tallied 124 tackles, 21 of which have come for a loss and 12 sacks in his first 42 games (29 starts) in Cleveland.