CLEVELAND — With December having arrived, it's not just the end of the year that is near, but also, the end of the decade. And what a decade it's been for the Cleveland Browns.
In order to celebrate the 2010s, we're enlisting in your help to compile the Browns' All-Decade Team. Each day, we'll release a poll on Twitter asking you to vote for a particular position, in addition to sharing the previous day's result.
On Wednesday, you voted Jarvis Landry, Josh Gordon and Andrew Hawkins as the wide receivers of the Browns' All-Decade Team for the 2010s. Below, you can vote for the team's tight end.
As has been well documented, Josh Gordon's career in Cleveland was marred by controversy, much of which came in the form of substance abuse-related suspensions.
But when the 6-foot-3, 225-pound wide receiver was on the field for the Browns, boy, was it special.
Selected with a second-round pick in the 2012 supplemental draft, Gordon enjoyed a strong rookie season (50 receptions, 805 yards and 5 touchdowns) before emerging as one of the top receivers in the NFL in 2013. Despite only playing in 14 games, Gordon led the league in with a single-season franchise record 1,646 receiving yards, earning All-Pro honors while catching 87 passes and 9 touchdowns from quarterbacks Brandon Weeden in Jason Campbell.
That, however, would prove to be the peak of Gordon's Cleveland career, as he played in just 10 games for the team from 2014-17 with suspension costing him all of the 2015 and 2016 campaigns. After catching a touchdown pass in the team's 2018 season opener, the Browns traded Gordon to the New England Patriots, who released the Baylor product earlier this season.
While Gordon -- who is now a member of the Seattle Seahawks -- will likely always be thought of as a case of "what could have been," it was the Browns who saw him at his very best.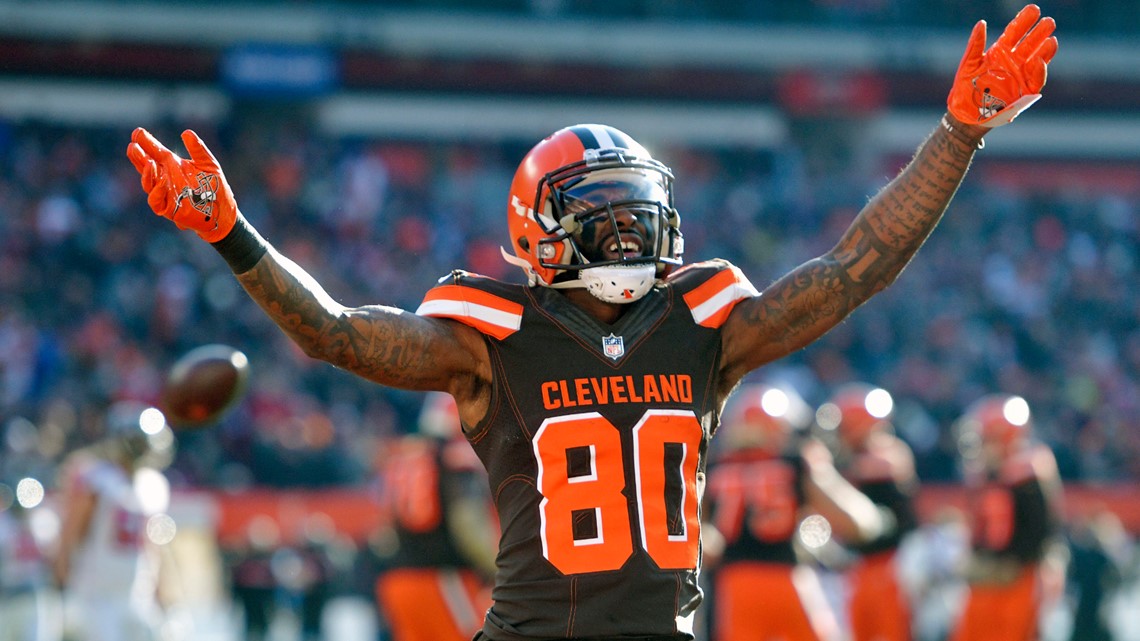 In the case of Jarvis Landry, the LSU product was the rare proven commodity to be acquired by the Browns, who traded a fourth-round pick to the Miami Dolphins for the 3-time Pro Bowl selection following the 2017 season. But despite Landry having caught 400 passes -- including a league-high 112 in 2017 -- in his first four seasons, questions persisted regarding whether or not he was more than a play-it-safe possession receiver.
It didn't take long for him to provide his answer.
Becoming a focal point on the field and team leader off of it, Landry played a crucial role in Baker Mayfield's emergence in 2018. After starring on Hard Knocks with his meeting room speeches, Landry went on to lead the team in both receptions (81) and receiving yards (976), in addition to catching 4 touchdowns while earning his fourth straight Pro Bowl appearance.
Even after the addition of his best friend and former college teammate, Odell Beckham Jr., Landry has remained a centerpiece of the Browns offense in 2019. Through 12 games, Landry leads the Browns with 65 receptions, 919 yards and 5 touchdowns and is currently averaging a career-best 14.1 yards per catch.
Like Gordon, Landry's impact in Cleveland this decade has been brief. But it's also been far from forgettable.
As for Andrew Hawkins, the co-host of the ThomaHawk Show Podcast's popularity -- and retweet of our poll -- likely resulted in the wide receiver voting being skewed. Nevertheless, we'd be remiss not to mention his team-high receptions (63) and receiving yards (824) in 2014 and the 123 receptions, 1,424 yards and 5 touchdowns he scored in his three seasons with the Browns (2014-16).
Next up, the candidates for the Cleveland Browns' All-Decade Tight End:
Ben Watson (2010-2012)
Signed as a free agent following six seasons with the New England Patriots prior to the 2010 season. Caught a team-high 68 receptions for 763 yards and 3 touchdowns in 2010. Appeared in 45 games (41) starts in three seasons with the Browns, totaling 154 receptions, 1,674 receiving yards and 8 touchdowns.
Jordan Cameron (2011-2014)
Selected in the fourth round (102nd overall) of the 2011 NFL Draft. Emerged to earn Pro Bowl honors in 2013 after catching 80 passes for 917 yards and 7 touchdowns. Totaled 130 receptions for 1,600 yards and 10 touchdowns in 47 games (31 starts) over the course of four seasons with the Browns.
Gary Barnidge (2013-2016)
Signed as a free agent prior to the 2013 season after four years with the Carolina Panthers. Appeared in 61 games (43 starts) over the course of four seasons and earned Pro Bowl honors after recording team-highs of 79 receptions for 1,043 yards and 9 touchdowns in 2015. His 1,043 receiving yards also marked the seventh-highest total in a single season for any player in franchise history and the second-most ever recorded by a Browns tight end.
Retired following the 2016 season having tallied 160 receptions for 1,938 yards and 13 touchdowns in four seasons with Cleveland.
David Njoku (2017-present)
Selected in the first round (29th overall) of the 2017 NFL Draft. Has totaled 92 receptions for 1,062 yards and 9 touchdowns over the course of his first three seasons with the team (34 games, 20 starts). Best season came in 2018, when he recorded 56 receptions for 639 yards and 4 touchdowns. Has been sidelined since the Browns' Week 2 win over the New York Jets this season with a fractured wrist.