BEREA, Ohio -- The Cleveland Browns had few problems when it came to moving the ball down the field through the air against the New York Giants in the 2018 preseason opener at MetLife Stadium in East Rutherford, New Jersey last Thursday night.
However, the same could not be said for the running game, as the Browns rushed for just 50 yards on 33 carries, an average of 1.5 yards per carry. As such, the run game was a big point of emphasis for the Browns in practice leading up to tonight's preseason home opener against the Buffalo Bills at FirstEnergy Stadium.
"Not good enough," Browns coach Hue Jackson said. "There is nothing else to say about it. It was just not good enough, not to our standard. We will get better. We did not block them good enough. Just that simple. That is what it was."
PHOTOS: Cleveland Browns believe they have makings of special running backs stable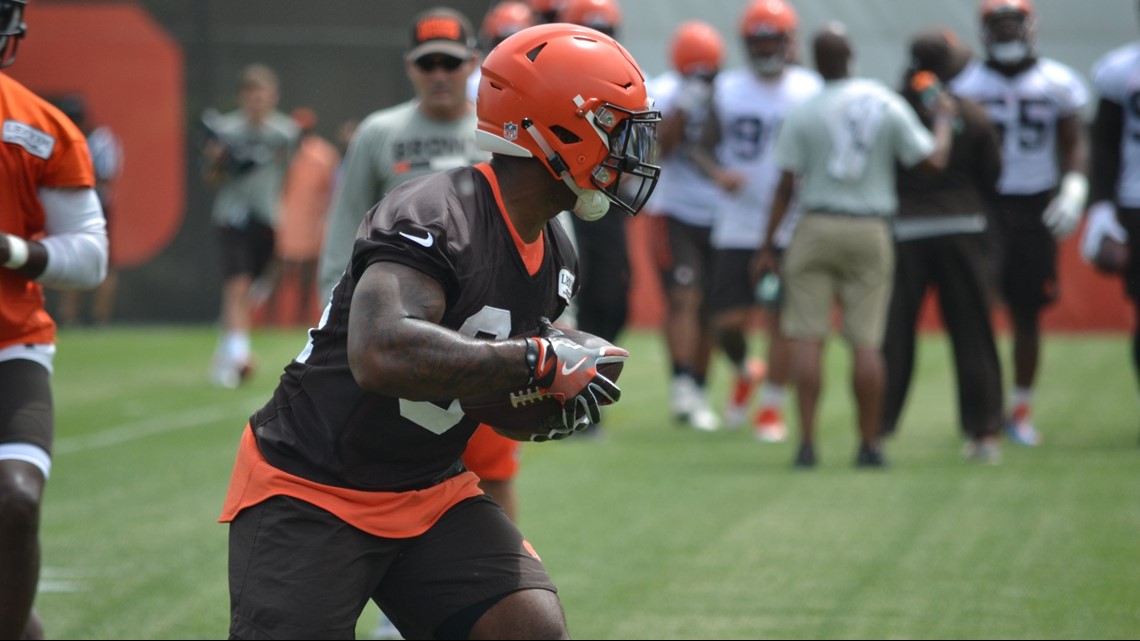 In order to fix the troubles they had against the Giants, the Browns put in plenty of work on the run game during their four days of practice ahead of tonight's game.
"We weren't great in the run game," left tackle Joel Bitonio said. "I think we've been hammering it in walk-through and practice this week. I think our double-teams weren't super crisp. We had some misidentifications with some calls out there, and we just weren't very successful. It was one of those things. It was the first game. We were trying to get in a rhythm, and I think we're going to be better this week."
Matt Florjancic
Playing against the Giants was Bitonio's first foray at left tackle in the National Football League, and while he was blocking the edge rushers, rookie offensive lineman Austin Corbett was starting at left guard.
As the preseason continues and training camp winds down, Bitonio is confident the chemistry with his former University of Nevada Wolfpack teammate will develop and lead to more success in the run game.
"He's a good player, and I think when a couple good players get together, you can have some good double-teams and stuff," Bitonio said.
"We get along and we've worked at it and things like that. It's been good. It's been fun to play next to him because he kind of understands what I'm thinking because he's played tackle before. We've both kind of played both positions, and it's been good, though."
Matt Florjancic
The 6-foot-4, 306-pound Corbett cleared the way for a Nevada offense that averaged 28.1 points and 397.6 yards over their 12 games in the 2017 season. Behind Corbett's blocks, Nevada's offense gained 4,771 yards and scored 45 touchdowns on 813 total plays.
"He's done a good job, but he's a little aggressive still," Bitonio said. "I think he thinks like, 'Oh, guard. We've got to be super, super physical,' and there's a finesse to it still. He gets his head involved a little bit sometimes. Just little things like that, where it's a nuance of the game.
"He's been playing tackle his whole life, in high school, college, and so, coming in, there's just little nuances where, 'Oh, cover the guy up a little more. Use your hands a little bit differently.' It happens a lot quicker on the inside, and he's used to setting off and playing three or four yards off the ball, where it's like, 'Wow, I'm making contact with this guy right away.'"
Stream Live with fuboTV -Try Free Trial