CLEVELAND -- Be it on defense or special teams, rookie cornerback Denzel Ward continues to show he has a nose for the football, and in Sunday's game against the Baltimore Ravens at FirstEnergy Stadium, those impactful plays proved to difference-makers.
Ward corralled an interception and blocked a field goal in helping the Browns earn a 12-9 win over the Ravens for their first victory over an AFC North Division team since October of 2015.
"It is a lot of fun," said Ward, a native of Macedonia and graduate of Nordonia High School. "Just doing what I love to do and what I dreamed of since I was a kid, especially for my hometown. It is exciting, and we are going to try to keep getting wins."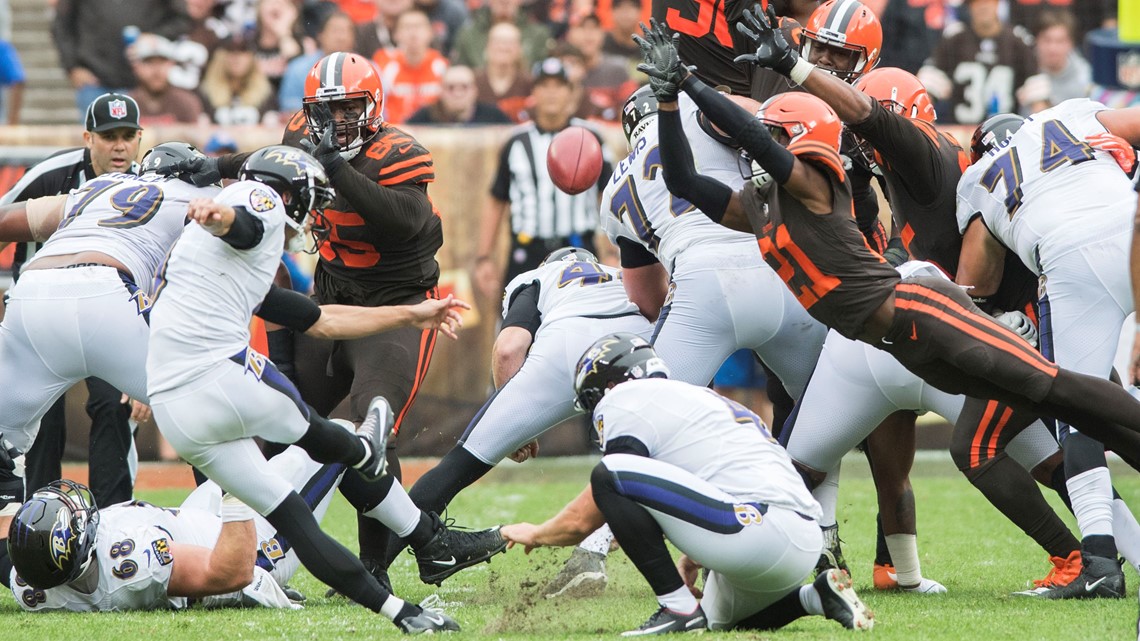 The Ravens drove deep into Browns territory early in the second quarter, but the defense proved up to the challenge and continued to add onto their impressive takeaway total through the first quarter of the 2018 season.
Ward corralled his third interception on the season at the Cleveland three-yard line, which brought to an end what looked to be a sure scoring drive for the Ravens, who already held a 3-0 lead with 9:28 remaining in the first half.
With the Ravens facing a second-and-goal from the Cleveland two-yard line, quarterback Joe Flacco rolled out to his right and floated a pass toward tight end Nick Boyle, who ran his route along the goal line. However, Ward was there to jump the route and earn the fourth takeaway of his rookie season.
"He was everywhere," defensive end Myles Garrett said. "He had a game just like he did in the first game of the season, where he was ball-hawking and on top of guys at all times. We have seen this in practice, and we have seen his potential. Now, he is living up to his abilities."
Coach Hue Jackson added, "Huge. They were on their way in. That is the bend but do not break part of us. Sometimes, people are making pays, but somebody on defense rises up and makes a play and stops the other team. We have to continue to do that. We had [two] turnovers. There are two more. That is 15. Our guys are doing well in that way. We just have to continue to keep getting them and not turning it over on offense."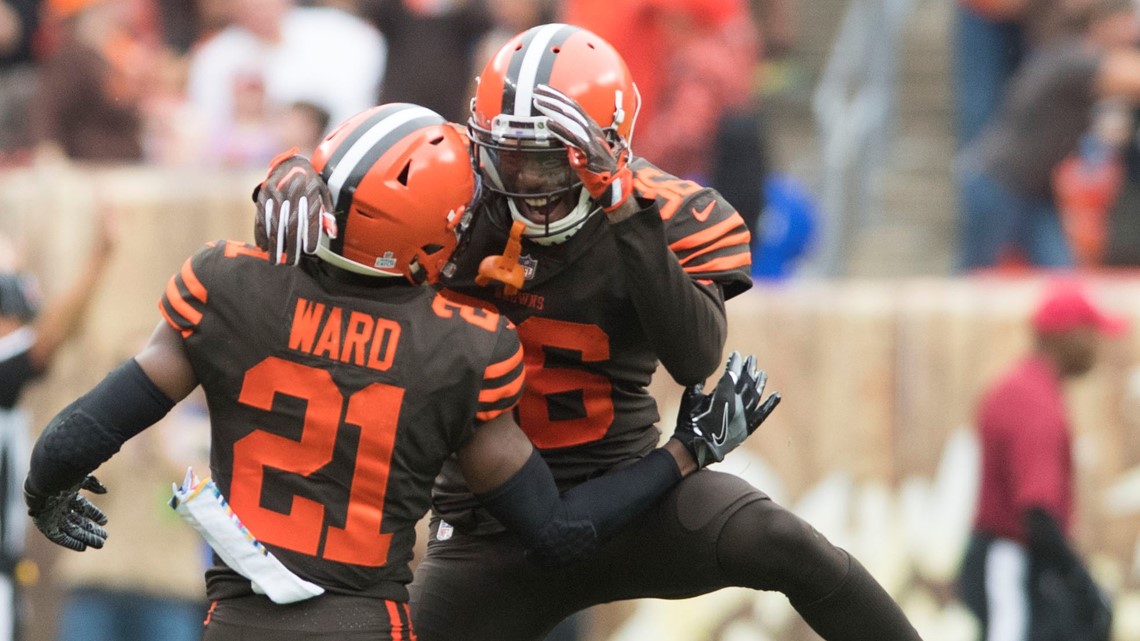 The Browns' special-teams coverage and return units struggled through a penalty-laden first half, but the field goal block team atoned for some of the earlier misgivings against the Ravens.
With the Ravens attempting a game-tying field goal from 48 yards away, Ward blocked the kick and kept Cleveland in front of Baltimore, 6-3, at halftime.
Lined up over the right side of Baltimore's formation, Ward sprinted into the backfield untouched and batted the ball out of the air before it rolled to a stop inside the Cleveland 10-yard line.
"I will tell you what, it is a lot better when he is on my team than when I played against him," quarterback Baker Mayfield said with a smile.
"He is a guy who continues to get better and make plays for us, huge plays. A turnover down in the red zone is big, and then, a blocked kick. When it comes down to it, we would not have gone into overtime if he did not block that kick, so happy for him and just happy I am on his side."