BEREA, Ohio — While his Cleveland Browns teammates will continue their preparations on Wednesday for this week's game against the Miami Dolphins, Pro Bowl defensive end Myles Garrett will be going through the appeals process to see if he can get his indefinite suspension reduced.
According to ESPN's Adam Schefter, Garrett's appeal hearing will be held on Wednesday. Former NFL receiver James Thrash was jointly approved by the NFL and NFL Players' Association to hear appeals of discipline for on-field actions.
Garrett will travel to New York City to make his appeal in person, rather than holding a conference call with league officials about the incident.
Garrett was suspended indefinitely just 12 hours after Thursday's 21-7 win over the Pittsburgh Steelers at FirstEnergy Stadium in Cleveland for an on-field brawl that resulted in his ejection, as well as the disqualifications of Browns defensive tackle Larry Ogunjobi and Steelers offensive lineman Maurkice Pouncey.
The incident boiled over when Garrett brought Rudolph to the ground well after a third-down play with eight seconds remaining in the game.
After the hit, Rudolph appeared to rip off Garrett's helmet after delivering a couple of kicks below the belt of the Pro Bowl defensive end. Garrett responded by ripping off Rudolph's helmet with several powerful tugs, and later, swinging it at and connecting to the quarterback's head when the signal-caller pursued the matter further.

After Garrett ended up on the ground after getting tangled up with Steelers offensive lineman David DeCastro, Pouncey tried to protect his quarterback and delivered several kicks to the helmet and multiple punches to the Browns' Pro Bowl defensive end.
It was then that Ogunjobi escalated further the already volatile situation by pushing Rudolph from behind and to the ground, at which time, players left both benches and a scrum ensued in the end zone that took several minutes to get under control.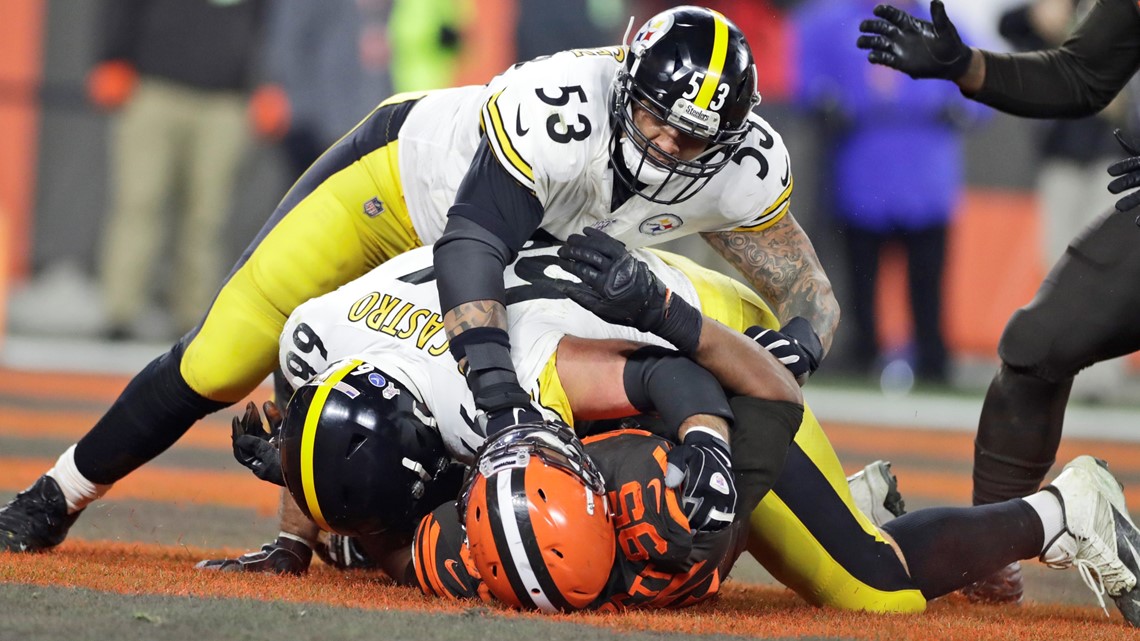 Should Garrett's suspension be upheld, he will miss the final six games of the regular season and any subsequent playoff games if the Browns qualify for postseason play for the first time in 17 years. Garrett has been fined those six game checks, as well as an additional undisclosed amount.
Pouncey was suspended for three games and Ogunjobi was banned for the matchup with the Dolphins, while Rudolph will be subject to a fine for his role in the brawl.