10:10 p.m.-CLEVELAND BROWNS OPEN PRESEASON PLAY WITH WIN OVER NEW YORK GIANTS
And the (preseason) wins keep on coming for the Cleveland Browns.
The Browns took a lead after a touchdown on their second possession of the first quarter and never looked back on the way to a 20-10 victory over the New York Giants at MetLife Stadium in East Rutherford, New Jersey, Thursday night.
Starting quarterback Tyrod Taylor completed all five of his passes for 99 yards and one touchdown, and second-string signal-caller Baker Mayfield found the mark with 11 of his 20 attempts for 212 yards and two scores, one each to tight end David Njoku and wide receiver Antonio Callaway.
Njoku led the way with two touchdown receptions, while Callaway turned his three receptions into a game-high 87 yards with a 54-yard catch-and-run score in the fourth quarter.
PHOTOS: Cleveland Browns face New York Giants in 2018 preseason opener
9:26 p.m.-BROWNS EXTEND LEAD OVER GIANTS
Cleveland Browns wide receiver Antonio Callaway had a rocky start to the week with his receiving citations for misdemeanor possession of marijuana and driving with a suspended license, but he has made the most of his first preseason game.
Early in the fourth quarter, Callaway caught a pass from rookie quarterback Baker Mayfield after running a slant route from the right side of the formation to the middle of the field and hustled past the New York Giants' secondary on the way to a 54-yard touchdown.
Callaway's scoring play gave the Browns a 20-10 lead over the Giants with 13:37 to play in the fourth quarter of the preseason opener at MetLife Stadium in East Rutherford, New Jersey.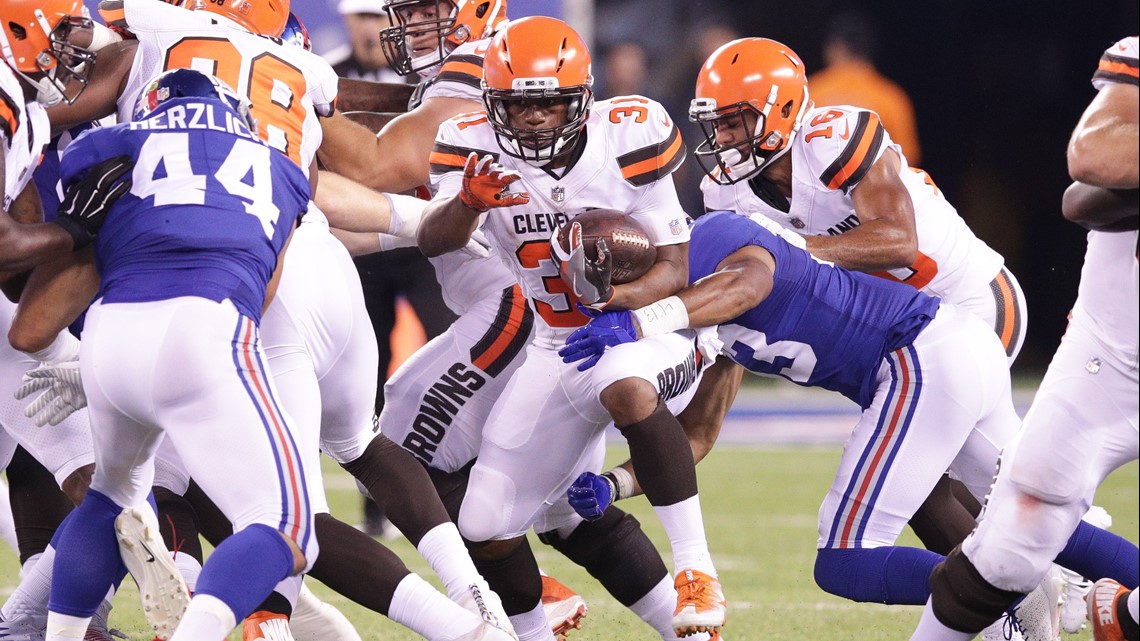 8:58 p.m.-GIANTS CUT INTO BROWNS' LEAD
The New York Giants came storming out of the locker room at halftime and converted a turnover from the Cleveland Browns' punt-return unit into a touchdown in the third quarter of the preseason opener at MetLife Stadium in East Rutherford, New Jersey.
Just three plays after a turnover, first-year Giants running back Jalen Simmons rushed for a five-yard touchdown, which cut the Browns' lead down to three points, 13-10, with 10:25 to play in the third quarter.
The scoring drive took just three plays and covered 14 yards after wide receiver C.J. Board fumbled a punt return that was recovered by Giants long-snapper Zak DeOssie at the Cleveland 14-yard line.
8:45 p.m.-Dez Bryant tweets that he will take free-agent visit to Cleveland Browns
CLEVELAND -- Free-agent wide receiver Dez Bryant is coming to Cleveland…at least for a visit with general manager John Dorsey.
After it was reported that Dorsey said Bryant "won't return any of my calls" prior to kickoff of the Cleveland Browns' preseason opener against the New York Giants at MetLife Stadium Thursday night, the three-time Pro Bowl receiver responded swiftly on Twitter.
"Starting my visits next week…" Bryant tweeted. "I'm coming to the Land to see you, Mr. Dorsey."
Before confirming that he "actually did talk with Mr. Dorsey," Bryant tweeted about his interest in joining the Browns.
That message was followed several other tweets about the Browns-Giants game, including a congratulations message to wide receiver Jarvis Landry after his 32-yard reception from starting quarterback Tyrod Taylor, one about New York rookie rusher Saquon Barkley starting the game with a 39-yard run and one about the Browns' first touchdown drive.
Following the premiere episode of the HBO Sports miniseries, "Hard Knocks," Tuesday night, Bryant tweeted his support of Landry delivering a passionate, albetit Not-Safe-For-Work, speech in the wide receivers room, saying "Yea Juice!!!..gave me chills man!!! I love this."
Landry was quick to respond, saying "Ride With Me."
Over 113 games, including 99 starts during his eight years with the Dallas Cowboys, Bryant caught 531 of the 909 passes thrown his way and turned those receptions into 7,459 yards and 73 touchdowns. He caught 101 passes of at least 20 yards and 27 that went for 40 or more yards for the Cowboys.
Additionally, Bryant turned 356 of his 531 receptions (67 percent) into first downs and committed just eight fumbles during his tenure in Dallas.
During his final season with the Cowboys, Bryant caught 69 passes for 838 yards and six touchdowns to go along with eight 20-yard receptions, two 40-yard catches and 44 first downs.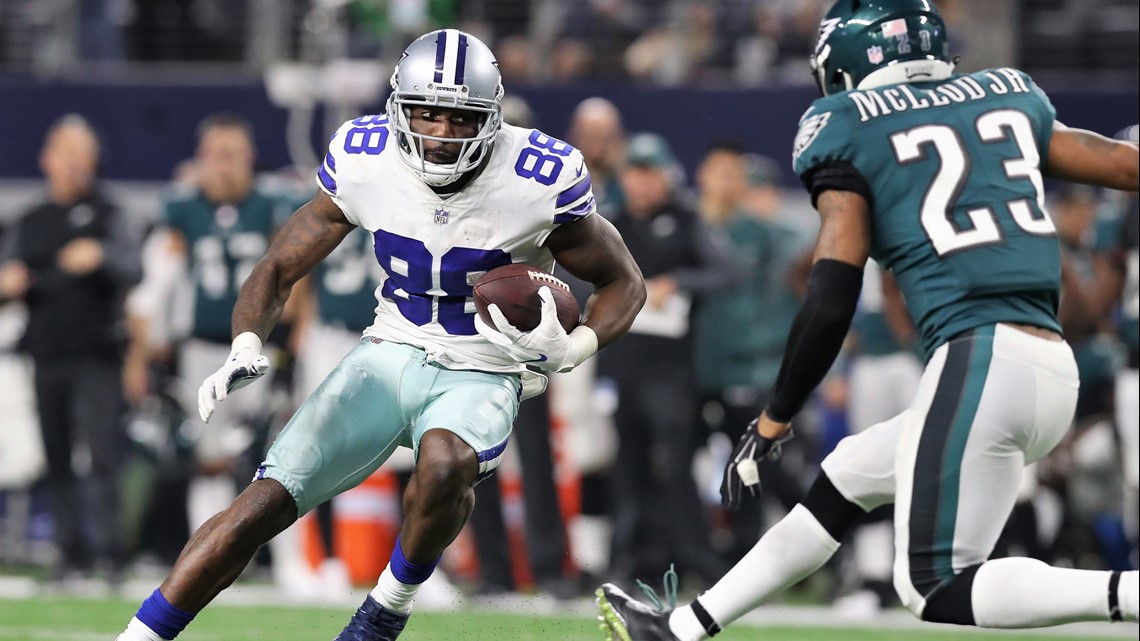 Bryant's three best seasons came from 2012 to 2014, where he caught 92, 93 and 88 passes for 1,382, 1,233 and 1,320 yards, respectively. Over that three-year period, Bryant caught 12, 13 and 16 touchdown passes, respectively, and each of those totals set new single-season career bests for the 6-foot-2, 220-pound native of Galveston County, Texas and product of Lufkin High School.
The Browns are thin at wide receiver right now, as Josh Gordon is working on personal matters away from the team and their first-round pick in the 2016 NFL Draft, Corey Coleman, was traded to the Buffalo Bills Sunday night following a lackluster start to training camp that was featured in a segment on "Hard Knocks."
8:01 p.m.-BROWNS BUILD ONTO LEAD WITH NJOKU TOUCHDOWN
Second-year tight end David Njoku had a big part in the success of the Cleveland Browns' first scoring drive in the preseason opener against the New York Giants at MetLife Stadium in East Rutherford, New Jersey, and he did on the second as well.
With the Browns facing a second-and-goal from the Giants' 10-yard line, first-year quarterback Baker Mayfield fired a pass to the back of the end zone, where despite heavy coverage from New York's secondary, Njoku pulled in the pass for the touchdown.
Njoku's second receiving touchdown of the game gave the Browns a 13-3 lead over the Giants with 6:43 to play in the first half.
After going three-and-out on his first drive, Mayfield engineered a 14-play, 72-yard scoring possession.
Mayfield twice earned the Browns a new set of downs with his mobility, as he rushed for a six-yard gain on third-and-six from the New York 27-yard line, and then, scampered for five yards on fourth-and-two from the Giants' 13.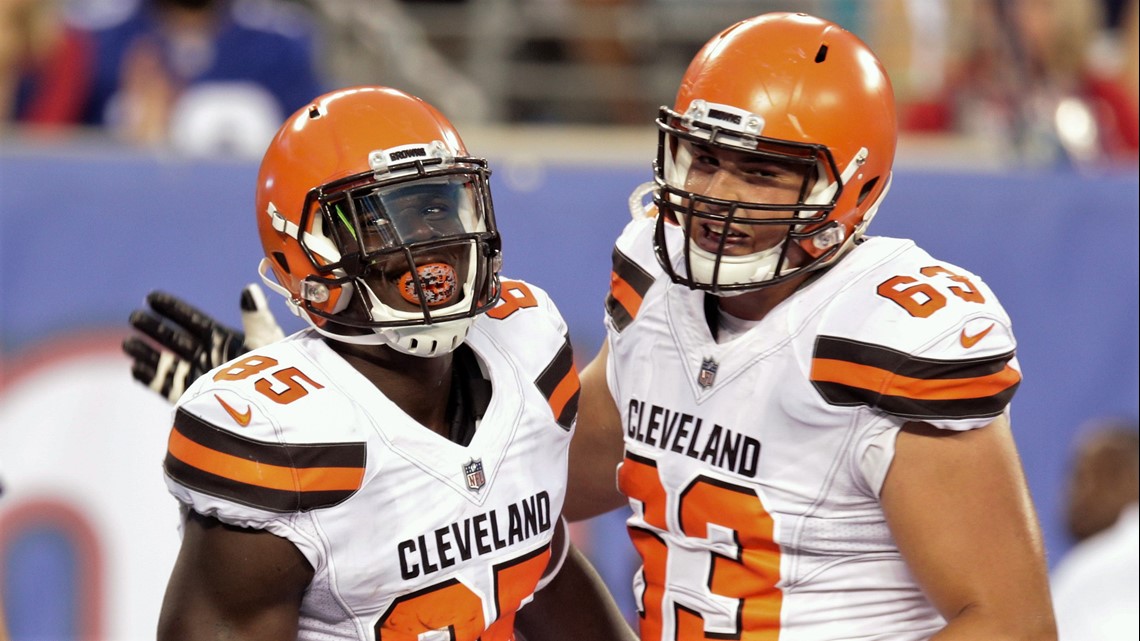 7:46 p.m.-BROWNS LEAD GIANTS AFTER FIRST QUARTER
Courtesy of a 36-yard touchdown pass from starting quarterback Tyrod Taylor, the Cleveland Browns took a 7-3 lead over the New York Giants into the second quarter of the 2018 preseason opener at MetLife Stadium in East Rutherford, New Jersey.
Taylor and the Browns' starting offense played two series, and the new quarterback was sharp, completing all five of his throws for 99 yards and the 36-yard touchdown to tight end David Njoku, as well as a 21-yard throw to wide receiver Rashard Higgins, which helped set up the score, and a 32-yard pass to Jarvis Landry on Cleveland's first possession of the game.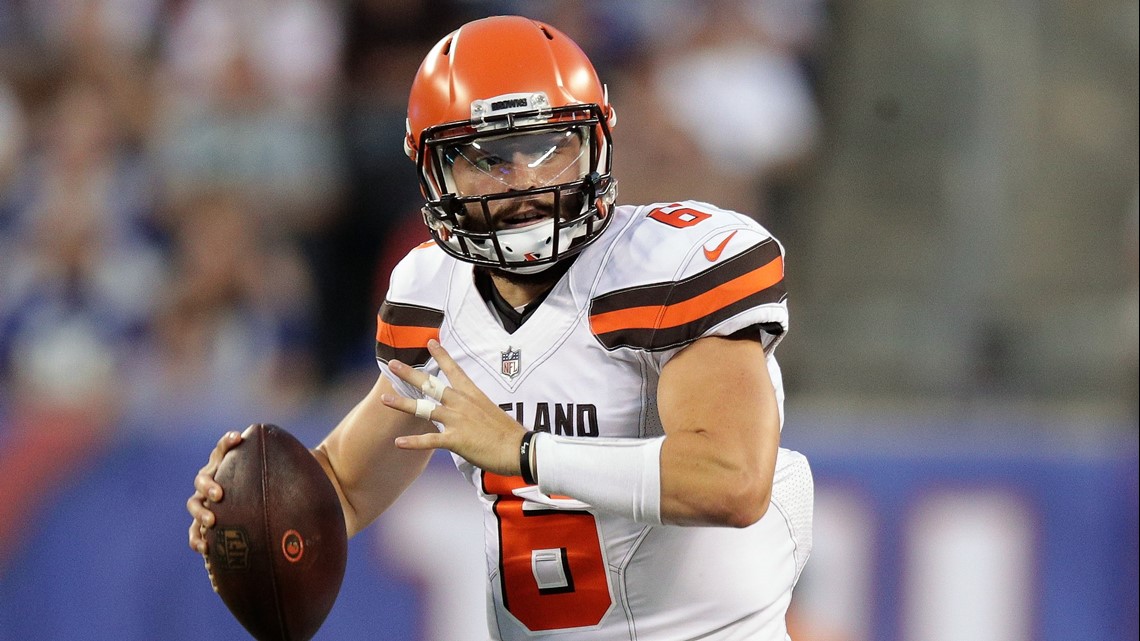 7:35 p.m.-BROWNS TAKE LEAD ON TAYLOR TD PASS TO NJOKU
Cleveland Browns quarterback Tyrod Taylor spent extra time after a recent training-camp practice working on route-running and pass catching with second-year tight end David Njoku, and that work paid off in the form of a first-quarter touchdown against the New York Giants in the preseason opener at MetLife Stadium in East Rutherford, New Jersey.
Njoku caught a 16-yard throw from Taylor at the 20-yard line, and then, outhustled Giants defenders down the field before diving across the goal line for the score, which gave the Browns a 7-3 lead over the Giants with 2:55 to play in the first quarter.
With a no-huddle look to the offense, Taylor needed just four plays to lead the Browns 66 yards down the field for the go-ahead score.
Earlier in the drive, the Browns faced a third-and-one from their own 43-yard line when Taylor found wide receiver Rashard Higgins along the right sideline for a 21-yard gain down to New York's 36-yard line.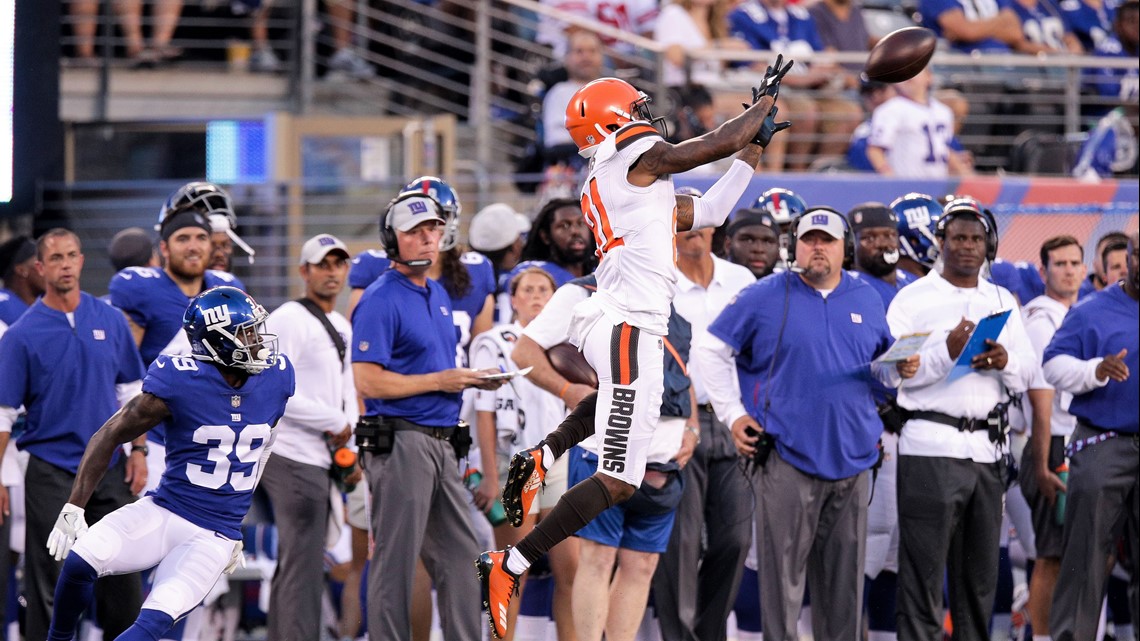 7:15 p.m.-GIANTS TAKE 3-0 LEAD OVER BROWNS
The New York Giants marched down the field and converted a 42-yard field goal try, which gave them a 3-0 lead over the Cleveland Browns at the 11:23 mark of the first quarter of the 2018 preseason opener at MetLife Stadium in East Rutherford, New Jersey.
The Giants started the eight-play, 64-yard drive with a 39-yard run from rookie Saquon Barkley, who took a handoff from quarterback Eli Manning, rushed through the middle of the Browns' defense, and then, hustled down the sideline into Cleveland territory before being pushed out of bounds.
Three plays later, it appeared that the Browns forced a stop, but rookie cornerback Denzel Ward launched into a Giants wide receiver and hit the facemask with the crown of his helmet.
Following the penalty, which put Ward one call away from being ejected from the game, the Giants had a first-and-10 at the Browns' 25-yard line, but they bottled up Barkley on a first-down rush and kept New York from getting ahead of the chains for the remainder of the drive.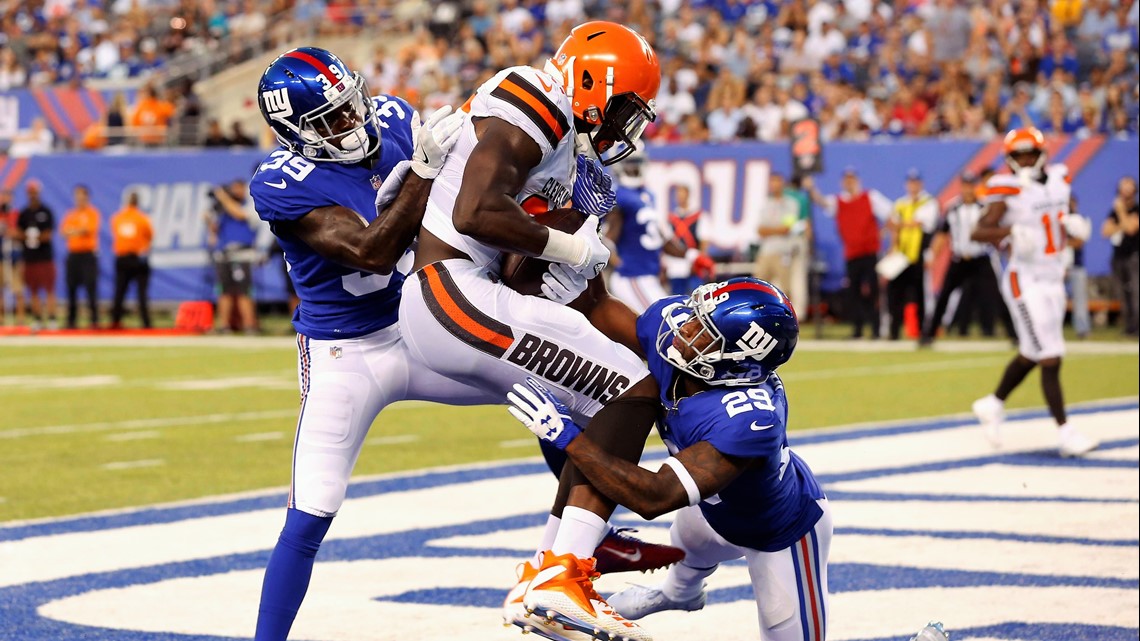 6:05 p.m.-BROWNS SET TO TAKE ON GIANTS IN OPENER
After all of the offseason work and two weeks of practice in training camp, the Cleveland Browns are set to kick off the 2018 preseason against the New York Giants at MetLife Stadium in East Rutherford, New Jersey tonight.
Following only the second 0-16 regular season in NFL history last year, the Browns dedicated their resources in the offseason to rebuilding several positions, especially quarterback, where veteran Tyrod Taylor will make his first start and rookie Baker Mayfield will make his NFL debut.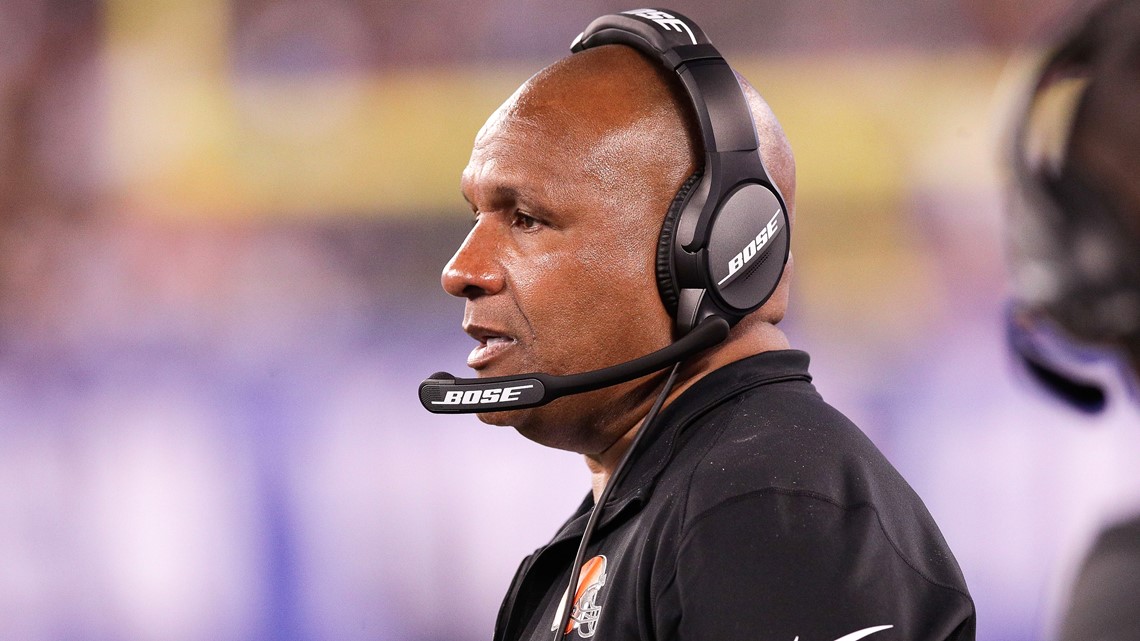 For the latest information during the preseason opener and to be a part of the discussion, tweet using the hashtag, #3Browns.