CLEVELAND — The Cleveland Browns lost their wide receivers coach early in the offseason when Adam Henry took a similar role with the Dallas Cowboys, but they wasted no time in filling that vacancy on Kevin Stefanski's inaugural coaching staff.
The Browns confirmed Tuesday that Stefanski hired former Miami Dolphins offensive coordinator Chad O'Shea to be the wide receivers coach and passing game coordinator.
"I think the most important thing about the position that I coach is to really embrace the team concept and to understand that we're a part of something bigger," O'Shea said in a release announcing his hire.
"I've always prided myself that that group has that standard of the team first, and I look forward to coaching these guys and I've always had a lot of respect for some of the guys that I'll be coaching. I'm looking forward to it, but certainly, proud of some of the past accomplishments that was built on a team concept."
O'Shea started his coaching journey as a graduate assistant at the University of Houston in 1996. Over the next three years, O'Shea would coach Houston's wide receivers (1997), tight ends/special teams (1998) and tight ends/special teams/recruiting coordinator (1999).
From 2000-2002, O'Shea was Southern Mississippi's special teams/recruiting coordinator, and then, he moved onto the National Football League.
After serving as a volunteer assistant on special teams for the Kansas City Chiefs in 2003, he spent two seasons as the assistant special teams/linebackers coach. In 2006, O'Shea moved onto the Minnesota Vikings as an offensive assistant/wide receivers coach.
Then, for the next 10 years, O'Shea coached the New England Patriots' wide receivers before taking over as the Dolphins' offensive coordinator.
During his time in Kansas City and New England, O'Shea worked under two of the most successful coaches in the NFL, Dick Vermeil and Bill Belichick.
"One of the greatest traits is work ethic, and certainly, both of those have been a great example to me in this profession of how I need to go about my business and work," O'Shea said.
Despite inconsistent production from the Browns' offense throughout the 2019 season, Jarvis Landry and Odell Beckham Jr. both surpassed the 1,000-yard mark and finished the year Nos. 1 and 2 on the team in receptions, receiving yards and touchdowns among wide receivers.
Landry converted his 83 catches into 1,174 yards, a 14.1 yards-per-reception average and a team-best six touchdowns. Beckham Jr. gained 1,035 yards, scored four touchdowns on his 74 catches and averaged 14.0 yards per reception.
In addition to the wide receivers, O'Shea is expected to work with quarterback Baker Mayfield.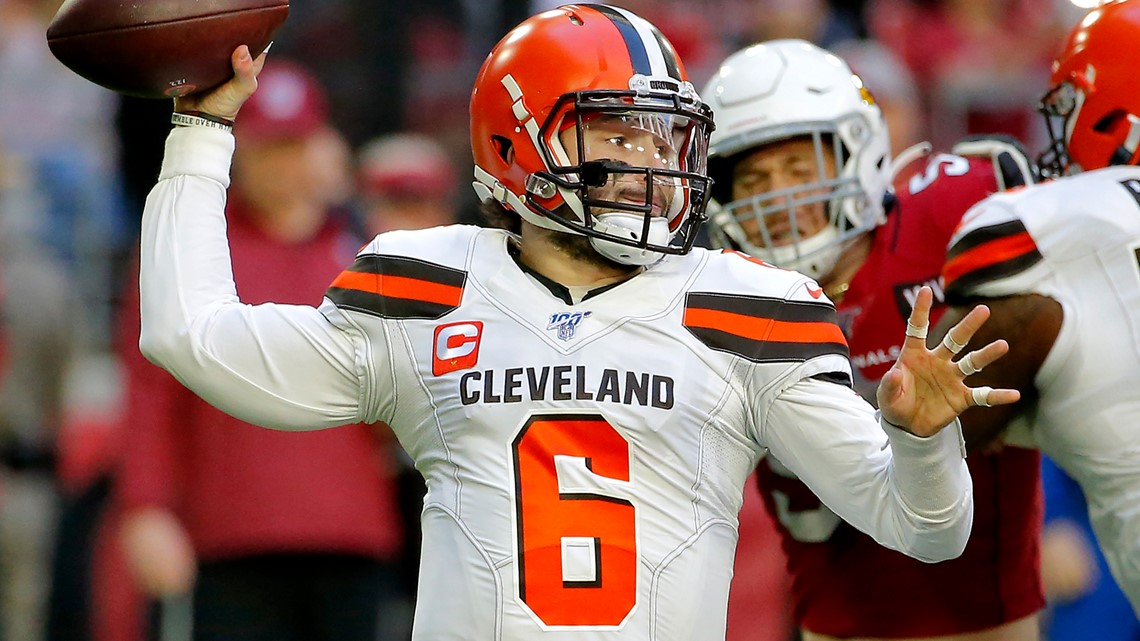 Mayfield completed 317 of his 534 attempts (59.4 percent) for 3,827 yards and 22 touchdowns against 21 interceptions in 2019 after completing 310 of his 486 throws (63.8 percent) with an NFL rookie-record 27 touchdowns against 14 picks during the 2018 season.
"I like to be surrounded by smart people and good coaches," Stefanski said. "Chad just spent a year calling it, so he understands the things that go along with play-calling and learned a ton of lessons he can help me with.
"Spending all that time in the New England program, having a ton of success, I think it's made him a better coach, and I'm looking forward to drawing on some of those experiences with him to try and make our staff as complete as it can be."