CLEVELAND — Phew! That was a close one.
Cleveland Browns linebacker Mack Wilson knows that feeling well, as he had it during the fourth quarter of Sunday's 40-25 victory over the Baltimore Ravens at M&T Bank Stadium in Baltimore when the rookie over-pursued a route and was the beneficiary of a miscommunication between quarterback and tight end.
"I have had probably a couple plays where I fitted the run the wrong way or I did not do my assignment the right way, but I try to kind of put that play behind me," Wilson said following Tuesday's workout in Berea. "I really did not have as many.
"I had a few missed fit runs from this past game. They had a great offensive scheme and do a lot of window dressing. I just have to do a better job of cross-keying the formations and kind of anticipate some of the things that happen within that play."

One play in particular that Wilson struggled to defend came in the fourth quarter.
On fourth-and-three from the Baltimore 31-yard line, the Ravens went for it, but when quarterback Lamar Jackson went to throw, he sent a pass toward the sideline on the out route. The only problem was tight end Mark Andrews ran a wheel route and had Wilson beat on the play, but the errant throw sailed incomplete.
Following the play, Andrews angrily barked at the Ravens' sideline and fired his helmet into the ground in disgust before later apologizing to Jackson.
"They motioned a No. 1 receiver to my left, and I'm thinking, 'Okay, I'm one-on-one backside by myself,' so I know they're about to go to him," Wilson recalled. "That's probably Lamar's favorite target. I know they're about to go to him. As he released, I was looking at his hips and I see him break out. It was fourth-and-five, fourth-and-six, so I'm like, 'He's got to be running the out route,' so I anticipated him running the out route.
"That's why I was so aggressive. When he kind of turned up, I honestly thought I was about to give up a touchdown. I was happy Lamar did throw the out route, which I was anticipating, and didn't throw the wheel route because I wouldn't heard the end of that, and that would've stuck with me for the rest of my life."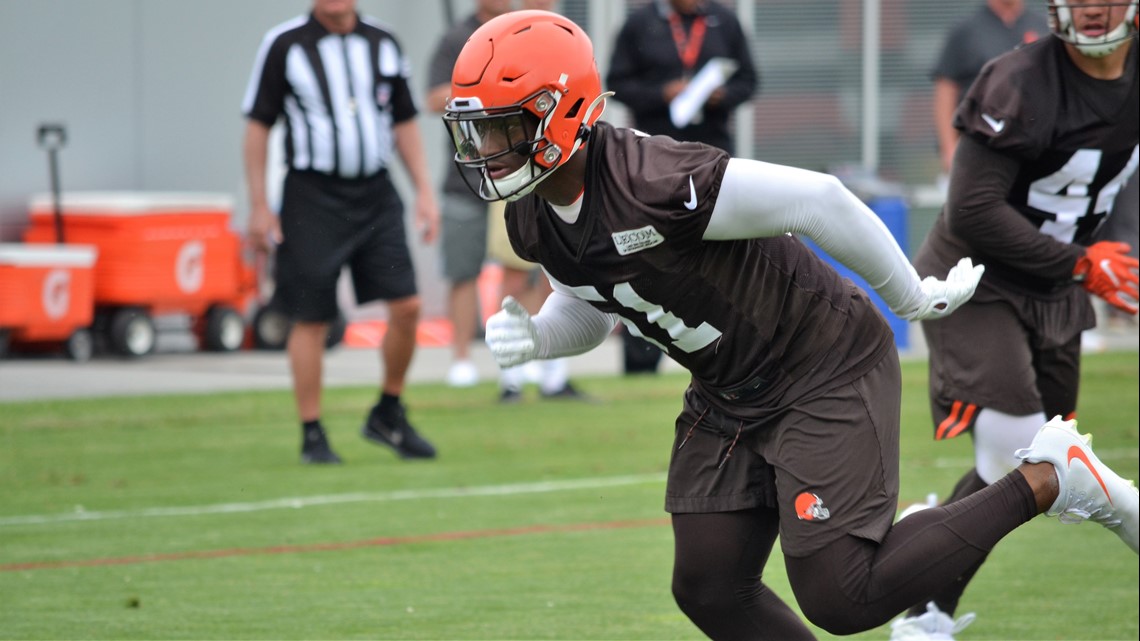 Wheel route coverage aside, the Browns have been happy with the job Wilson has done in relief of Christian Kirksey, a defensive captain who was placed on injured reserve earlier this season with a chest injury.
And they expect to see more positives from Wilson as the season continues.
"Mack is an intelligent, bright guy with great instincts and awareness," Browns coach Freddie Kitchens said. "I think he is doing a good job. I think he is going to continue to do a good job, and he is going to continue to get better. We are pleased with Mack. We just need him to make progress each and every day."
Defensive tackle Larry Ogunjobi added, "I've seen him come to practice every day as a rookie. He's learning the game. He still has things to learn, but he's making the plays that he needs to make and is doing so in explosive ways, so that's awesome."