CLEVELAND — Jim Brown, who was arguably the greatest member of Cleveland Browns and one of the top players in NFL history, passed away Thursday night at the age of 87.
The death of Brown was confirmed on Instagram by his wife, Monique. "It is with profound sadness that I announce the passing of Jim Brown. He passed away peacefully last night at our L.A. home. To the world, he was an activist, actor, and football star. To our family, he was a loving and wonderful husband, father, and grandfather. Our hearts are broken," she wrote.
Brown's life was celebrated, eventful, and at times highly controversial. Yet through it all, the powerful ball carrier helped revolutionize the running back position during a career spent entirely in Cleveland, and became arguably the greatest player the game has ever seen
"It's impossible to describe the profound love and gratitude we feel for having the opportunity to be a small piece of Jim's incredible life and legacy," the Browns wrote in a statement posted on social media. "We mourn his passing, but celebrate the indelible light he brought to the world. Our hearts are with Jim's family, loved ones, and all those he impacted along the way."
After retiring in 1966, Brown went on to have a successful movie career as one of Hollywood's first Black action stars, appearing in over 30 films like "The Dirty Dozen," "Ice Station Zebra," and "100 Rifles." He was inducted into the Pro Football Hall of Fame in 1971.
"When Jim Brown's name was announced in a room, other Hall of Famers stood and applauded him," said Pro Football Hall of Fame President Jim Porter. "His persona has stood the test of time – a fearless and dominant football player. Jim will always be remembered as one of pro football's greatest individuals. Our thoughts and prayers are with Jim's wife, Monique, and their entire family. The Hall of Fame will honor his legacy for years to come."
In addition to his acting roles, Brown's post-football career included social activism. He became a prominent leader in the Black power movement during the civil rights struggles of the 1960s. In later years, he worked to curb gang violence in LA and founded Amer-I-Can, a program to help disadvantaged inner-city youth and ex-convicts.
Born in Georgia in 1936, Brown eventually settled in Long Island, New York, quickly establishing himself as a gifted and well-rounded athlete. His exploits continued at Syracuse University, where he not only starred in football, but as a basketball guard, top decathlete, and All-American lacrosse player (he was so dominant at the latter sport that the rules were even changed to make things more "fair").
After Brown finished fifth in the Heisman Trophy voting while playing for the Orangemen in 1956, the Browns made him the sixth overall pick in the next year's draft, and he soon lived up to the on-field hype. During his first season in 1957, the 21-year-old led the league with 942 rushing yards and 10 total touchdowns, and became the first (and thus far only) rookie to win the NFL MVP Award. He led Cleveland to the NFL Championship Game, but the team lost to the Detroit Lions, 59-14.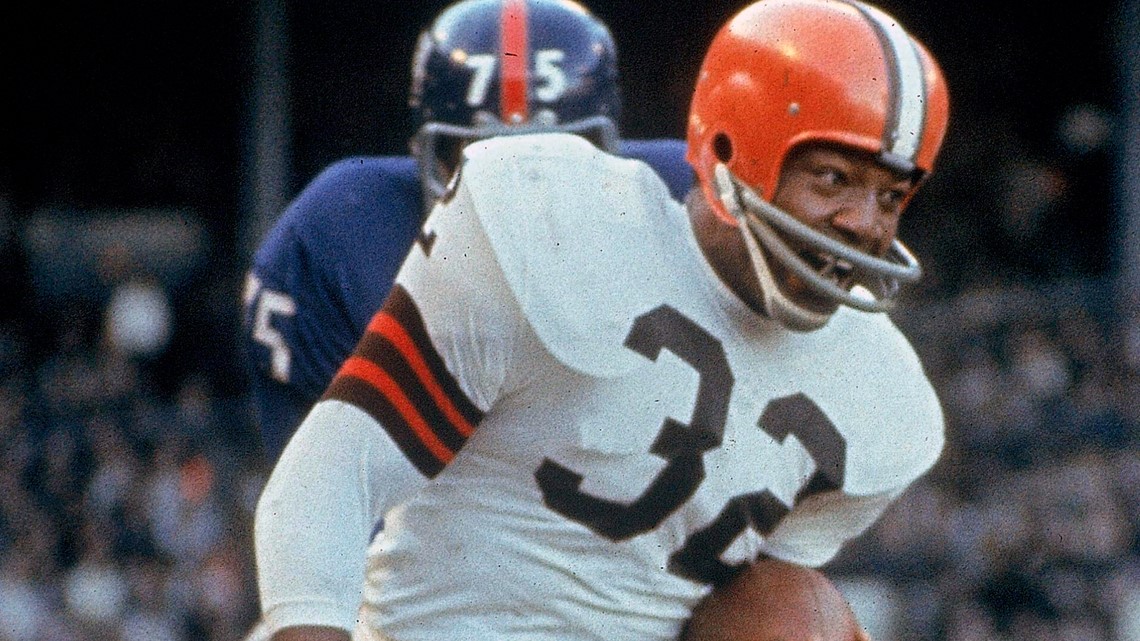 Over his nine total seasons, Brown never missed a single game and would win the NFL's rushing title in all but one year, gaining at last 1,000 yards seven times and setting what was then a single-season record in 1963 with 1,863 yards. He was named MVP three times overall and an All-Pro eight times, earning his accolades with both talent and an unmatched work ethic.
"There were a lot of running backs as good as me," he once said. "The real difference was that I could focus. I never laid back and relied on natural ability."
It all culminated in the events of Dec. 27, 1964, when the Browns hosted the Baltimore Colts in the NFL Championship Game. With Brown rushing for 114 yards, Cleveland scored a resounding 27-0 upset victory that gave Brown his only title, as well as the franchise's last to date.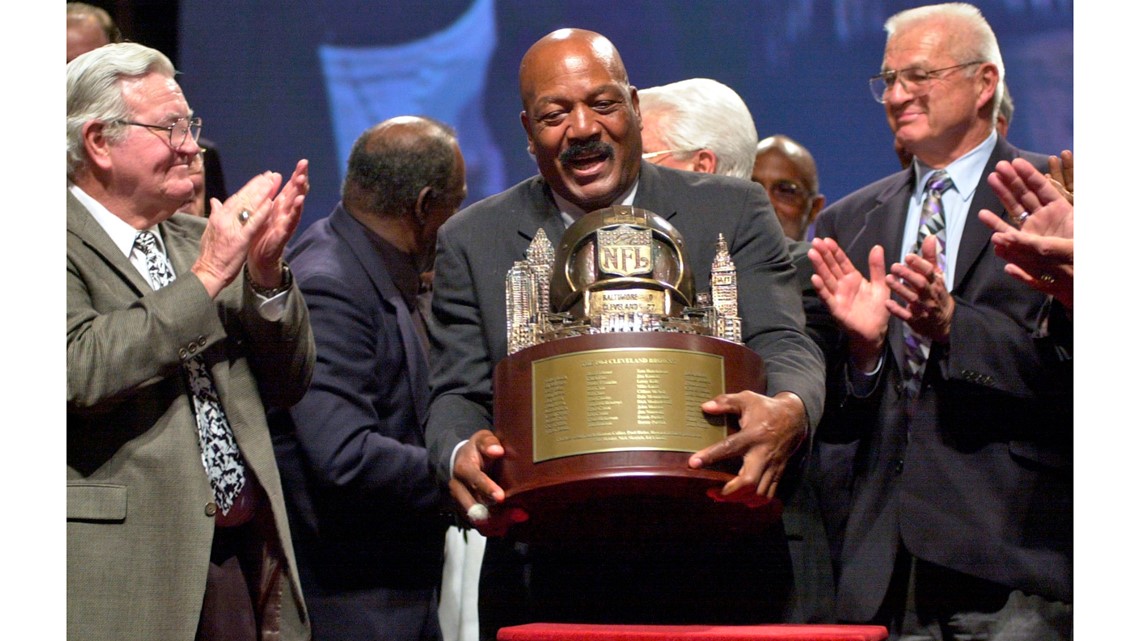 Another championship game appearance and MVP followed in 1965, and Brown certainly looked as if he was still in his prime. However, during the next offseason, he decided to dabble in acting with a leading role in the war film "The Dirty Dozen," and production delays would keep him from the start of Browns training camp in Hiram.
Modell threatened to fine Brown for each day he missed, so instead, Brown abruptly retired from the game at the age of just 29, telling reporters he had fully intended on playing "but due to circumstances this is impossible." His career was relatively short at only nine seasons, but he still left the game as both the NFL's all-time leading rusher with 12,312 yards along with 126 total touchdowns and 5.2 yards per carry, and his mark of 104.3 rushing yards per game is a record that still stands to this day.
Done playing football for good, Brown focused on acting, becoming part of a smash hit in "The Dirty Dozen" and starring alongside Hollywood mainstays like Burt Reynolds, Raquel Welch, and George Kennedy in films that included "Riot," "100 Rifles," and "... tick ... tick ... tick ...". He also raised his profile as a racial and social justice activist, notably in organizing what became known as the "Cleveland Summit" in 1967, where he and other Black athletes and political leaders gathered with Muhammad Ali in support of Ali's decision not to be drafted into the Vietnam War.
3News Anchor and Managing Editor Russ Mitchell spoke with Walter Beach, who was a teammate of Brown's in Cleveland and helped organize the Cleveland Summit.
It was also around this time where some of the darker points around Brown's life began to emerge.
Prior to his last season with Cleveland, Brown was charged with assault and battery against an 18-year-old woman, accusations he denied and was later acquitted of in court. A particularly infamous episode occurred only three years later, when he was again arrested for assault with intent to commit murder after model Eva Bohn-Chin was found beneath the balcony of Brown's apartment. Brown would later admit to (and express regret for) slapping her and "other women," though he called the situation with Bohn-Chin a "misunderstanding" and she refused to cooperate with police, leading to the charges being dropped. Nevertheless, Brown was forced to pay $300 for striking a deputy sheriff involved in the case.
More run-ins with the law followed over the ensuing decades, and in 1999, Brown was found guilty of vandalism after smashing his wife Monique's car with a shovel. He did not abide by the original sentencing terms, and as a result served three months in jail in 2002. His wife later asked the public to forgive him, and they remained together until his death.
While Brown's legal issues somewhat tarnished his reputation, his status as one of the league's all-time greats remained intact. Besides his obvious election to the Pro Football Hall of Fame, the Browns also retired his No. 32 and enshrined him in their "Ring of Honor." In 2015, the team unveiled a statue in his likeness outside Cleveland Browns Stadium. Just this past February, the NFL announced it would also be naming the award for its rushing title after him.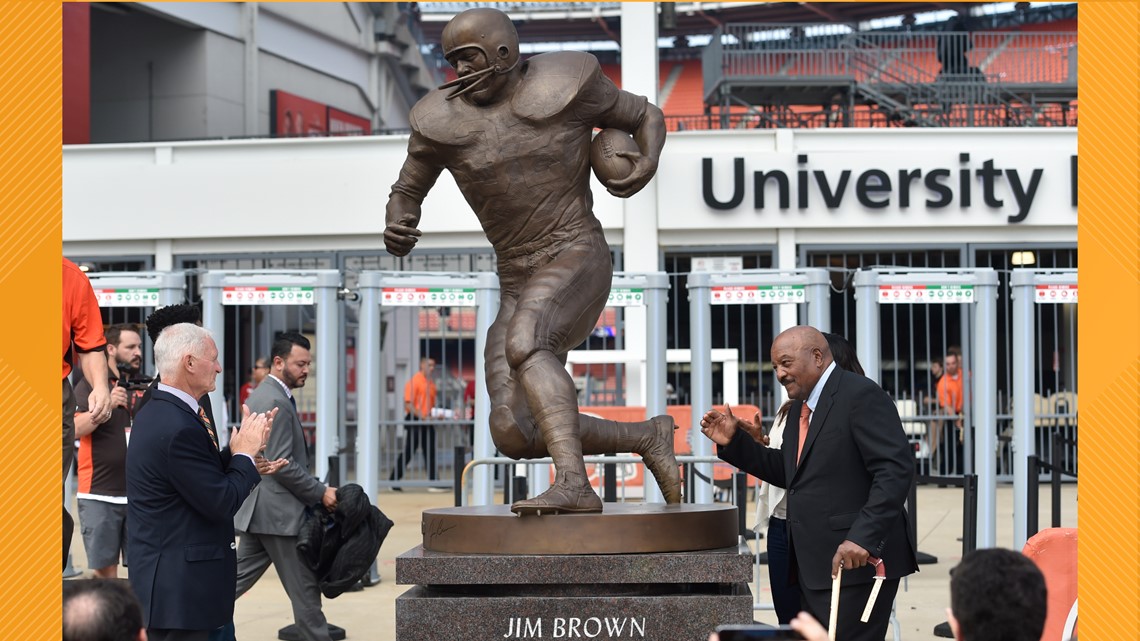 "Jim Brown was a gifted athlete — one of the most dominant players to ever step on any athletic field — but also a cultural figure who helped promote change," NFL Commissioner Roger Goodell said Friday. "He inspired fellow athletes to make a difference, especially in the communities in which they lived."
Besides his wife, Brown is also survived by three children. Funeral arrangements have not been announced.
The Associated Press contributed to this story