CLEVELAND — So far, the Pro Football Hall of Fame's upcoming class of 2020 hasn't given Browns fans much to cheer about.
In addition to up to five modern era inductees, the Hall of Fame pans to induct 15 more legends of the game in honor of the 100th anniversary of the National Football League. A special Blue-Ribbon Panel will choose 10 "senior" players (those whose careers ended more than 25 years ago), three contributors, and two head coaches to receive busts.
Of the 38 finalists named by the special committee last month, one drew outrage from the Browns faithful: Art Modell. While the former owner has been recognized for his community outreach and role in negotiating the league's lucrative television contracts, he is best remembered for moving the team out of Cleveland to Baltimore, as well as for poor financial decisions and the firing of legendary coaches Paul Brown and Bill Belichick (who ironically is on the committee).
The election of Modell to football's Holy See would surely cause a great deal of controversy in Northeast Ohio, especially with Matthews getting snubbed again. However, there is one former Browns legend in the group of senior finalists who is also being considered, and some think his induction is well overdue.
Mac Speedie was an original member of the Browns when the team began play in the All-American Football Conference in 1946. The native of Odell, Illinois struggled with Perthes Disease as a child that left one of his legs shorter than the other, but still became a star athlete both at high school in Utah and at the University of Utah. Following a stint in the U.S. Navy, the 26-year-old signed with Cleveland for $7,000.
Speedie played left end (the equivalent of a wide receiver), and quickly became quarterback Otto Graham's favorite target. He was named an AAFC All-Pro every year between 1946 and 1949 and led the league in receptions three times, yards twice, and caught 24 touchdowns. In each of those seasons, the Browns were champions of the upstart league.
The AAFC folded after the '49 season, but the Browns (along with the San Francisco 49ers and the Baltimore Colts) were invited to join the National Football League in 1950. Most felt Cleveland would be in for a rude awakening in the more-established league, but those takes were quickly put to rest when the team clobbered the defending champion Philadelphia Eagles 35-10 in Week 1. Speedie caught seven passes for 109 yards and a score in the rout.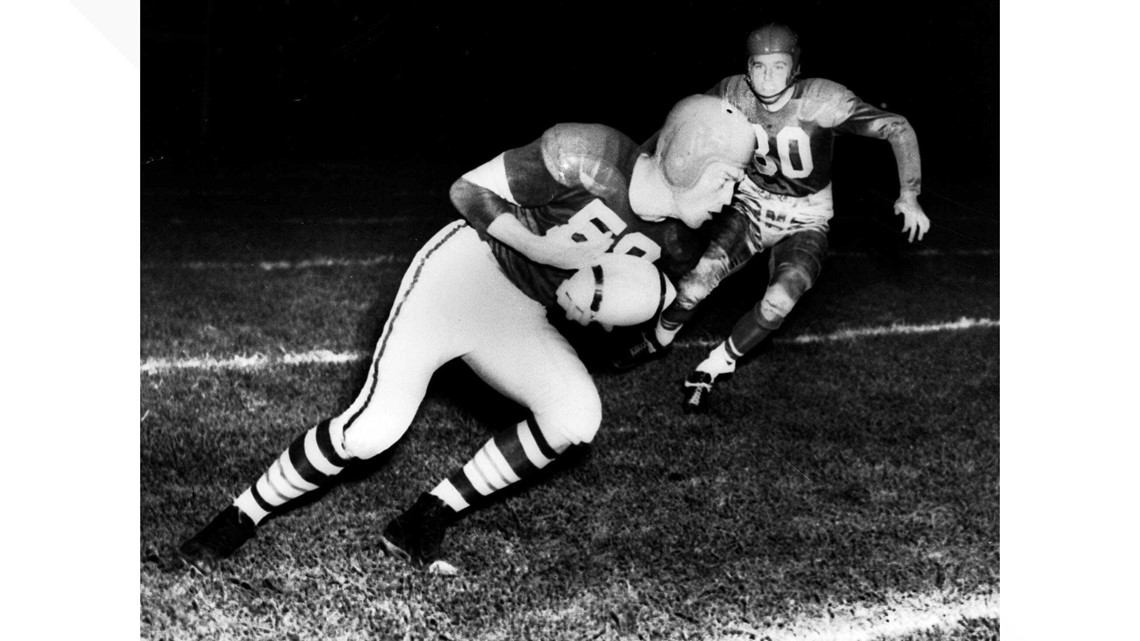 Speedie put together his worst season statistically in 1950, recording just 42 catches for 548 yards and that single TD. However, he was still named a First-team All-Pro and played a major role on the Browns team that shocked the nation and won its first NFL championship. Cleveland would make it to the championship game in each of the next two years, and Speedie's stats improved, including a league-leading 62 receptions during another All-Pro year in 1952.
But Speedie would never catch another pass for the Browns again. After that season, the Saskatchewan Roughriders of the Western Interprovincial Football Union (now part of the Canadian Football League) offered to double Speedie's $11,000 salary. He jumped at the chance, a move that would infuriate legendary Cleveland head coach and team namesake Paul Brown (more on that later).
Speedie would play two solid seasons for the Lions before being sent to the BC Lions, but during his first game with that team he badly injured his leg and would never play professional football again. In his seven years with the Browns, Speedie tallied 349 receptions for 5,602 yards and 33 touchdowns while helping the club win five league championships. His marks for catches and yards still rank third best in Cleveland history, and his 800 yards per season would not be eclipsed by any American professional football player for two decades.
Several greats from those amazing Browns teams of the 1940s and '50s have since been enshrined in the Pro Football Hall of Fame, including Speedie's QB Otto Graham and receiving mate Dante Lavelli. So why isn't Speedie in Canton? While nothing can be proven beyond a reasonable doubt, the answer may lie with his former coach, Paul Brown.
Brown was one of the greatest coaches in football history, a true innovator who led the Browns to greatness and later founded the Cincinnati Bengals. But he also had a bit of a mean streak (even for the relative toughness of his era), and that led to several acrimonious relationships with even some of his best players. Of his grudges, the worst may have been directed at Speedie.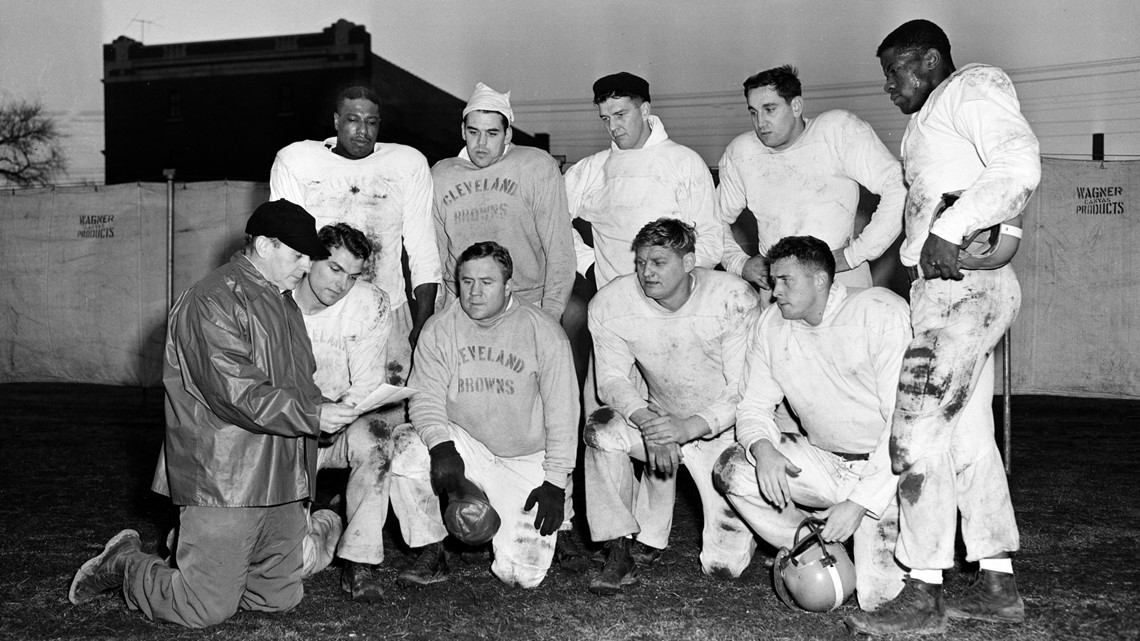 Mac was quite the independent soul, in stark great contrast to the dictatorial Browns. In an interview with Andy Piascik for a book about the Browns of that era, former teammate Ken Carpenter recalled how Brown would "get on Speedie's case for no particular reason," and others described how Speedie once brought a skunk to practice and named it "Paul." When Speedie left for Canada, Brown attempted to sue him for breach of contract, but relented. However, according to Speedie, Brown "told me when I jumped leagues that he was going to get even with me."
Many believe the evening of the score came each year when the Hall of Fame considered its list of potential inductees. Although many of his former teammates were forever immortalized with busts, Mac was passed over every time, including for a special "old-timers" class in the 1980s. Those close to Speedie both on and off the field lobbied for his inclusion, but Mac and others felt the influence of Paul Brown kept him out of Canton. Indeed, when the two briefly crossed paths in 1977, Browns would only refer to Speedie as "the one who went to Canada."
"Quite honestly, I think Paul Brown is the reason," Graham said in a 1991 interview with The Los Angeles Times. "Paul wasn't the type of guy you crossed. He would never forget it."
Paul Brown died in 1991, and Mac Speedie would pass away two years after that. The latter's case for Canton had seemingly been long forgotten as the images of him zipping across the field at Cleveland Municipal Stadium became more and more of a distant memory.
Now, Speedie has another (and possibly his last) chance, and the Hall of Fame can right what Browns fans everywhere see as a blatant and unjust wrong.
The inductees for the centennial class of 15 were voted on Wednesday, and will be announced on Jan. 15.