CLEVELAND — Bobby Mitchell, whose illustrious NFL career began as a star halfback for the Browns, died Sunday at the age of 84.
The Pro Football Hall of Fame confirmed Mitchell's death, with President and CEO David Baker releasing the following statement:
"The entire Pro Football Hall of Fame family mourns the passing of Bobby Mitchell. The Game lost a true legend today. Bobby was an incredible player, a talented executive and a real gentleman to everyone with whom he worked or competed against. His wife Gwen and their entire family remain in our thoughts and prayers. The Hall of Fame will forever keep his legacy alive to serve as inspiration to future generations."
Mitchell came to Cleveland in 1958 as a seventh-round draft pick out of Illinois, with head coach Paul Brown offering him $7,000 to play football rather than train to run track for the 1960 United States Olympic team. Paired in the backfield with the legendary Jim Brown, the Hot Springs, Arkansas native quickly made his mark, posting 631 yards from scrimmage along with 619 kick and punt return yards with six total touchdowns. The Browns would finish in a tie for the NFL's eastern division at 9-3, but lost to the New York Giants 10-0 in a tiebreaker game.
The young Mitchell continued to develop, and in his sophomore campaign set a then-Browns record with a 90-yard touchdown run against the Washington Redskins. In 1960, he enjoyed his best season in Cleveland with 1,651 all-purpose yards and 11 scores while being selected to his first Pro Bowl. Though the team did not reach the NFL Championship Game in either of those two seasons, Mitchell had still not yet hit his prime, and looked to be a mainstay at Municipal Stadium for years to come.
However, things suddenly changed in 1962: Under pressure from the league and the Kennedy administration to integrate his team, Redskins owner George Preston Marshall had drafted Heisman Trophy winner Ernie Davis with the first overall pick in that year's draft. Davis refused to play for Marshall, so Washington instead decided to trade his rights to Cleveland for Mitchell, making them the last squad to add a black player to their roster. It was a blockbuster deal that Paul Brown apparently made behind Art Modell's back, and the end results would be drastically different for both clubs.
Although the Browns would find success with later running backs such as Ernie Green and Leroy Kelly, Davis would never play a game for the team, and died of leukemia in 1963 at the age of just 23. Mitchell, meanwhile, was moved to flanker by Skins coach George McPeak, and would go on to lead the NFL in total receiving yards and yards per game over the next two years. He also became just the second player in league history to catch a 99-yard touchdown pass, doing so on a strike from George Izo against (ironically) Cleveland.
Mitchell made three more Pro Bowls in Washington before retiring prior to the 1969 season, having put up 14,078 all-purpose yards (then second-most all-time) and 91 TDs. Though he never made the postseason as a player after his rookie year, as a scout and assistant general manager he did help build the great Redskins teams that won three Super Bowls in the 1980s.
Regarded as a revolutionary at the receiver position, Mitchell was elected to the Pro Football Hall of Fame in 1983, and is also a member of the Redskins Ring of Fame. Even with his time with the Browns coming to an abrupt end so early in his career, he is still considered one of the greatest players in franchise history, and was enshrined in the team's Ring of Honor in 2010. In four seasons in Cleveland, Mitchell had 5,916 net yards and 38 scores.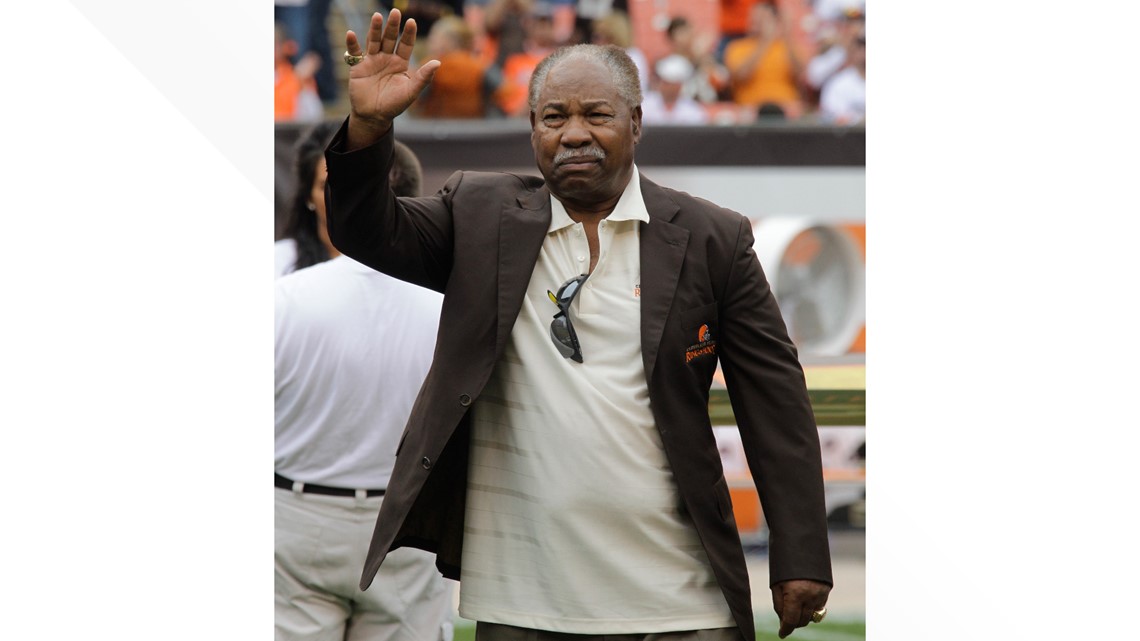 The exact cause of Mitchell's death was not released. The Hall of Fame said all flags at the museum in Canton will fly at half-staff in his memory.