CLEVELAND — Second-year Cleveland Browns quarterback Baker Mayfield had a lot of expectations heaped on him for the 2019 season, especially after his emergence as a rookie in 2018, and the acquisition of Pro Bowl wide receiver Odell Beckham Jr. in an offseason trade with the New York Giants.
But even with Mayfield's emergence, the progress made by running back Nick Chubb and the talents at receiver with Beckham Jr. and Jarvis Landry, the Browns finished the 2019 season with a 6-10 record and in third place in the AFC North Division.
"Baker caught a lot of grief this year," Browns owner Jimmy Haslam said in a press conference with the local media at team headquarters in Berea Thursday.
"I think with everything that was put on his plate, both in terms of leadership and as a player, his first full year, he did a remarkable job. We need to do everything we can to help Baker realize his full potential. That's something all of us in the organization are focused on."
When Mayfield went through the NFL Scouting Combine in 2018, he stated that if there was one player who could turn around the fortunes of a Cleveland Browns franchise coming off of an 0-16 season in 2017 and a 1-31 record over the previous two years, it would be him.
Mayfield got his opportunity when the Browns took him with the No. 1 overall pick, and although there have been successes along the way, the team is 13-17 in his 30 starts over the 2018 and 2019 seasons.
"Baker (Mayfield) is 24, and our old guys Jarvis and Odell are 27," Haslam said. "It is a very young group. Myles (Garrett) is 24. That core group of players is very young. I can't imagine anybody wanting to change that group."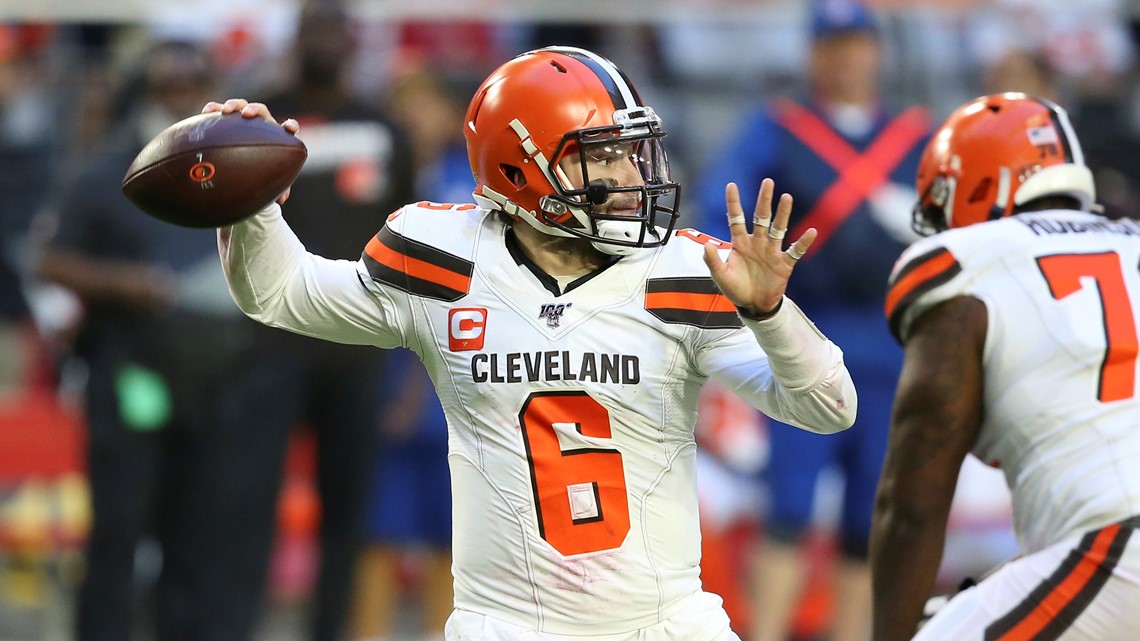 Mayfield and the Browns' offense had some growing pains during the 2019 season.
Mayfield completed 317 of his 534 attempts (59.4 percent) for 3,827 yards and 22 touchdowns against 21 interceptions in 2019 after completing 310 of his 486 throws (63.8 percent) with an NFL rookie-record 27 touchdowns against 14 picks.
Despite those struggles, the Browns believe in Mayfield's ability to lead the franchise for the foreseeable future and the front office is committed to doing what is necessary to find the kind of coach and general manager and that will put their quarterback in the best spots possible.
"That is all we are trying to do is to take facts, and if Baker is better out of a certain formation or a certain play, we are going to try to put him in position where he can be successful," Haslam said. "That is all analytics is. It is using data to help you make better decisions."