BEREA, Ohio -- Some notes and quotes and odds and ends from the three-day mandatory minicamp the Cleveland Browns completed on Thursday.
Star power
Truth be told, it can be difficult to make many football-related observations at these types of things. I mean, if you aren't tackling, are you even really playing football?
What wasn't hard to take away from this week -- and what was perhaps the thing that stood out most -- was the sheer star power of Odell Beckham Jr., who made his long-awaited return to Berea after missing all but the first of the Browns' 10 optional OTAs.
I don't know if it was the way he carried himself, the different pairs of Nike OBJ Uptempo cleats -- including an all-gold colorway -- or his signature blonde hair, but there's something that draws you to Beckham when he's out on the field. It doesn't hurt that he's an incredible athlete, whose fluidity, crispness and nuance make him appear like a far larger target than his 5-foot-11, 198-pound frame might suggest.
Meeting with the media on Wednesday, Beckham drew a crowd of reporters more reminiscent of a head coach hiring than an early-June minicamp. Nevertheless, he carried himself like the pro you might expect him to after five seasons in New York.
"We're covering LeBron again," one reporter remarked after the press conference had ended.
The comparison works in more ways than one.
Gettin' Greedy
At Browns minicamps in recent years, it's typically been the top draft pick who has been the center of attention. But given the current state of the Browns roster, Greedy Williams entered this week as an afterthought compared to the likes of Baker Mayfield, Myles Garrett, Denzel Ward and Beckham.
That didn't last for long.
While it may be difficult for players to truly stand out in these situations -- again, no tackling -- Williams managed to do just that, especially during Wednesday's session. During a 2-minute drill between the first-team offense and defense, the LSU product intercepted Mayfield for a pick-6, ending the drill before it ever truly started.
It's also worth noting that the Browns have already entrenched Williams on their first-team defense at the starting cornerback spot opposite of Ward. And if he performs in training camp as well as he did this past week, that's not something that will be changing any time soon.
"I pushed up to the ones, have been practicing well with the ones and I have kind of kept there for a minute," Williams said Thursday. "All spots are open, and my job is to maintain where I am."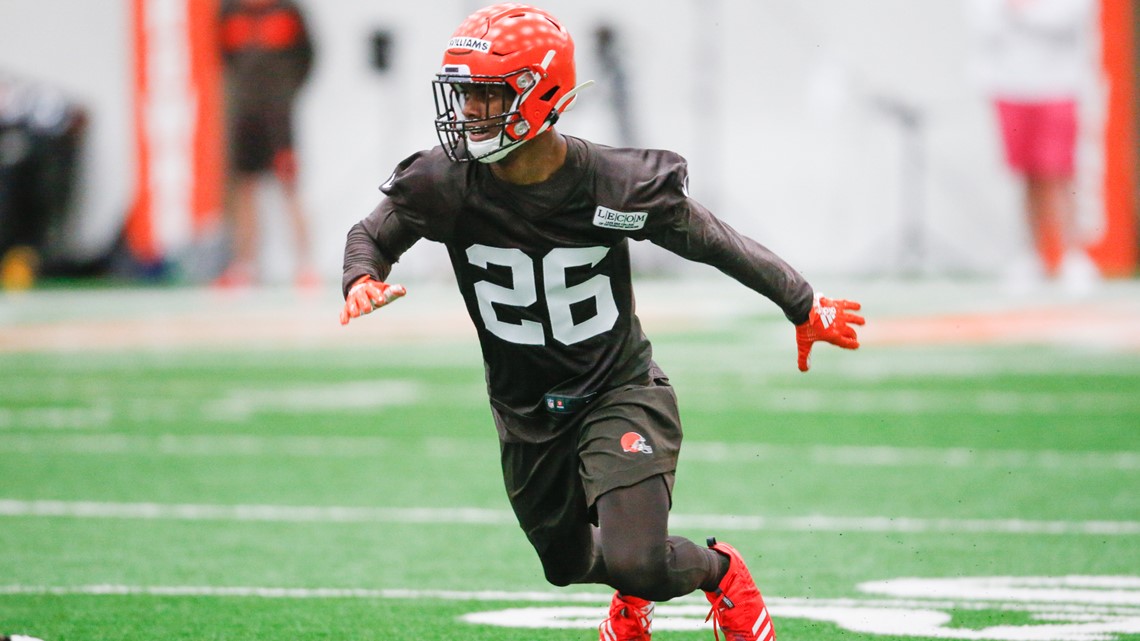 Camp battles
With Williams starting opposite Ward, the only true hole on the Browns' depth chart appears to be at right guard. Although Austin Corbett ran with the first-team on Tuesday, it was Eric Kush and Kyle Kalis who received the most time with the starters in the ensuing days.
Given the non-physical nature of these camps, it's still too early to tell who will be replacing Kevin Zeitler in Cleveland's starting lineup. At this point, Corbett is probably the favorite, but he's far from established himself as the surefire starting right guard heading into training camp.
Here's what Browns head coach Freddie Kitchens had to say about the competition:
"It is all about versatility. We are trying to find out who has some versatility to them. There is a depth chart of course right now, but at the end of the day, we are trying to prepare all those guys just to compete. Sometimes when you prepare a guy, you have to give him reps, and then when we get back in the fall, we will compete and see who works."
Duke drama
"It's not awkward," Mayfield said of the situation. "It's self-inflicted."
The drama, however, didn't live long, perhaps in part because Kitchens made it clear that with Johnson under contract for the next three years, the team maintains all the leverage. In other words, the Browns don't have to deal Johnson unless the right offer comes along -- and thus far, it hasn't.
Nevertheless, watching Johnson's participation in practice, it's tough to envision him still being on the roster when training camp begins next month. With Nick Chubb and Kareem Hunt ahead of him, first-team reps were hard to come by, with Johnson even ceding playing time to Dontrell Hilliard at certain points.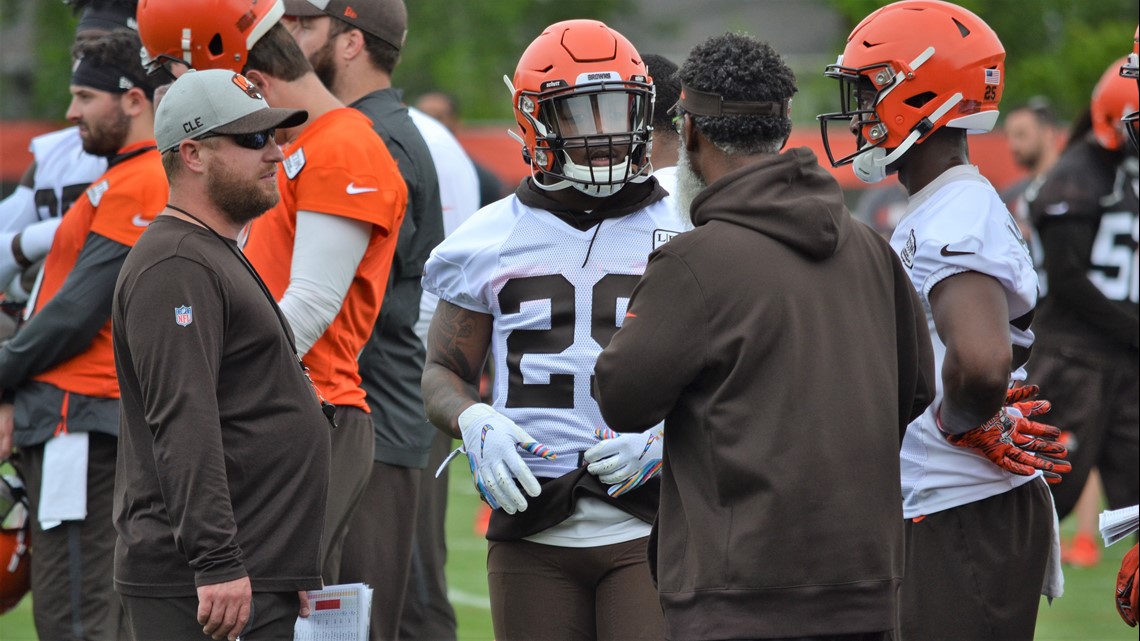 Extra points
I received multiple questions via Twitter about the timing between Mayfield and Beckham given the latter's absence from most of OTAs. My answer: Sometimes it looked good, sometimes it didn't. Again, it's minicamp.
Timing isn't an issue between Mayfield and Rashard Higgins, who continued to display a strong connection that developed through the second half.
One of the more curious occurrences during camp was the inconsistent playing time of Antonio Callaway, who rarely saw time with the first-team offense despite Jarvis Landry's being absent with an undisclosed injury. Still, Kitchens praised Callaway's play through the offseason, so there may not be much to read into there.
Speaking of wide receivers, remember the name Ishmael Hyman. The undrafted free agent received a plethora of playing time with the first-team offense and could factor in as an end of the roster player.
According to the "Voice of the Browns" and WKYC's Jim Donovan, the consensus best player in Berea this offseason has been running back Kareem Hunt.
Just being around the team for the limited time I was, you get the sense "the new Browns" are truly here. Nobody was talking about Hue Jackson, Sashi Brown, 0-16 or anything like that. Instead, the focus was on Beckham, Mayfield's development and the season ahead. Even the Duke Johnson drama served as merely a footnote rather than overshadowing the week. Buckle up. It's going to be a fun fall.