CLEVELAND -- The Cleveland Browns are replacing a future Hall of Fame left tackle with an undrafted rookie free agent.
After trying multiple options to replace stalwart blocker Joe Thomas during the course of the offseason program, training camp and the preseason, the Browns have decided to start Desmond Harrison at left tackle for Sunday's regular-season opener against the Pittsburgh Steelers at FirstEnergy Stadium.
Browns coach Hue Jackson made the announcement following Friday's practice at team headquarters in Berea.
"Desmond Harrison will be the starting left tackle. Joel (Bitonio) will start at guard. On we go," Jackson said.
"Watching him over the last few weeks with the ones out at practice and watching him in games, obviously, he's talented enough. I think this is, hopefully, going to be our lineup as we travel through the season. He's handled everything really well, and I feel good about those five guys. I think it gives us the best chance to have the most success."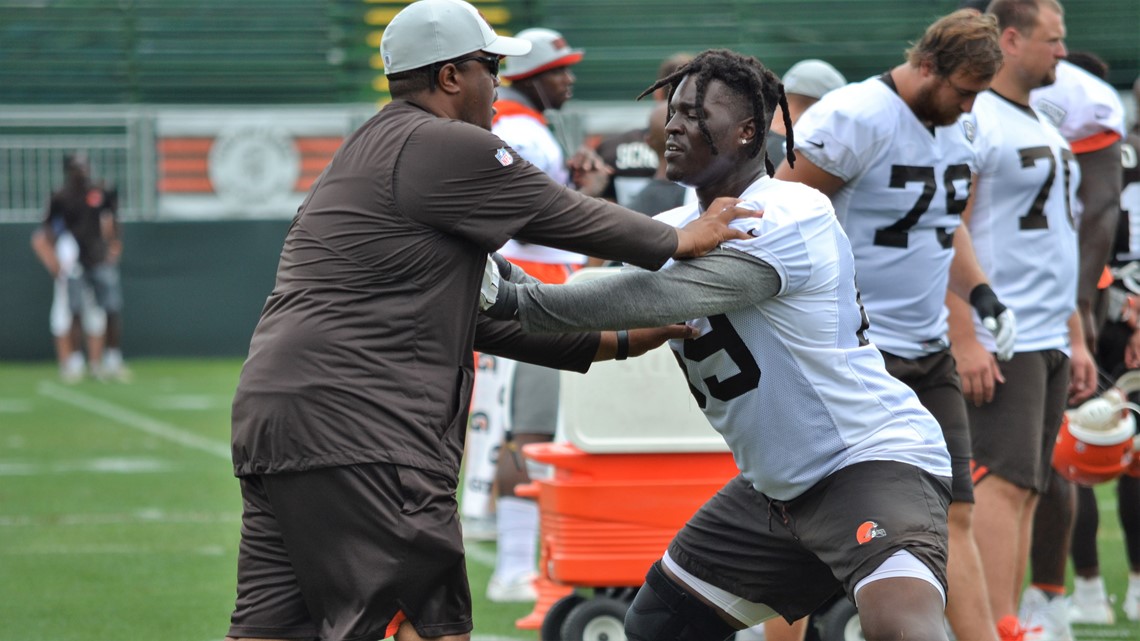 Through the early part of training camp, Harrison was hampered by a toe injury, which forced Jackson to move Pro Bowl alternate Joel Bitonio from left guard to left tackle when Shon Coleman struggled and veteran Greg Robinson suffered a concussion on the first day of practice.
Harrison returned from the active/physically unable to perform list in time to play for the team late in the preseason.
By moving Harrison into the starting lineup, Jackson and the Browns' coaches have been able to return Bitonio to left guard.
"You leave Joel out there and stick a left guard in there as a rookie who can play," Jackson said, "or you leave Joel where he has been a very good player, very dominant player and play a guy who's a really good player we feel has tremendous upside, so you go back and forth on that. When you look at it, I think this is the best decision for our organization and the team."
After transferring into West Georgia, the 6-foot-6, 295-pound Harrison started 10 games for the Wolves in 2017. Harrison helped lead the way for a team that averaged 31.7 points, 182.8 rushing yards, 235.4 passing yards and 418.2 total yards per game.
Behind Harrison's blocks, then-junior running back Devontae Jackson netted 1,175 yards and seven touchdowns on 217 carries, while quarterback Willie Candler had enough time in the pocket to complete 220 of his 344 attempts for 2,913 yards and 25 touchdowns against eight interceptions.
"This is a very confident young man," Jackson said.
"He truly believes in his ability, and I think the other linemen really believe in what he can do too, and I think that has a lot to say about his talent. With all the players, it was, 'Can he win for us? Can he block those guys consistently?' And we'll start to find that out this Sunday."