CLEVELAND — The Cleveland Browns thought they had the offensive line situation figured out after acquiring veteran inside blockers Justin McCray and Wyatt Teller the week before the 2019 regular-opener, but consistency was a problem over the first half of the season.
The Browns have rotated Teller and Eric Kush at right guard before giving Teller the start in last Sunday's game against the Denver Broncos, and they reinserted left tackle Greg Robinson into the starting lineup after he was benched for the Week 8 game at the New England Patriots.
"I think you are always trying to find different roles for people," Browns coach Freddie Kitchens said earlier this week. "I think these guys have done a good job of adjusting to their role and being willing to change that role at any given moment.
"I think that makes a good offensive line. I think you always want continuity, but sometimes, your needs change during the course of a season or during the course of a game, and I think these guys have that innate ability to change those and never look back."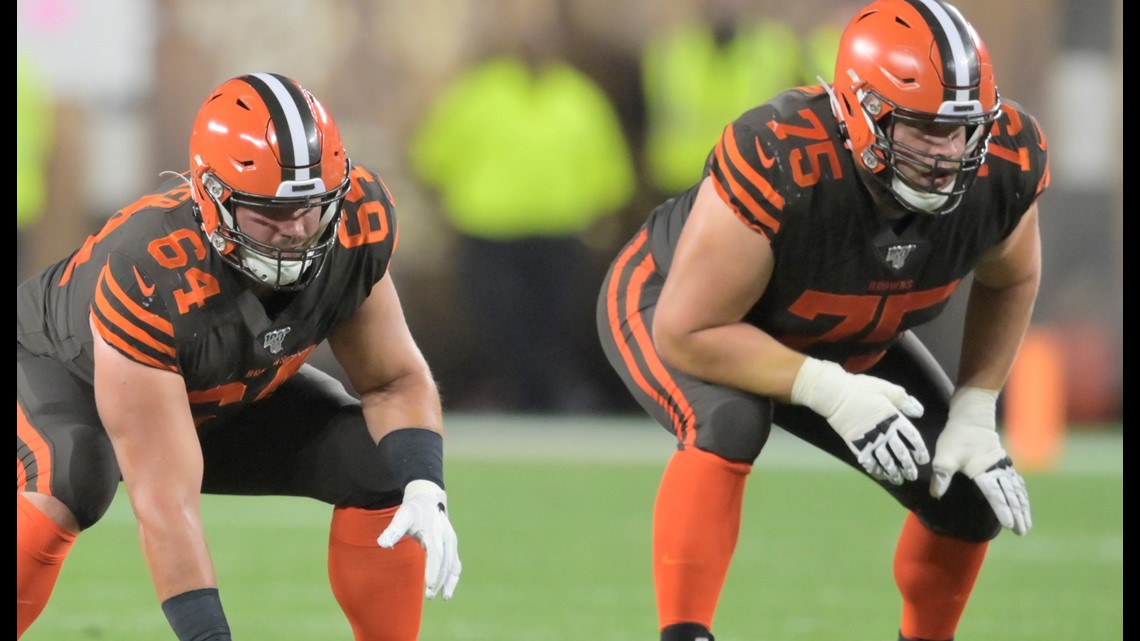 In his first start with the Browns, Teller helped clear the way for successes in the run and pass games, enough for him to "probably" retain the starting job for Sunday's game against the Buffalo Bills at FirstEnergy Stadium in Cleveland.
Teller was acquired in a trade with the Bills, a deal that saw fifth and sixth-round picks in the 2020 NFL Draft go to Buffalo.
As a team, the Browns rushed for 90 yards against a stout Denver defense, while quarterback Baker Mayfield completed 27 of his 42 attempts for 273 yards and one touchdown with no interceptions or fumbles and was sacked just twice for 12 lost yards on the way to a 90.7 quarterback rating, his highest since the Browns posted a 40-25 road victory over the Baltimore Ravens on September 29.

Additionally, Mayfield rushed for 22 yards on three scrambles, including a 16-yard run on third-and-14 in the second quarter that extended a drive which rookie Austin Seibert ended with a 30-yard field goal to make it a one-score game, 14-6, with 7:14 to play in the first half.
"I thought he was solid," Kitchens said of Teller. "There are definitely some things in the running game he could get better at.
"He would be the first to admit that, but that is his first significant action since he has been with us. He has spotted here and there, but that is his first significant action, and I think he will continue to get better."
With Teller settling in at right guard and Robinson back in the starting lineup at left tackle, the Browns are focused on doing what is necessary to finish drives in the end zone and get back in the win column.
"This group of guys has to continue to try to get better and try to increase the level of execution and the consistency of execution," Kitchens said. "When we do that, we will play better. There is no secret about that. You execute, you play good. You do not execute, you do not play good."