CLEVELAND — The Cleveland Browns knew they would be without Pro Bowl defensive end Myles Garrett for a considerable amount of time after he used a helmet as a weapon against Pittsburgh Steelers quarterback Mason Rudolph in their "Thursday Night Football" matchup at FirstEnergy Stadium in Cleveland, but they did not know how long until Friday morning.
Shortly before noon, the Browns learned that Garrett had been indefinitely suspended, meaning he is going to miss the remaining six games of the 2019 regular season and any playoff games should the team qualify for postseason play, but the ban could go into next year.
"We were expecting a response from the league," Browns coach Freddie Kitchens said in a conference call with the Cleveland media Friday. "We respect their response like that, and we have to accept it, just like Myles has to accept that you have consequences for your actions.
"That is a consequence that Myles has, and unfortunately, that affects him, it affects us and it affects us as an organization. I do not have a response to their suspension. You put it in their hands when you do something like that."
The incident boiled over when Garrett brought the quarterback to the ground after a third-down play with eight seconds remaining in the game.
After the hit, Rudolph appeared to rip off Garrett's helmet after delivering a couple of kicks below the belt of the Pro Bowl defensive end. Garrett responded by ripping off Rudolph's helmet, swinging it at and connecting on the quarterback.
Steelers offensive lineman Maurkice Pouncey tried to protect his quarterback and after Garrett ended up on the ground, he received several kicks to the helmet and absorbed multiple punches from the veteran interior blocker.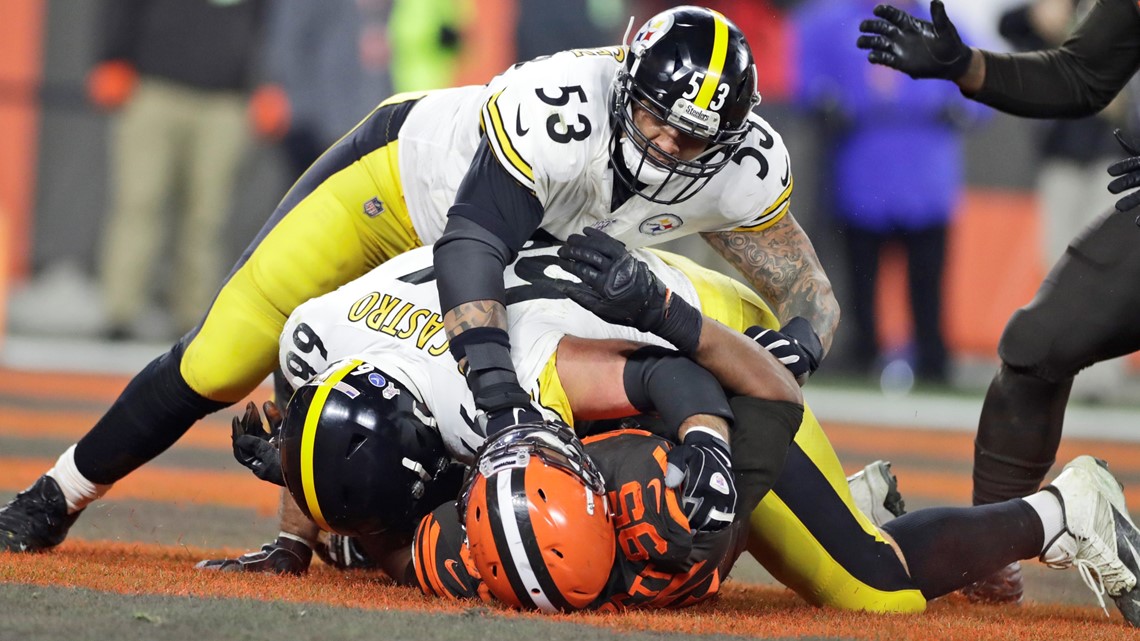 It was then that Browns defensive tackle Larry Ogunjobi escalated the situation further by pushing Rudolph to the ground, at which time, both benches cleared and a scrum ensued in the end zone that took several minutes to get under control.
Garrett, Pouncey and Ogunjobi were ejected and suspended for their actions, but despite having a role in both starting and escalating the melee, Rudolph is looking at a fine from the league but no suspension.
"We know what we saw, and I really do not think there is any benefit to me sharing my feelings on any of that," Kitchens said. "I know that is not what you are looking for in an answer, but I just do not think anything good can be gained by me expressing my opinion or feelings."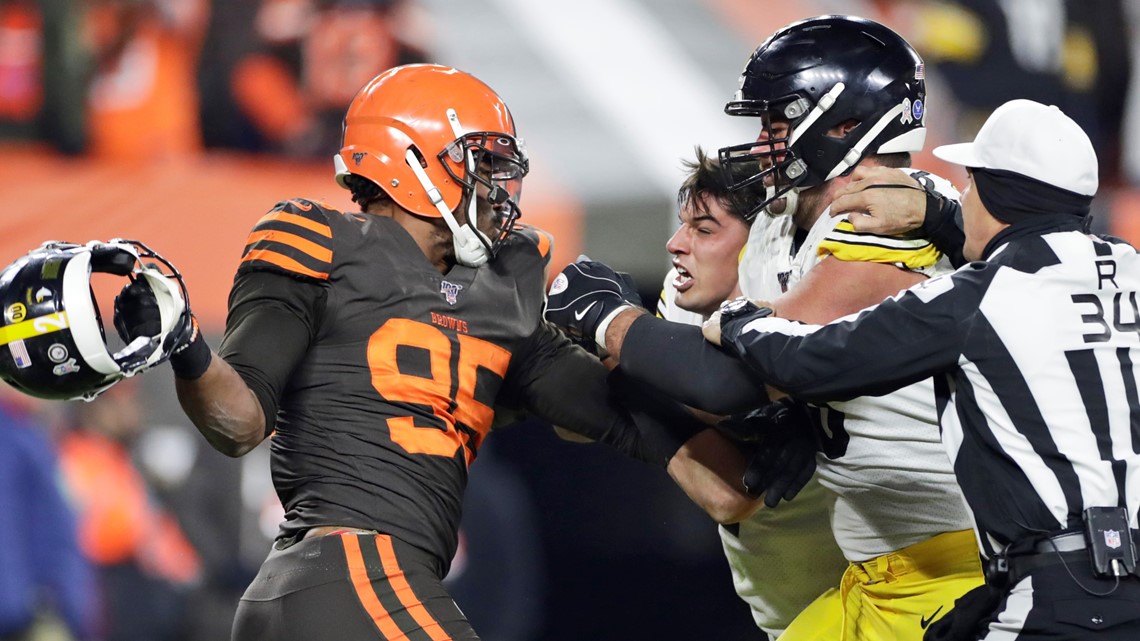 With Olivier Vernon already working his way through a knee injury that has cost him two games this season, the Browns could be down three starters along the defensive front against the Miami Dolphins on November 24.
In those absences, the Browns could turn to Chad Thomas and Chris Smith, among others, to fill the void on the defensive front.
"It is hard, but I think we have the men in the room to accept the challenge," Kitchens said. "There has been adversity hit it seems like all year, so these guys have answered the call of adversity, and I expect them to do the same moving forward. There will not be any excuses. We will have 11 out on the field, and those 11 will be expected to do their job."
Left guard Joel Bitonio added, "It is something that you have to try and fill that spot. It might not be just one guy. We might need to pick someone up. We might need to rotate some guys in there to keep some more fresh bodies. It is tough when you lose your best defender."