BEREA, Ohio -- Rookie quarterback Baker Mayfield starred in the Cleveland Browns' 20-10 preseason-opening victory over the New York Giants at MetLife Stadium last Thursday night, but that has not changed the plans for the starting lineup.
Not when veteran quarterback Tyrod Taylor punctuated a scoring drive with a 36-yard touchdown pass to second-year tight end David Njoku while being limited to the first two series of the game.
"Nothing's changed," Browns coach Hue Jackson said after Sunday's practice. "Tyrod Taylor's our starter. Baker Mayfield is a young, talented player that we have a bright, bright future ahead with that young man."
Like Jackson, quarterbacks coach Ken Zampese, a long-time colleague from their days together with the Cincinnati Bengals, is convinced Taylor is a strong leader for the offense
"I think it's the tip of the iceberg for Tyrod," Zampese said prior to Sunday's practice. "I think he's an untapped player in the league.
"I think he's going to be very successful for us this year, which is the only year that matters, and I like where he's at. I like where he's going. I love his leadership, the way he's aggressively going about being the leader of this team, completing balls and moving us down the field."
PHOTOS: Cleveland Browns QBs Tyrod Taylor, Baker Mayfield have solid showings in win at New York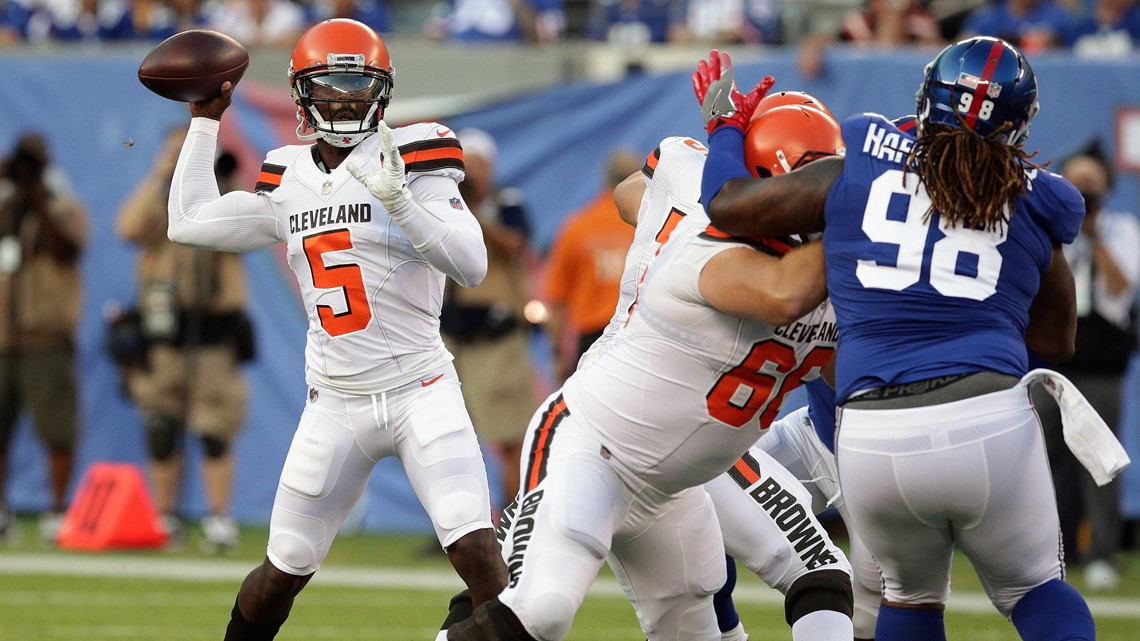 Although Taylor had a limited amount of plays with the first-team offense against the Giants, he completed all five of his throws for 99 yards and the one score against New York's first-team defense.
"He was accurate," Zampese said. "He pushed the ball down the field. He's smart. His progressions went smoothly. Those things give you confidence.
"Command. He looked comfortable. He had command and the guys responded. You could see what happens in an up-tempo situation. You get a chance to catch some guys off-guard and the timing with what the defense tries to do changes, so it puts it in our favor and we took advantage of it."
Since acquiring Taylor an offseason trade with the Buffalo Bills in exchange for a third-round pick in the 2018 NFL Draft, the Browns have stood firm on the desire to start him for the foreseeable future while Mayfield develops at the NFL level.
During his seven-year career with the Baltimore Ravens and Bills, Taylor completed 793 of his 1,271 attempts (62.4 percent) for 9,056 yards and 51 touchdowns against 18 interceptions. Of those 793 completions, 116 went for at least 20 yards and 22 more were 40-yard gains.
In his three seasons with the Bills, the 6-foot-1, 215-pound Taylor completed 774 passes for 8,837 yards and 51 touchdowns against 16 interceptions.
"Tyrod sets the bar for consistency," Zampese said.
"There's no doubt about it. There's no man I can think of more consistent than him. When he gets here, how he is when he's here, taking care of his body, study habits, leading the team on the field, the bar is set very high. It's fantastic.
"I just know when you walk into a room, each guy gives off a vibe and the feeling you get from that person. He came in and it was professional -- leadership and accountability. All those things resonate with what we want out of our position."
Vincent Carchietta
Despite the hype surrounding Mayfield after his Heisman Trophy-winning campaign in 2017, as well as his 11-for-20, 212-yard, two-touchdown showing against the Giants, the Browns want Taylor focused on leading the team, not competing with a rookie for playing time.
"Tyrod just needs to be here and do what he's doing and win games," Zampese said. "Everything else takes care of itself. Win, handle your job, and everything else will be just fine."
Stream Live with fuboTV -Try Free Trial