CLEVELAND — Cleveland Browns starting right tackle Jack Conklin will miss the remainder of the season with a left knee injury sustained in the first half of Sunday's win over the Cincinnati Bengals, head coach Kevin Stefanski confirmed Monday.
Conklin, who has battled through injuries the past two seasons, tore two ligaments in his knee and will undergo surgery, said a source who spoke to the Associated Press. Stefanski later told reporters he was "very, very disappointed for Jack," calling him "a huge part of this team" both on and off the field.
"It's hard to describe — if you're not in the building every single day — the impact that guys like Jack have on your team," the coach continued. "And it can be very subtle. It can be in meeting rooms, it can be in the weight room, it can be out on the practice field. So, we'll miss him while he's getting healthy, but then we're going to need his butt back here to help [off the field]."
A two-time All-Pro, Conklin got hurt when Bengals defensive end Trey Hendrickson accidentally rolled into the side of his knee after being blocked in the first half. Conklin was carted off the field and replaced by rookie Dawand Jones.
"You never know when these things happen," Stefanski said, "and it's going to be a next-man-up type of thing."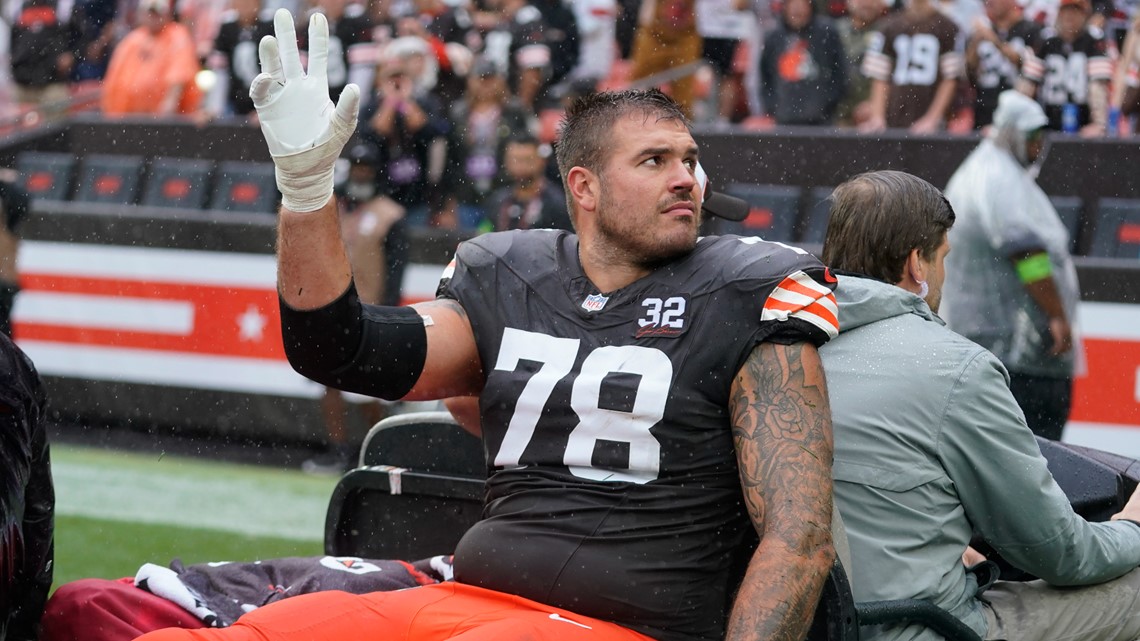 The loss of Conklin is significant for the Browns, who signed him to a four-year, $60 million contract extension in December. The 29-year-old is in his fourth season with Cleveland after four in Tennessee. The Titans selected him with the No. 8 overall pick in 2016.
Conklin has been solid since the Browns signed him in 2020 as a free agent, earning the respect of teammates for coming back earlier than expected after suffering a torn right patellar tendon in the 2021 season. He has so far missed 13 games during his Cleveland tenure, a number that will now balloon to at least 29.
Jones, a fourth-round pick from Ohio State, has steadily improved since minicamp and held his own against the Bengals. Next week, the Browns play at Pittsburgh and Jones could be matched up with All-Pro T.J. Watt.
"He will continue to get better, and then as it pertains to any matchup moving forward, it's the NFL. Every week is going to be very difficult," Stefanski said of Jones. "Obviously, going into Pittsburgh is tough on every team that goes into that place, so we'll have a plan and we'll move forward."
MORE FROM 3NEWS...