CLEVELAND — Following his team's 41-24 victory over the Miami Dolphins last week, Cleveland Browns wide receiver Odell Beckham Jr. made an interesting remark about the 35-yard touchdown catch he made in the first quarter.
"It was what it was," Beckham said. "I wasn't super excited about it knowing and feeling the disappointment that I should have been in [the end zone] a long time ago, so it was pretty mixed emotions."
Suffice to say, there wasn't anything mixed about his emotions on Sunday.
After seeing his involvement increase over the course of what wound up being a three-game winning streak, the Browns' prized offseason acquisition was once again an afterthought in another Cleveland loss. Targeted just six times, Beckham tallied three catches for 29 yards, which marked his least productive output since he caught two balls for 27 yards in the Browns' 31-3 loss to the San Francisco 49ers on Oct. 27.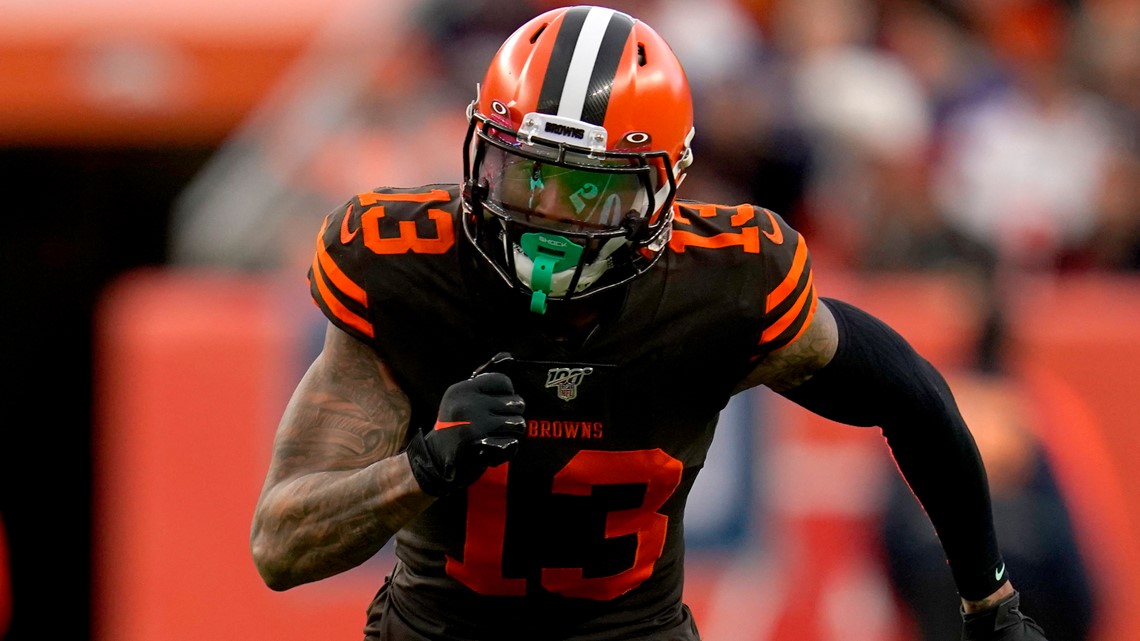 To say that Beckham's debut season in Cleveland has been underwhelming would be an understatement, as any Browns fan (or Beckham fantasy football owner) would be the first to tell you. Through 12 games, the 2014 NFL Offensive Rookie of the Year has recorded 57 catches for 805 yards and 2 touchdowns, which puts him on pace for the least productive year of his career (excluding his injury-plagued 2017 campaign).
Beckham isn't blameless and it's worth noting that his current 55.3 catch percentage (receptions divided by targets) is the worst of his career. And his six drops this season are currently tied for the fifth-most in the NFL with four games still remaining in the 2019 campaign.
But considering the expectations that were placed on both the Browns and Beckham this season -- and the step forward Beckham was supposed to take with Baker Mayfield as his quarterback -- the lack of cohesion between the two entities to this point remains nothing short of baffling. With Cleveland's playoff hopes on the line against the Steelers on Sunday, the Browns targeted their star wide receiver just six times -- which matched two other occasions this year for a season-low.
"I tried to call plays that work. I try to call plays to get him open. I try to call plays to move the ball," Browns head coach Freddie Kitchens said after the game. "I think we played the type of game we needed to play to come in here and win."
Only the Browns didn't win and Beckham's lack of involvement could be considered one of the many reasons why. It's not a coincidence that over the course of Cleveland's three-game winning streak, the LSU product was targeted a total of 30 times. And while that didn't always translate into production for Beckham, it clearly helped open up holes in opposing defenses for the likes of Jarvis Landry, Nick Chubb and Kareem Hunt.
As he showed when he caught a 42-yard bomb on the opening drive of the Browns' 21-7 win over the Steelers on Nov. 14, Beckham is capable of changing any game with just one play, so long as he's given ample opportunity to do just that. And while Kitchens claimed that his star wideout's lack of involvement was the result of a run-heavy game plan, that doesn't change the fact that Cleveland attempted 32 passes on Sunday and tallied just six total runs in the second half.
For Beckham to only get six targets in a game -- two of which came on desperation heaves at the end of the first half -- renders him little more than a decoy and calls into question why the Browns acquired him for such a massive haul in the offseason in the first place. Asked about Beckham's lack of touches, Mayfield -- for at least the second time this season -- called it "frustrating."
Based on Beckham's lack of availability to comment, he clearly wasn't the only one to feel that way.