CLEVELAND — An ugly scene unfolded Thursday night at FirstEnergy Stadium as the final seconds of the Cleveland Browns' victory over the Pittsburgh Steelers ticked away.
Browns defensive end Myles Garrett became a subject of shock and outrage as a skirmish with Steelers quarterback Mason Rudolph ended in violence.
Garrett tackled Rudolph with eight seconds on the clock, igniting a moment of mayhem. Rudolph tried to yank Garrett's helmet off, but Garrett retaliated and succeeded. He removed Rudolph's helmet and took a swing with it, making contact with Rudolph's head as Maurkice Pouncey joined the fight by throwing a series of punches and kicks at Garrett, who ended up on the ground.
Garrett was ejected from the game, which ended seconds later.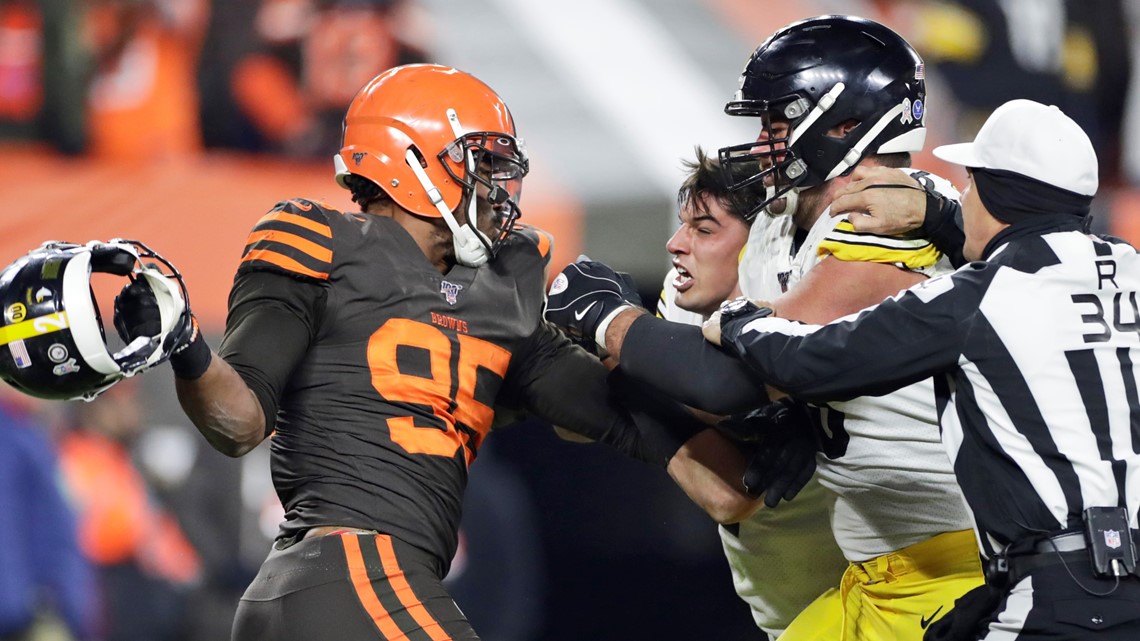 Rudolph called Garrett's actions "cowardly" and "bush league" during his postgame remarks, but Cleveland Police Spokesperson Sgt. Jennifer Ciaccia on Friday morning said that no police report or charges have been filed against Garrett.
The Pittsburgh Post-Gazette reported that Rudolph's agent, Timothy Younger, said he was reviewing the incident and gathering information on possible charges. However, both ESPN and NFL Network have confirmed Rudolph has elected not to pursue legal action, considering the incident to be "exclusively an NFL matter."
Mark Naymik spoke to Cleveland attorney John J. Spellacy on Friday, who said he would be surprised to see Garrett arrested for the brawl. As far as football is concerned, the NFL made the decision to suspend Garrett for the remainder of the season as well as for any potential playoff games the Browns may play. Two other players (but not Rudolph) were suspended for their roles in the melee, and Garrett plans to appeal.
"I made a mistake and I lost my cool and I regret it," Garrett said after the game. "It's going to come back to hurt our team, the guys who jumped in the scrum. I appreciate my team having my back, but it shouldn't have ever gotten to that point. That's on me."