CLEVELAND -- "The Cleveland Special."
Cleveland Browns rookie quarterback Baker Mayfield does more than just throw passes, and he showed those skills late in the third quarter against the New York Jets on Thursday Night Football at FirstEnergy Stadium.
After a one-yard touchdown dive from running back Carlos Hyde, Mayfield caught the game-tying two-point conversion pass from wide receiver Jarvis Landry in a play that was reminiscent of "Philly Special," which the Philadelphia Eagles ran to perfection for a touchdown against the New England Patriots in Super Bowl LII back in February.
Mayfield's catch drew the Browns even with the Jets, 14-14, with 42 seconds remaining in the third quarter and propelled Cleveland to a 21-17 win, their first since December 24, 2016.
"Never taken a rep of it, but watching Ty (Taylor) do it all through practice, it is not too hard to walk up to the line and call a cadence and kind of just stand there," Mayfield said.
After offsetting penalties wiped out the first two-point conversion attempt, which resulted in a sack-fumble for the Jets, the Browns got a second chance and took full advantage of it.
At the start of the play, Mayfield ran out of the backfield on a pass pattern after appearing to call an audible and the ball was directly snapped to running back Duke Johnson Jr. Johnson ran right and pitched the ball to wide receiver Jarvis Landry, who then floated a pass toward Mayfield on the left side of the field.
Left open on the play, Mayfield hauled in the game-tying conversion attempt.
"He comes to me and says, 'Your (butt) better throw me that ball. No matter what,'" Landry recalled with a laugh.
"I said, 'I got you.' It is something that we have been working on for a couple of weeks. He was ready for the opportunity. There is something about the professionalism that he has brought. To not even have repped that play before but still do it the way that he did it and be effective and tie the game up for us."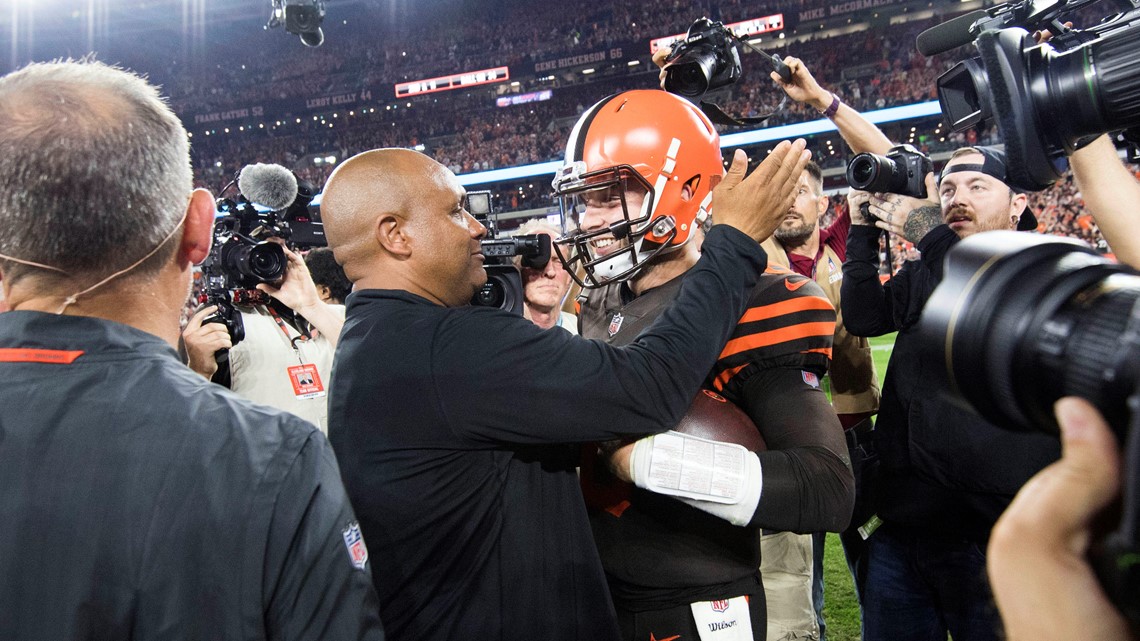 Following a brief celebration in the end zone, Mayfield was greeted by hugs and high-fives from nearly everyone on the sideline, including Coach Hue Jackson.
"We did not steal that from them," Jackson quipped about the Eagles. "Please, I know everybody wants to think that. We have had that in our back pocket for a while. Go check my tricks from before and go check (offensive coordinator) Todd's (Haley) tricks from before. We all have them. It is just when you pull them out and use them. That is what that is.
"Absolutely, I think Todd called a great play there, and we were able to execute and make it happen."
Mayfield's reception got the capacity crowd up and celebrating, and the fans remained on their feet creating a raucous atmosphere that gave the Browns a home-field advantage not seen inside FirstEnergy Stadium for a long time.
"Anytime you can get the crowd to be a factor, kudos to the crowd," Mayfield said. "They played a factor late in the game. Anytime you can get them to be your 12th man, as cliché as that sounds, it is the truth. Whatever we have to do to fire them up to affect the other offense, it is great."