As he described David Njoku as one of the best young tight ends in football, it appeared Colin Cowherd finally had some praise for the Cleveland Browns.
The Fox Sports Radio host's segment, however, was just getting started.
As Cowherd went on to describe Njoku and his teammates' praising of Odell Beckham Jr.'s fit in Cleveland as "a teenage girl on Instagram" -- "they keep projecting how great it's going to be" -- the polarizing host continued to share his forecast for the Browns' 2019 season.
And while Cowherd likes Cleveland's chances of ending its 17-season playoff drought, it's clear he won't be hopping on the Browns' Super Bowl bandwagon anytime soon.
"Cleveland's the easiest team in the league to figure out this year," Cowherd said during "The Herd" on Monday. "There's two facts about Cleveland: They're the youngest roster in the NFL -- they are. Super talented -- they are. And a new head coach."
Cowherd went on to compare the Browns to the Jacksonville Jaguars, hypothesizing that with such youth and talent will also come ups and downs.
"They're going to be young and dynamic and intimidate people and blow some people out. And then like a young team, they're going to talk a lot and they're going to play through injuries and they don't have an elite coach and they have a young quarterback who's prone to mistakes but also very talented," he said.
"And here's what's going to happen to them: They're going to struggle early because their schedule with a new system is brutal. My guess is they could lose the home opener with Tennessee, at Jets, Rams, Ravens, at Niners, Seahawks, at Patriots, at Denver. They're going to struggle a little bit in the first two months -- let's say 4-4. Then they're going to get red hot. And they may win seven straight games. It's a bunch of Buffalo's, Miami's, Cincinnati's, Arizona's, Cincinnati again. They'll split with Pittsburgh. They're going to get smoking hot.
"And then, the playoffs come. And young wins do not win the AFC. They don't. Peyton Manning did, Tom Brady did -- they don't win the AFC. And they're going to crash hard."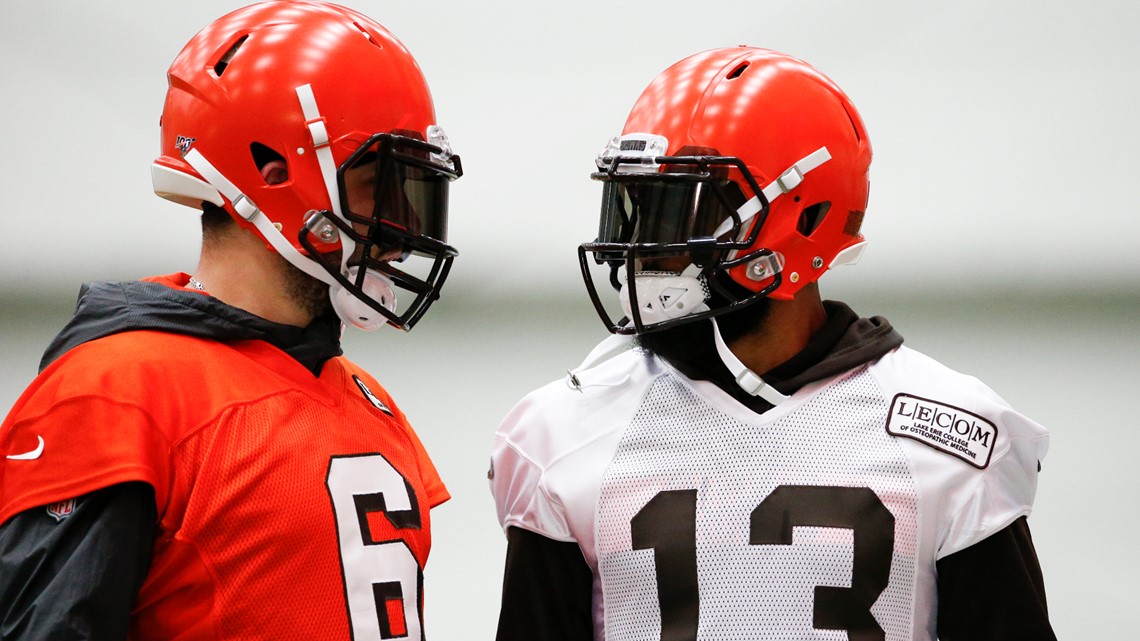 Ever since his public criticism of Baker Mayfield leading up to last year's draft, the Browns have become one of Cowherd's favorite talking points. Over the course of this past offseason alone, Cowherd has managed to rile up both Mayfield and Beckham to the point that both Browns players have taken to social media to criticize the 55-year-old, who has hosted national radio show since 2003.
But while most of Cowherd's segments regarding Cleveland have skewed negative, his playoff projection could be perceived as one of the more positive things he's said about the Browns all year. That, however, didn't stop him from once again weighing in on Mayfield and Beckham, who he believes may not make for as great of a fit as others seem to think.
"Odell Beckham and Baker Mayfield are on different watches. Baker Mayfield's got 15 years to play," Cowherd said. "Odell Beckham's five years in. He wants to be a global star. He's already been hurt. And receivers have the second shortest NFL careers.
"He wants to win, get numbers and be a superstar for the next three years. He didn't buy a house in Cleveland. He is there to win and get big numbers. He's there to be a global superstar."