CLEVELAND — John Elway made it known earlier this offseason that he committed to doing whatever is necessary to get the Denver Broncos back into contention, even if that means parting ways with All-Pro edge rusher Von Miller.
With that in mind, would the Cleveland Browns be willing to trade draft assets to Denver to acquire the vaunted pass rusher who is capable of wreaking plenty of havoc in opposing backfields?
Here is a look at what would be necessary to make a deal work, both in the short-term and long-term plans for the Browns.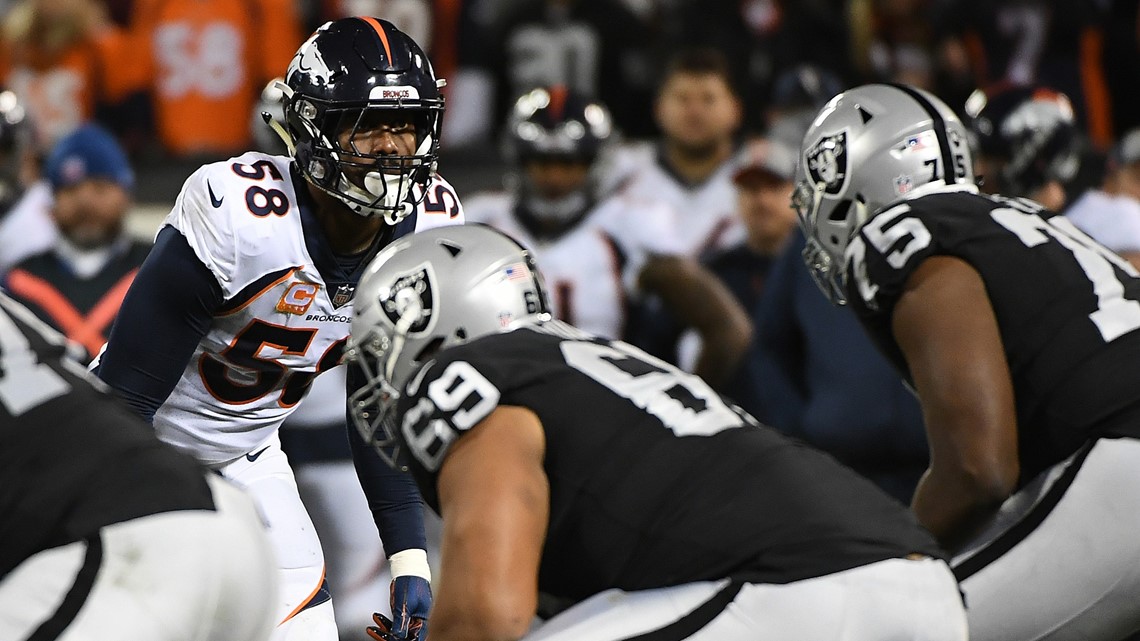 Currently, the Browns have 11 picks in the 2019 NFL Draft.
The Browns own their picks in rounds one through six, as well as two selections from the New England Patriots (rounds three and five) due to the trades of defensive lineman Danny Shelton last offseason and wide receiver Josh Gordon in Week 3 of the 2018 season.
Also, the Browns have two selections from the Jacksonville Jaguars based on the trades of running back Carlos Hyde (Week 7, 2018) and quarterback Cody Kessler (last offseason), as well as one from the San Francisco 49ers in the seventh round after dealing offensive lineman Shon Coleman at the end of training camp.
It is conceivable that such a deal would take two first-round picks, as well as considerations in other rounds. Currently, the Browns hold the No. 17 overall selection in the 2019 NFL Draft, and it would take that and probably a first-rounder in 2020 to kick the tires on the deal, but the front office has all it would need to make the trade.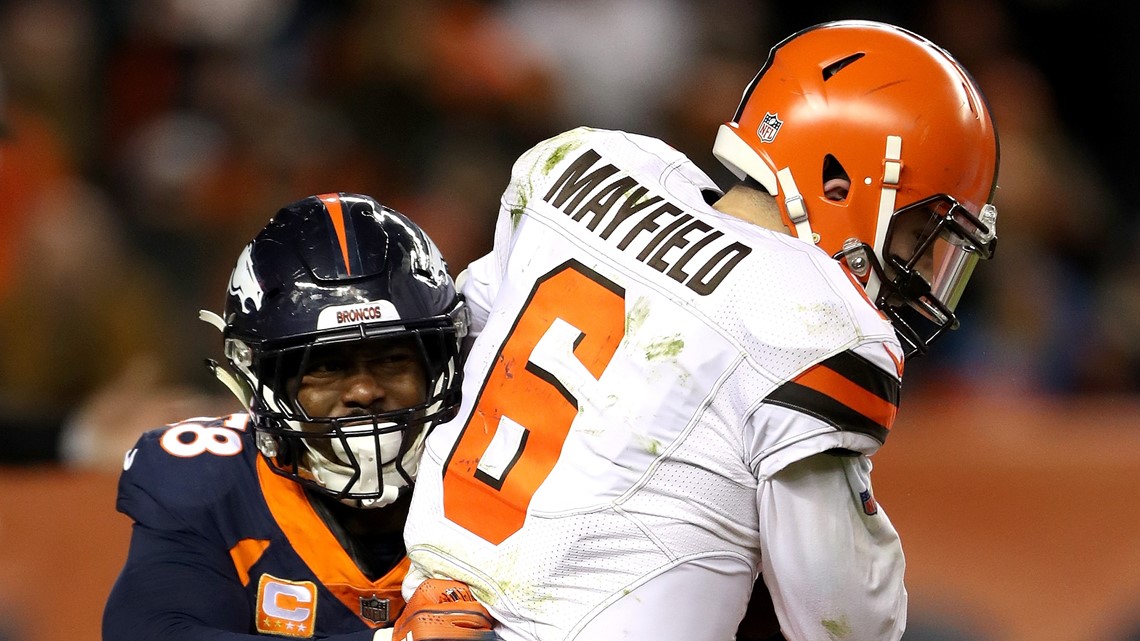 Salary cap space has not been a problem for the Browns in recent seasons, as the previous regime rolled over unused money into future seasons.
Miller signed a six-year, $114.5 million extension with a $17 million signing bonus ahead of the start of training camp in 2016, but despite a cap hit of more than $25 million in 2019 and $25.6 million and $22.225 million in 2020 and 2021 should his club options be exercised, the Browns could afford to take on the salary.
The Browns are expected to have more than $80 million in cap space for 2019, which would leave them with $55 million to work with to fill other needs.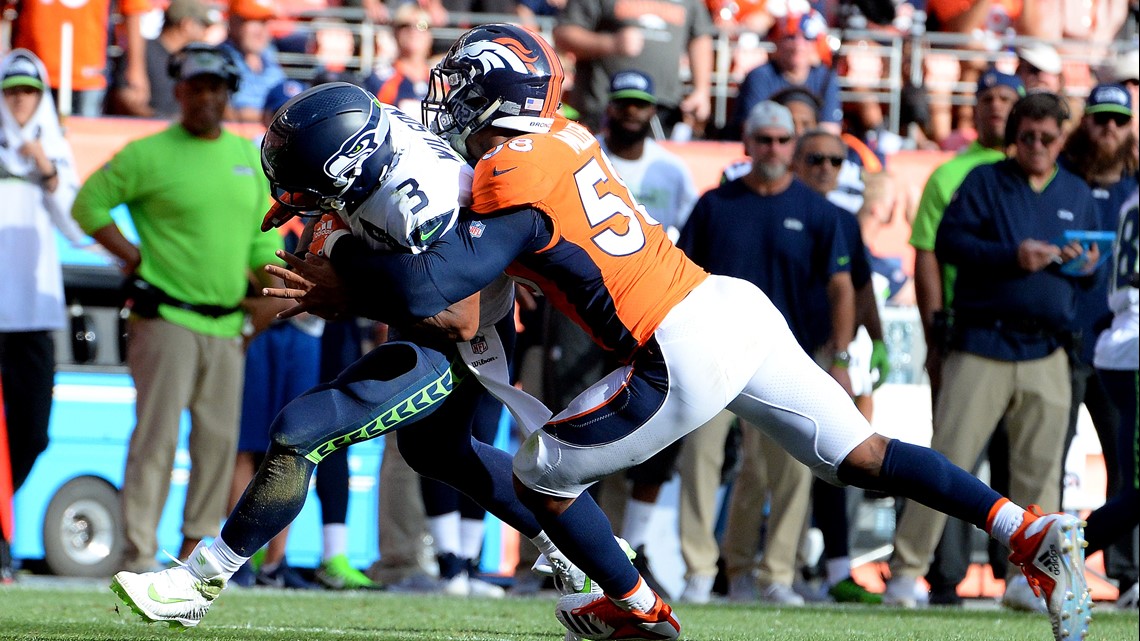 INTEREST IN ACQUIRING MILLER
To make a deal work, the Browns must be comfortable picking up a huge contract and investing multiple picks in acquiring a 30-year old Miller, who will enter his ninth NFL season in 2019.
Given the finances and likely heavy compensation involved to facilitate the trade, the Browns must believe that despite being 30 years old with nearly a decade of NFL experience already on his resume that Miller still could be a difference maker.
Although Miller signed a big contract in July of 2016, he has continued to play with a relentless motor and became Denver's most prolific pass rusher ever in 2018. Miller has registered 38 sacks, nine forced fumbles and three recoveries in 48 games for the Broncos over the last three seasons.
Miller had two of his most productive single seasons in the last three years.
PAIRING MILLER WITH GARRETT
Although Miller is an All-Pro caliber player in his own right, he is most effective when paired with another standout pass rusher, and the Browns have someone who fits that bill.
Dynamic defensive end Myles Garrett, who followed in Miller's footsteps at Texas A&M, earned selection to his first Pro Bowl after a standout second season with the Browns.
Fully healthy coming into the 2018 season, Garrett emerged as a leader for the Browns' defense and registered 44 total tackles, including 35 solo stops, while playing in all 16 games for the team who selected him with the No. 1 overall pick in the 2017 NFL Draft.
Of those 44 tackles, 13.5 were sacks on opposing quarterbacks for 75.5 lost yards and finished the year with the fourth-most sacks in a single season in franchise history.
With 20.5 career sacks, Garrett registered the most by a Brown in his first 27 games, as well as the most by a defender in his first two professional seasons. This past year, Garrett ranked sixth in the NFL with the 13.5 sacks and fourth in the AFC with four forced fumbles.
For his efforts, Garrett earned a Pro Bowl invitation and became the Browns' first defensive lineman since Michael Dean Perry made the AP All-Pro Team in 1994.