CLEVELAND — Cleveland Browns rookie linebacker Mack Wilson flashed in pass coverage during the second week of training camp, and that trend continued into the preseason opener against Washington at FirstEnergy Stadium in Cleveland Thursday night.
Wilson registered three solo tackles and two interceptions, which he returned for 40 yards in the Browns' 30-10 victory over Washington in front of the home fans.
"Growing up, I played offense, so I feel like my athletic ability helps me out," Wilson said. "I think I have a nose for the football. It's hard to explain, but it is just something I have. Growing up, I played quarterback, running back, and wide receiver.
"I feel like that is something that God blessed me with. I am able to be utilized every time I step on the field. I believe I am a versatile linebacker. I can to cover, stop the run and am able to catch the ball."
Wilson collected his first interception of the game early in the second quarter.
Washington's offense faced a second-and-one from its own 32-yard line when rookie quarterback Dwayne Haskins Jr. lofted a pass down the right sideline for running back Byron Marshall, but Wilson was there to take away the ball.
After catching the underthrown pass, Wilson hustled down the sideline, got around a tackle attempt from Haskins Jr. and muscled his way through two more Washington players to get across the goal line for the 40-yard touchdown.
Wilson's touchdown and Austin Seibert's extra point gave the Browns a 14-7 lead over Washington with 10:53 to play in the first half.
"I caught the ball and saw a little traffic, but honestly, it felt like my interception from the Clemson game," Wilson said. "I caught it and the quarterback was coming for me, so I tried to stiff-arm him, and then, I got tackled into the end zone."
And Mack was far from finished, as he got another interception in the fourth quarter.
On third-and-eight from the Washington 28-yard line with 13:44 remaining in regulation, quarterback Josh Woodrum looked for wide receiver Kelvin Harmon, but Wilson had other ideas, as he stepped up in the passing lane, and with outstretched arms, corralled his second interception of the game.
"I dropped back and was reading the quarterback's eyes," Wilson said. "Everywhere he looked, I followed, and he threw the ball, so I jumped in front and caught it."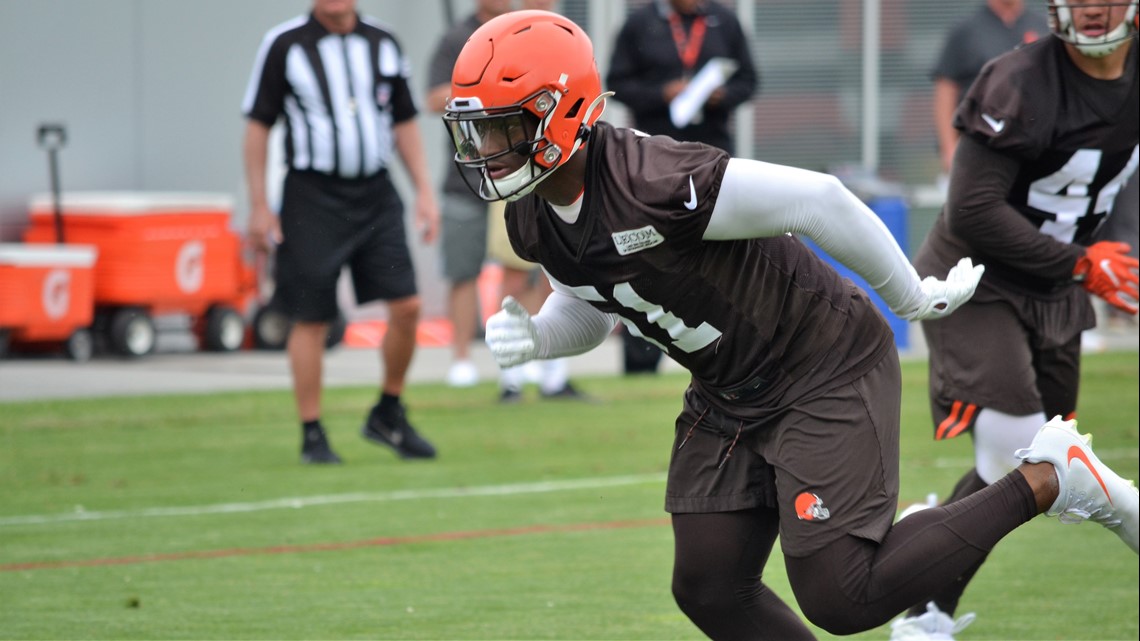 Could more performances like Thursday and consistent playmaking shown in the training-camp practices mean a move up the depth chart?
Well, it certainly is a good start for Wilson.
"He continues to get better," Browns coach Freddie Kitchens said. "It is kind of one of those things where he is keeping his head down. It was not going good for him early in camp, but he kept his head down and kept working one day at a time and one rep at a time.
"Before you know it, he starts making plays. He is in better positions and his eyes are in better places and spots. He is getting other guys lined up. His communication is starting to get better with that group. Once you know how to get there and where to get there, the rest is just making plays."