CLEVELAND — When the first ratings for the upcoming NFL Madden 20 video game were released last week, there were some hurt feelings on the part of the players, especially within the Cleveland Browns' locker room.
Wide receiver Jarvis Landry was given an "84" overall rating with high marks for awareness (86), speed (89), acceleration (91) and agility (92), but was docked for strength (66) despite being able to catch passes in traffic and tossing a 63-yard throw during the 2018 season.
"A bit of disrespect, of course, but at the same time, it's a video game and I may or may not play it now," Landry said while appearing at the Cystic Fibrosis Foundation's Sports Challenge at Rhodes High School in Cleveland Friday morning.
"I don't know. The ratings change every week, so I've got some stuff to prove, too."
Because of hurt feelings, Landry is unsure if NFL players will be as willing to play Madden 20 after the ratings were released.
"I don't know if they did it on purpose, like just to get a reaction from guys, but I mean, I guess it is what it is," Landry said. "I don't really know what to say. Like one of my friends said on social media, 'That's why people play Fortnite.' It's the truth."
Acquired by the Browns from the Miami Dolphins for draft picks last March and signed to a lucrative multi-year contract extension, Landry lived up to the hype in his first year in Cleveland, as he made impactful plays in multiple ways for the offense.
Landry turned his 81 receptions into 976 yards and four touchdowns, rushed for 60 yards and one score on just three attempts and completed one of his two passes for 63 yards. Additionally, Landry completed a two-point conversion pass to quarterback Baker Mayfield in a 21-17 win over the New York Jets at FirstEnergy Stadium in Week 3.
Although Landry had a good first year in Cleveland, he was held out of practices during the offseason workouts for undisclosed reasons. However, Landry did participate in the drills organized by quarterback Baker Mayfield and his fellow receivers earlier this month.
"Physically, I'm well," Landry said. "Excited, ready to go. Obviously, I'm a football player. I'm excited to see the guys get back into the locker room, back into the routine.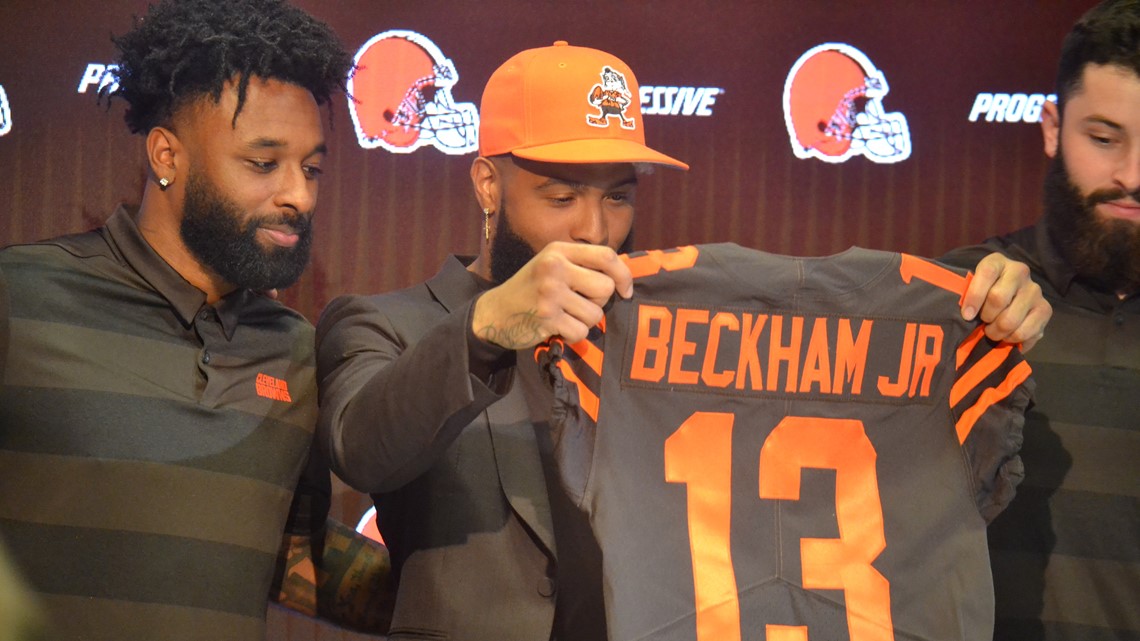 Landry better "be ready to go" because he is going to have competition at the top of the depth chart from a close friend, wide receiver Odell Beckham Jr.
Over 59 regular-season games, including 56 starts, in five years with the New York Giants, Beckham Jr. turned 622 targets into 390 receptions for 5,476 yards and 44 touchdowns. Beckham Jr. averaged 92.8 yards per game, including a league-best 108.8 during the 2014 season.
Beckham Jr. has put together four 1,000-yard and three double-digit touchdown seasons since being selected by the Giants with a first-round pick in the 2014 NFL Draft.
A three-time Pro Bowler, Beckham Jr. turned in a 77-catch, 1,052-yard, six-touchdown effort for the Giants last season.
"It'll hit me more once we're in the building together and spending a lot more time together, spending a lot more time with the guys in the receiver room and all that," Landry said. "So it'll hit me a little bit more, but I know the energy and the competition level is going to be real high and that's what I'm looking forward to the most."