CLEVELAND — What a difference a year makes.
Twelve months ago, former Cleveland Browns left tackle Joe Thomas announced his retirement from the National Football League, and back then, the 10-time Pro Bowl blocker tipped the scales at just over 300 pounds.
However, Thomas now is much slimmer and is settling into his post-playing career as a broadcaster/podcast host.
ESPN posted to its official Instagram page before-and-after photos of Thomas.
Thomas received plenty of support from fans after the post went public, as it had more than 363,000 likes in less than 16 hours.
"Well done," abbottgeorge571 said. "Don't put it back on. You look great."
Thereazonwhy702 added, "My boy look like a quarterback."
Some contemplated that with the Browns bolstering the offense throughout the offseason, namely acquiring wide receiver Odell Beckham Jr. in a trade with the New York Giants to pair with quarterback Baker Mayfield, running backs Nick Chubb, Duke Johnson Jr. and Kareem Hunt, wide receivers Jarvis Landry and Antonio Callaway and tight end David Njoku, Thomas could look to make a return to pursue something he did not accomplish in his first 11 NFL seasons…a trip to the playoffs.
However, fans believe the future Pro Football Hall of Fame offensive lineman would return in a much different capacity.
"Browns' new blocking tight end?" chuckrohn commented.
Ryan_cote99 added, "Should go play tight end for the Browns."
Thomas' podcast co-host, former Browns wide receiver Andrew Hawkins asked fans to give props to the All-Pro left tackle on the physical changes he has made since stepping away from the game. Hawkins' tweet has over 45,000 likes and has been retweeted more than 15,000 times.
In December of 2016, Thomas was selected to his 10th consecutive Pro Bowl, and went 10 for 10 in all-star game nods over his first decade with the Browns. With that selection, Thomas became the first Browns player ever selected to participate in 10 Pro Bowls.
Thomas joined an elite group of athletes with the 10th straight selection, as defensive tackle Merlin Olsen (Los Angeles Rams), defensive back/running back Mel Renfro (Dallas Cowboys), running back Barry Sanders (Detroit Lions) and linebacker Lawrence Taylor (Giants) are the only other players who went 10 for 10 in Pro Bowl appearances over their first decade in the NFL.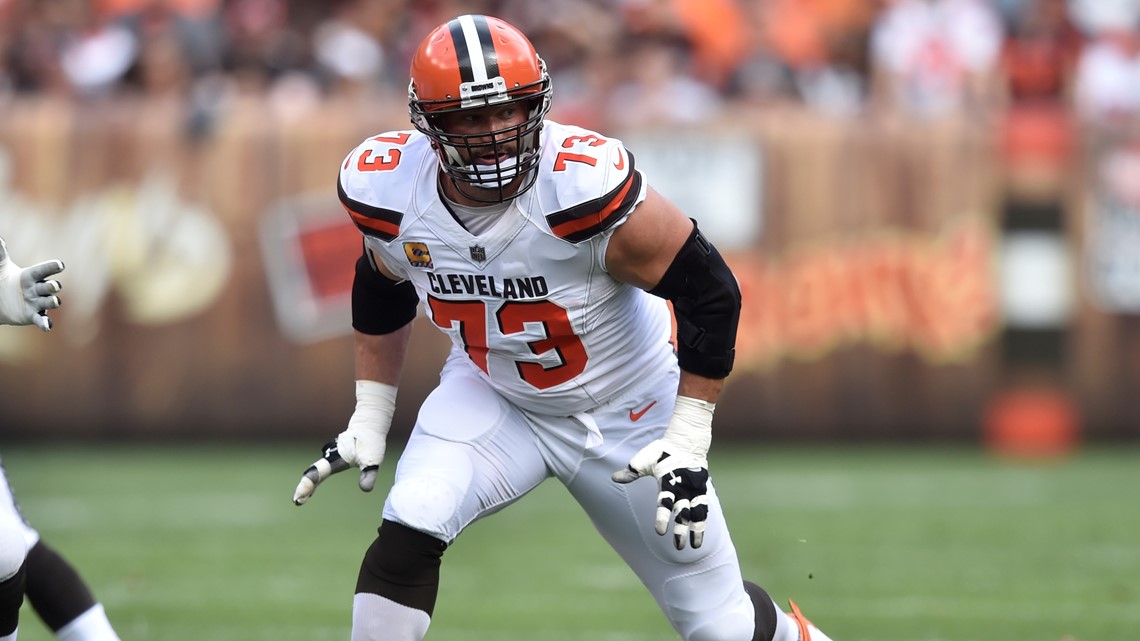 In addition to his on-field accomplishments, Thomas was recognized for his efforts to help in the community.
Thomas remains the only player in Browns history to be the organization's Walter Payton Man of the Year on multiple occasions. Thomas was honored with the award in 2010, 2012 and 2016, and was a finalist for the 2012 NFL Walter Payton Man of the Year Award.
Also, Thomas is the only player in Browns history to be selected for the PFWA (Pro Football Writers' Association) Dino Lucarelli Good Guy Award multiple times and was a two-time Browns Player of the Year choice by the local chapter of the PFWA.
Thomas received the Browns' Salute to Service Award in both 2016 and 2017, created a program to give game tickets to members of the USO of Northern Ohio, and once made a 10,000-mile, week-long trip to military installations in the Middle East to visit with troops as part of the NFL/USO Tour.
Thomas and his wife, Annie, have given support to numerous charitable organizations in Northeast Ohio, including the Cleveland Kids in Need Resource Center, Providence House, the Greater Cleveland Food Bank and Cleveland Animal Protective League (APL).